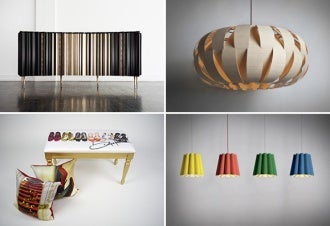 MAISON&OBJET (M&O) is hosting a design trade show from 12-15 May at the Miami Beach Convention Center.
The event will captivate with must-see players in the world of design, architecture and decoration, and will feature:
NIBA HOME (Miami)
Known for a remarkable collection of art, objects and furnishings, NIBA HOME is in the heart of the Miami Design District. Nisi Berryman opened in 2004 and curates exceptional pieces that add an exceptional style to any space. Check out new work by photographer Greg Lotus and exclusive pieces from the transformative design practice of Luis Pons.
WEPLIGHT (Argentina)
Designing and manufacturing wood lamps since 2001, WEPLIGHT by Marcelo Dabini and Nadia Corsino is unique in that they developed and mastered a flexible wood veneer that allows them to create aesthetic products that are built to stand the qualitative test of time. Lighting products can be customised according to material and size.
CORINNE CAMPENIO (Canada)
Offering an incredibly personalised experience for clients, CORRINE CAMPENIO brings originality to your interiors. Every single piece is handmade in Canada at a workshop that has more than fifty years of experience. One of a kind themes transform both neoclassical and contemporary furniture into inimitable objects and concepts that are made to order.