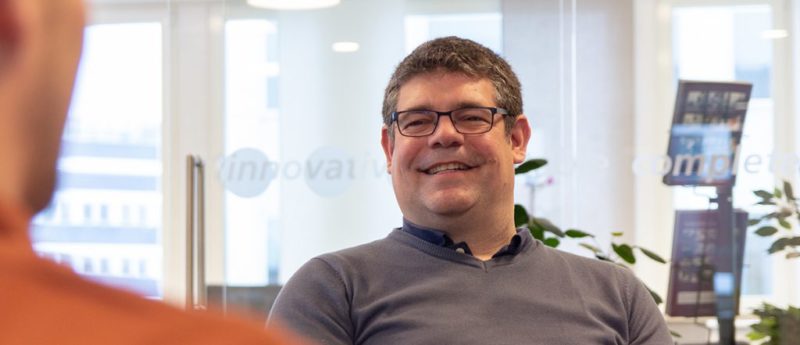 A couple weeks ago, Marc Valentin, Hoist Group CTO, and Simon I'Anson, Hoist Group CSO, sat down to talk about the future of hospitality. Ranging from big data, AI, and creating a truly unique guest experience, both Simon and Marc share their thoughts on the tech trends they are most excited about and the future of hospitality innovation.
Marc: Ok, for the readers that might not know, let's start with the basics, who are you? What do you do at Hoist Group?
Simon: I am the Chief Sales Officer at Hoist Group; I started the role in January, but have been at Hoist Group for nearly four years. What about you, Marc?
Marc: I'm the Chief Technology Officer since January 2017; I've been at Hoist Group for the past four years as well.
Simon: We work pretty closely together now, so besides talking to me several times a day, what do you love most about your job?
Marc:  I love the diversity and constant evolution, there's so much happening right now in hospitality within tech, it's really exciting.
Simon: I agree. What do you think are some of the biggest tech trends? What are you most excited about?
Marc: Artificial intelligence and big data. Combined they open room for new experiences for guests all along their journey and give hoteliers the means to offer their guests detailed personalization.  The guest journey then becomes truly unique.
AI and big data play a role in many areas like business intelligence, voice assistance, augmented reality, bots, revenue management, sustainability, energy saving, etc. It has great potential for growing the hospitality business which makes it really interesting to me.
Simon: I agree, for me it's all about data, data, data. I'm not only someone who works with the hotel industry; I am a guest as well. What I start to see is a refinement of how hoteliers can leverage their data assets to make my stay just that little bit more personalized and relevant to me. This is how my loyalty will be won for future stays, so doing the "right thing" with my data has a tangible value attached to it too.
Marc: Exactly! All technological systems generate a significant amount of data which can create valuable information in understanding guest expectations and needs, as well as guide hoteliers in providing their clients with the services they want. This creates a very individualized experience for the guest. Data and AI can also be useful to staff by optimizing processes and organization, facilitating tasks execution, and providing solutions for their security.
Simon: I think both our teams work well to ensure that innovation is continuous; it's a very powerful dynamic.
Marc: We've worked on some really groundbreaking projects together. What do you consider to be one of the best?
Simon: There are many to choose from but if I was to pinpoint one, I would say that being selected to provide our Fusion TV platform to the Burj al Arab hotel in Dubai was a real highlight from 2018; this is probably the world's most iconic hotel and to be selected for it is a source of great pride, and a vindication of the hard work many teams across Hoist Group do to make those little differences for our customers. What about you, Marc?
Marc: They are many, but right now I would have to pick the Hoist Dashboard. We are constantly working on improving the dashboard so the data and metrics really work to help the hotelier understand and connect with their guests. It combines business, guest and technical data, allowing hotelier's visibility on information such as financial data, service status and usage, and the ability to generate reports to see the evolution of specific KPIs. For me this is a successful project where typically technology meets the needs of hospitality.
Simon: All of our projects involve getting the technical part right so the sales part can succeed. We have a very high retention rate for customers based off this. We also take Customer Success very seriously, and you cannot make this happen without a solid technical basis – networks must be well designed and then well built; software platforms must work, and be capable of evolving over multi-year time frames and so forth.
Marc: Speaking of multi-year time frames, do you want to share what we are working on now?
Simon: Well I could tell, but I am in Sales and I don't want to give the game away 😉