Bauporte Doors
Bespoke Hotel Entrances, Revolving Doors and Automatic Doors

Address
Hamilton House,
Mabledon Place,
WC1H 9BB,
London,
Other,
United Kingdom
Phone
The main entrance of a hotel is the first thing guests experience when they visit and Bauporte understands the importance of making a great first impression. Bauporte provides bespoke entrance solutions based on individual requirements and is uniquely placed to deal with the special architectural challenges that hotel entrances pose.
Bespoke hotel entrances
Creating a hotel entrance that reflects the personality of the hotel is a skill that requires understanding, flexibility of approach and ingenuity.
Bauporte offers a range of bespoke hotel entrance solutions that fall into two basic groups: revolving doors and automatic doors. This in itself is not unique but it is the philosophy of 'yes, we can' that sets the company apart in an industry that generally offers standard products.
All Bauporte products are made-to-order and this allows a degree of design and architectural input that mass-production cannot match. Whether it is unusual dimensions, custom profile sizes, special finishes or glazing, Bauporte works with clients and architects to create individual hotel entrances for every application.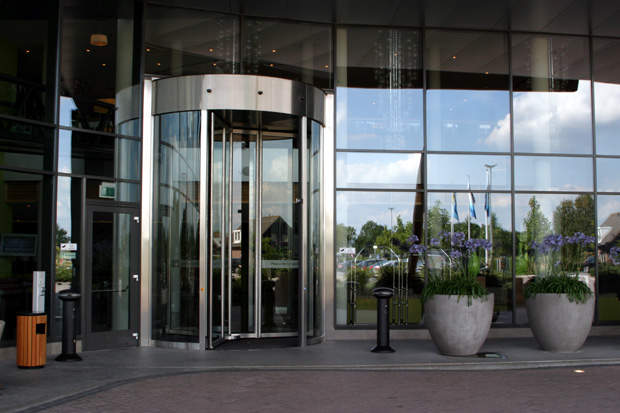 Bespoke revolving doors
It is the entrance lobby that creates the initial welcoming environment, and visitors who are often a great distance from home and travelling with luggage require very high standards of comfort, safety and convenience.
Our large-diameter bespoke revolving doors make ideal hotel entrances, providing the convenience of automatic doors while maintaining an effective barrier between the internal and external environments, thus allowing the lobby air temperature to be controlled despite people passing through. In hot climates, this means the lobby can remain an oasis of calm and cool no matter what the conditions outside are and in colder climes the opposite applies.
Manual / automatic revolving doors
Circular Full Vision revolving doors are available with diameters of up to 3,100mm, with manual or automatic operation. Drive units for automatic versions are concealed in the floor under the entrance matting or can be installed on the ceiling of a basement below.
Royal Full Vision revolving doors are available with diameters of over 3,100mm, and always have automatic operation.
Circular Prestige revolving doors are available with diameters of up to 3,100mm, with manual or automatic operation.
Tall revolving doors for hotels
Extremely tall revolving doors with rotating doorsets over 7,000mm high are available. All versions are available in custom dimensions and have the option of curved sliding doors to close off the openings at night if required.
High-capacity revolving doors
Royal Prestige revolving doors are available with diameters of over 3,100mm, and always have automatic operation. Folding doorsets on the larger versions allow these high-capacity revolving doors to be used as emergency escapes.
Custom-designed revolving doors
Nostalgia custom-designed revolving doors are designed to recreate the grandeur of entrances of bygone days with elegant custom designs, using metal and wood to recreate an antique appearance but adding the benefits of modern technology. Designs can exactly replicate existing doors or mimic vintage styles.
Bespoke automatic sliding and swing doors
Elegance automatic sliding doors and automatic swing doors offer the possibility to take conventional doors to a new level, with dimensions and designs limited only by the imagination and the technical limits of materials.
Bauporte specialises in large and complex entrances, often incorporating in-ground automatic drive units. Elegance automatic doors are available in a variety of single, double, multi, telescopic and straight or curved configurations.
Automatic balance doors
Elegance automatic balance doors provide an effective variation to automatic swing doors. Also known as pivot doors, Elegance balance doors feature drive units mounted on the header or in-ground. Utilising a pivot rather than a side hinge makes balance doors ideal for entrances that are subject to severe or uneven wind conditions.
Folding / stacking doors
Elegance folding / stacking doors consist of a row of 180° swing doors that can either function as individual, self-closing swing doors or be folded together and stacked to one side to create a wide, totally clear opening.
Bespoke entrance systems for hotels
Bespoke entrance systems from Bauporte have been implemented in hotels around the world, ranging from independent guest houses to major international chains.
All Bauporte products are supported by years of expertise and engineering experience. Bauporte engineers are highly skilled, well trained and customer-focused.
Standard and tailor-made service plans are available for all types of automatic door.
Bauporte Design Entrances
Jadelaan 23
2132 XX Hoofddorp
Other
Netherlands



Telephone Number




Fax Number




Email Address




Links
Bauporte Doors UK Ltd
Hamilton House
Mabledon Place
WC1H 9BB
London
Other
United Kingdom



Telephone Number




Fax Number




Email Address