Amerimerc provides an extensive range of commercial swimming pool products and ADA (American with Disabilities Act) compliant pool lifts.
Our product range includes:
High-quality commercial swimming pool pumps
High-rate vertical or horizontal sand filters
UV sanitation systems
Commercial salt water chlorination
Chemical controllers
Commercial automation
Commercial gas-fired pool heaters
Safety vacuum release systems and accessories
Variable-speed pump motor drives
Diving towers and lifeguard stands
Automatic pool cleaners
ADA-compliant pool lifts, etc.
We offer competitively priced, quality products and competent advice. Amerimerc has established close relationships with major manufacturers in the industry, which allows us to provide energy and time saving solutions for global facilities and operators.
We stay current on the latest health laws and regulations, energy rebates and the ADA.
Our lightweight EQ series pool pump.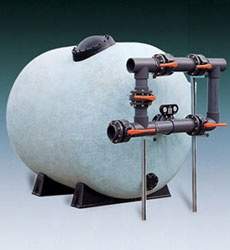 A horizontal commercial filter for pools.
ADA-compliant pool lifts.
Safety vacuum release systems.
ADA-compliant swimming pool lifts and accessories
Amerimerc offers a complete line of battery-powered ADA-compliant pool lifts manufactured to the highest industry standards. A hydraulic pool lift will enable the safe transfer of people with disabilities and will provide expanded use in a safe, reliable and efficient manner.
Our line ranges from basic pool lifts to lifts that allow multiple points of access for public swimming pools.
Pool filters and accessories
Suitable for both sizeable private and commercial pools, Pentair's large pool filter range includes Triton HD side mount filters, Triton C, Triton C-3 and the THS series of horizontal sand filters.
Pentair also offers pool filter accessories, including 4 and 5 valve manifolds, manifold supports, backwash valves, automated backwash controllers and accessories.
Diving boards, stands and diving towers
As a leading manufacturer of precision-engineered, durable diving boards, SR Smith offers a choice of materials, such as solid-laminate, acrylic or heavy-duty aluminium.
SR Smith is committed to meeting government and industry standards, using the latest technology and advanced production techniques in order to produce the safest, most reliable and high-performance products.
Swimming pool pumps
With 40 years of engineering expertise, Pentair has created an innovative line of performance-driven pumps, specialty pumps and pump drives. Peak performance and efficiency for commercial pools, aquatic facilities and water theme park applications are guaranteed.
The pumps range from the lightweight plastic EQ series, to the self-priming CSP series and the high-performance bronze C Series, to pumps from Aurora and Berkeley and the largest vertical turbines.
Pentair commercial pool pumps can be teamed with variable frequency drives, which will increase effectiveness and efficiency in the equipment room, whilst increasing savings and meeting environmental expectations.
Safety vacuum release systems and VGB-approved drain covers
It is required by law to provide safety measures against the risk of swimmers getting stuck to a drain or suction outlet. Amerimerc's safety vacuum release systems and drain covers provide important protection against suction entrapment.
CPO-certified staff
Our staff have a high level of knowledge and expertise in pool and spa filtration, water chemistry, facility safety and heating and air circulation, which allows us to offer a premium service to those requiring commercial swimming pool equipment.
Our friendly and competent sales team undergo ongoing training and have CPO (commercial pool operator) certification to ensure that they have the latest information about new products and trends in the commercial pool and spa market.