CyberFitness is one of the European market leaders in the virtual fitness sector, covering a broad range of different sports for fitness studios and hotels.
We offer digital solutions for cardio exercise on standard equipment, including our high-end CyberCycling, CyberCrossing, CyberRowing programmes.
A dedicated training programme without equipment in hotel rooms completes the perfect guest experience.
Customised fitness rooms for hotels
Virtual fitness is a rising trend that offers hotel operators optimal flexibility in designing and setting up their fitness rooms.
Pounding rhythms, driving beats and rousing tunes: that's CyberCycling.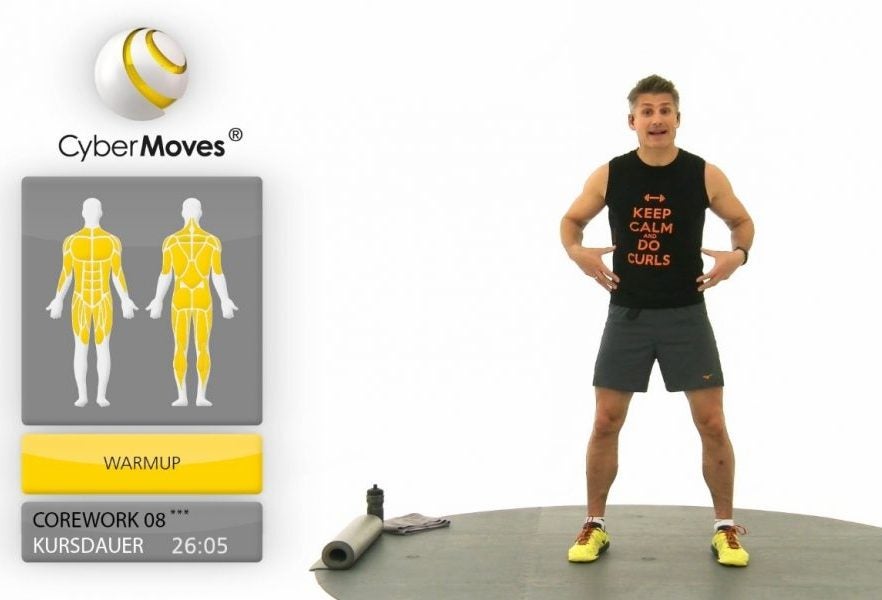 CoreWork - strengthening stomach muscles and exercising the back with CyberMoves.
Hotel room training with CyberFitness 'Legs, Bums and Tums' courses.
Cutting-edge touch terminal for flexible training around the clock.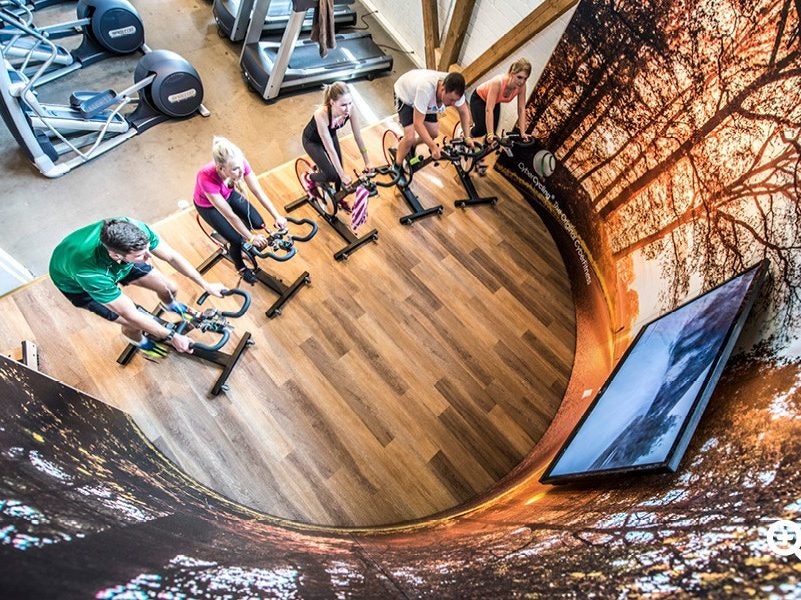 Atmospheric training worlds round off the ideal hotel experience.
With CyberFitness, users choose the course that suits them best.
Intensive workouts in hotel rooms: CyberMoves works anywhere.
With CyberFitness, installations can be designed and customised to suit the specific room and the hotel operator's requirements.
Cyber installations can be implemented even in the smallest spaces such as 3m × 3m. The area can simply be equipped with a screen or display and adapted to the hotel design. The second option includes using wall pictures and transforming the hotel room into an atmospheric training area that offers visitors a unique fitness experience.
With three to five rowing machines, cross trainers, cycling bikes or a free area for courses with little or no equipment, CyberFitness transforms a hotel room into a fitness studio.
Dedicated fitness TV channels for hotels
Not every hotel guest wants to train in a public room or with weights. A stay at a hotel can be more convenient when the hotel TV incorporates a dedicated fitness channel, offering guests a short high-quality workout around-the-clock in the comfort of their hotel room.
We can provide a fitness TV channel that offers standard workouts such as yoga, 'Legs, Bums and Tums', pilates, stretching and dance workouts with Latin music, and martial arts.
Fitness room design and development
A well-considered concept for a fitness room complements the hotel's high standard of comfort and quality. As expert service providers in the fitness sector, we can help you develop a state-of-the-art fitness room or modify an existing facility.
Our expertise acquired over the years helps us to understand what is important to our customers and design a coherent concept for a wide range of training options.
Affiliate programme for hotel operators
At its online portal, CyberFitness provides users with an opportunity to participate in virtual fitness courses at home. If your guests enjoy virtual training at your hotel, they can continue using the training videos at home. Through our affiliate system, hotel operators can earn a commission when guests sign up for a membership of our virtual fitness studio.
The benefits of virtual fitness at hotels
Virtual fitness offers great flexibility, freedom and variety for gym users, in addition to general machine training. For a hotel, virtual fitness provides an opportunity to broaden the range of services on offer and appeal to an even larger target market.
Workout videos from CyberFitness are designed for all hotel visitors, guiding them through high-quality workout sessions based on our training expertise. Our presenters are among the best in Germany and their personalities always offer a fun and varied training experience.
In this way, virtual fitness as a supplementary amenity in a hotel's fitness facilities offers a high-end addition to hotel services.