iVvy offers leading software-as-a-service (SaaS) technology for event management, venue management and distribution solutions.
They provide real-time search, bookings and payments capabilities designed for meeting, incentive, conference and exhibition (MICE) industry organisers and consumers.
Venue management software for the hospitality industry
The iVvy Venue Management Software provides integrated revenue management and distribution to improve efficiency and increase customer acquisition for conference centres, hotels, restaurants, and other unique venues.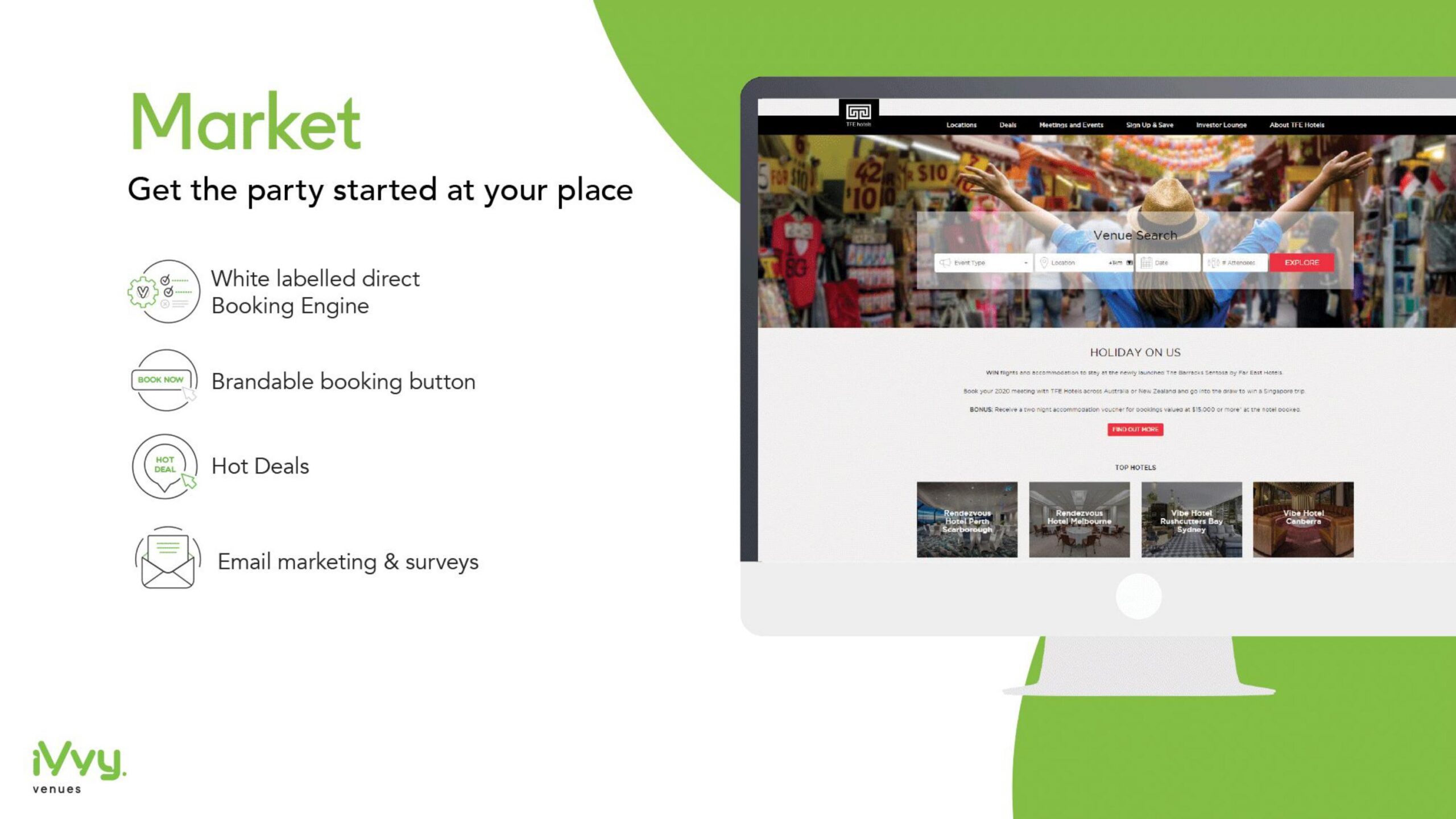 Bespoke event marketing solution.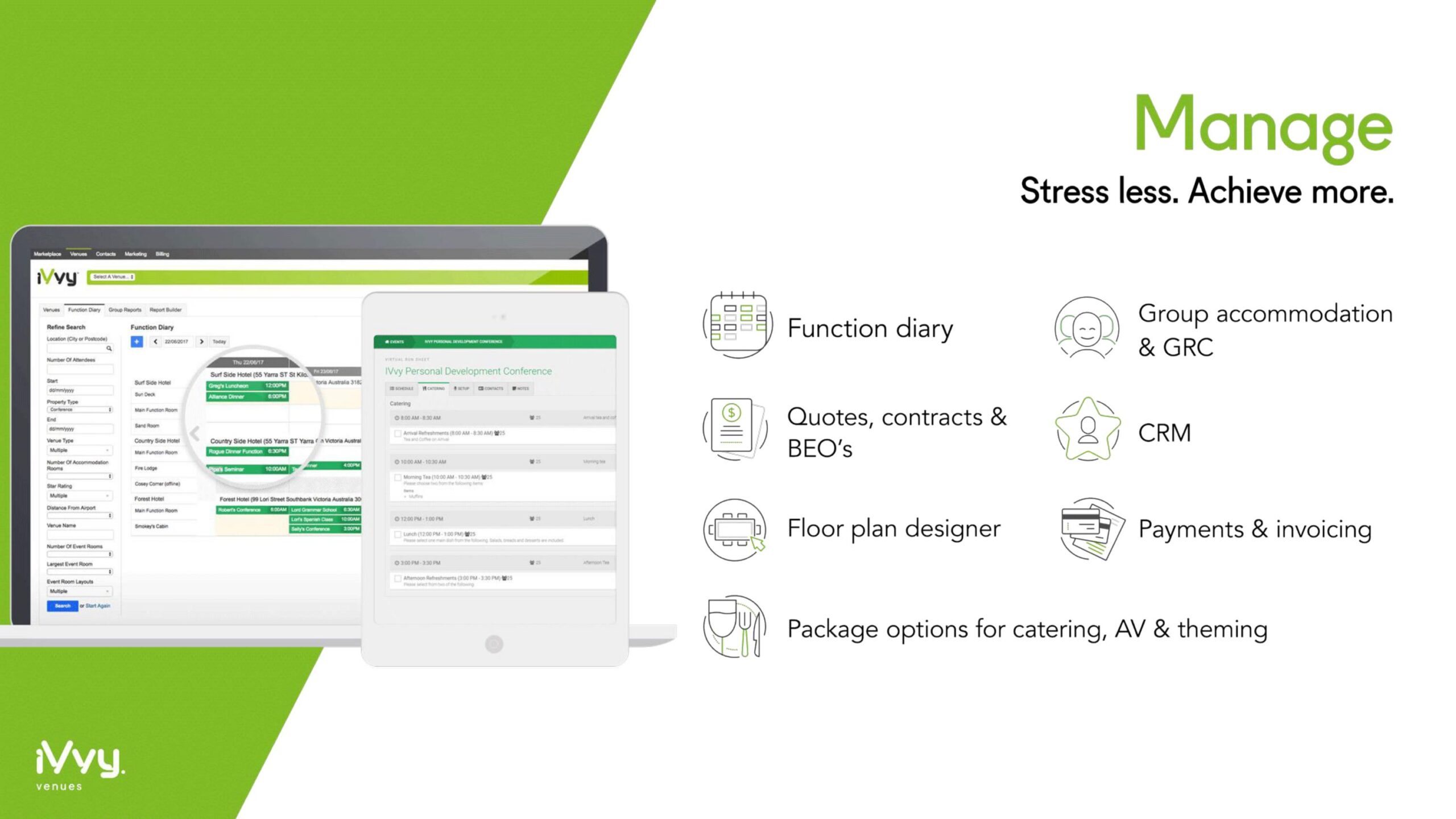 Complete management with increased functionality.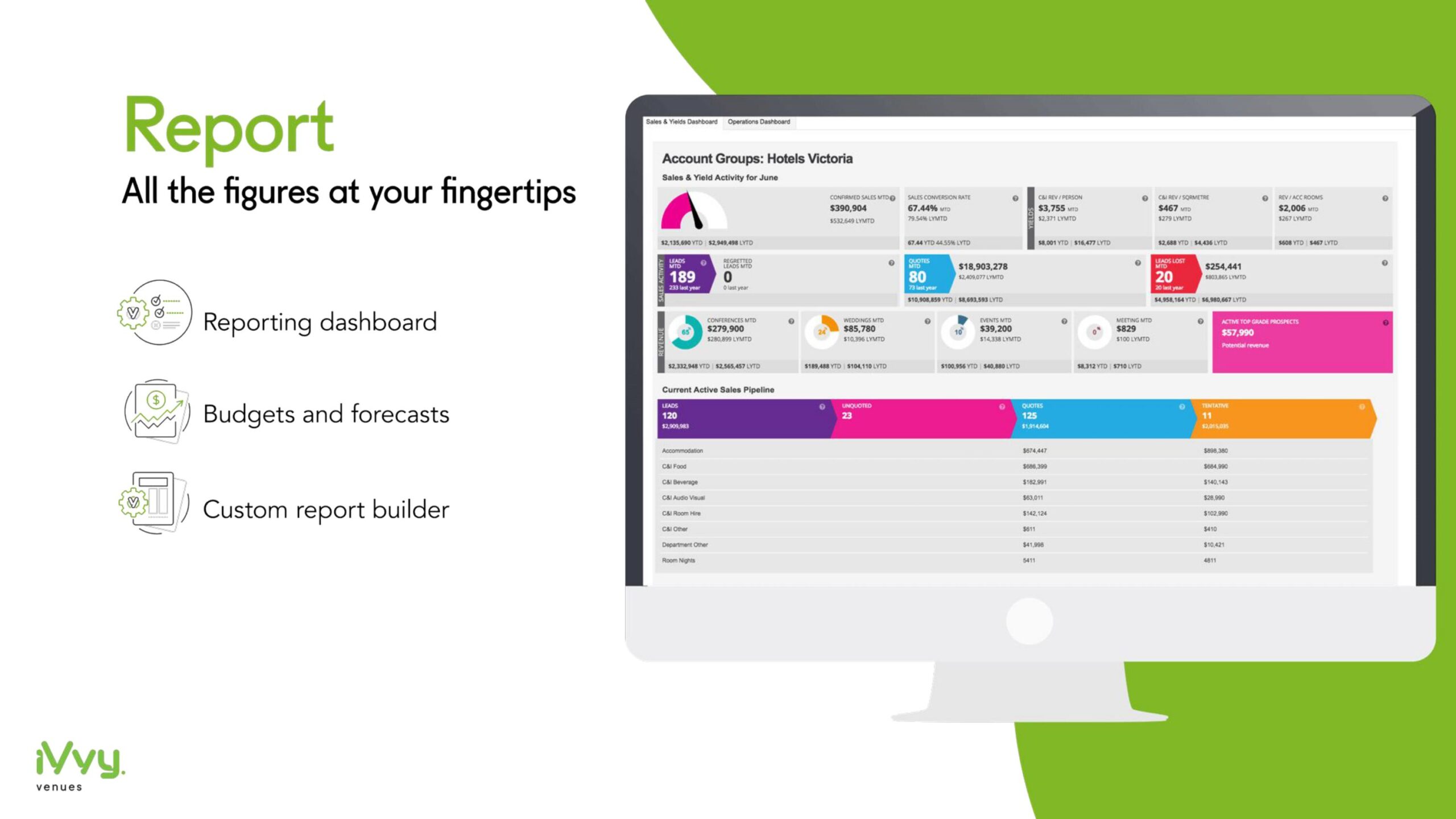 Easy data reporting for event and venue management.
iVvy features enhanced reporting and visibility, helping venues to easily market and manage their function space on any device from any location. The solution provides venues with everything required to operate their function space in a single system, reducing hotel and staff administration costs.
Event planning and management solutions
The iVvy Event Management Software allows meeting planners to search, compare and book function space online at any time. It features enhanced reporting functionality for complete visibility on event spending to increase control for customers.
Event organisers can manage and market their events using personalised campaigns and custom websites through the easy-to-use platform, facilitate planning, promoting, ticketing and registration.
Online booking platform marketplace
As one of the first online booking engines for the events industry, iVvy's award-winning live availability platform combines market-leading technology with user-friendly functionality. It allows customers to search, compare, book, and pay for function space, food and beverages (F&B) and group accommodation in real-time.
Complete management, marketing and sales platform for your venue
Our Cloud-based platform is a unique booking engine for the meetings and events industry, providing businesses such as venues, conference centres, hotels, restaurants and stadia with integrated revenue management and distribution.
Meeting and event planners can search, compare, reserve and pay for function space and group accommodation in real-time.
iVvy's groundbreaking technology showcases venue inventory with live availability, which helps to improve response times, increase conversions and yields.
iVvy's use of technology
The Cloud-based platform gives real-time data insights for your events business from any device at any time or place. Tools such as data analysis, online inventory management and revenue management offer instant visibility, which reduces response time, identifies opportunities, and delivers cost efficiencies.
iVvy's automation features enable venues to manage events throughout the entire process, from booking to operations and post-event reporting. We have reduced the average booking time for events from six weeks to six minutes. Enquiries, proposals, contracts, payments, banquet event orders (BEOs) and communications are handled seamlessly through iVvy's Cloud-based platform.
The flexibility of our platform's instant visibility benefits clients, allowing them to search, compare and book function space in real-time. Venues can set their own rules, pricing and booking mechanisms, including instant booking and requests for quotation (RFQ). The extensive suite streamlines processes with integrations such as property management system (PMS), accounting, customer relationship management (CRM), payment gateways and report management system (RMS).
iVvy creates bespoke proposals individually to customer requirements, with clear terms and conditions, as well as customised event management policies. It is suitable for smaller venues or reduced staff levels, enabling greater returns and efficiency.
The user-friendly platform makes it easy to communicate Covid-19-safe procedures, live venue availability and instant bookings without hidden costs. You can share policies, contracts, and documents with clients, with digital signatures to empower your events.