Libra OnDemand is a leading software-as-a-service (SaaS) provider of hospitality solutions natively built on Force.com using cloud technologies. The comprehensive Libra OnDemand hospitality relationship management (HRM) system provides a suite of affordable, easy to use, web-based applications including: Libra HRM Platform; Libra+; Libra Rewards; New Media Connect; and Delphi.fdc. Additional offerings include Libra Customer Portal (custom designed, consumer-facing websites) and Libra HRM Portal (mobile device accessible, employee collaboration tools).
HRM applications for the hospitality industry
Designed to drive sales, increase revenues and deliver guest satisfaction for the worldwide hospitality industry, Libra OnDemand is an application that requires no significant capital investment. Utilizing any web browser, there is no software or hardware to buy, install or support because it is completely hosted and maintained in the cloud.
Libra OnDemand provides all the standard functionality of other licensed technology solutions, as well as the security, reliability, and performance needed to ensure smooth customer operations, without the time and expense associated with in-house systems. Every feature of the application is available on demand, from any computer anywhere in the world, resulting in savings of up to 90% compared to similar client / server solutions.
Customizable software for hotel management
Libra OnDemand provides customizable options from a suite of comprehensive technology solutions: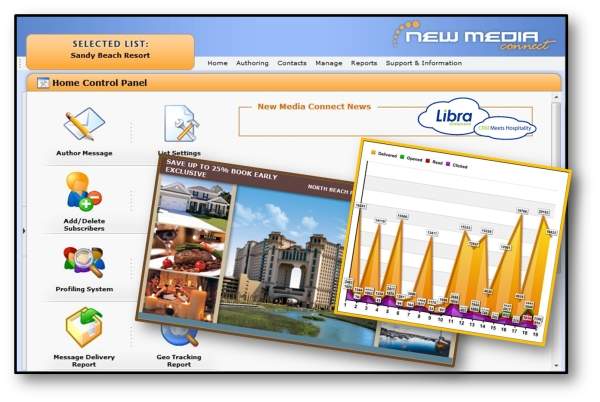 Libra OnDemand is a leading software-as-a-service (SaaS) provider of hospitality solutions built on Force.com using cloud technologies.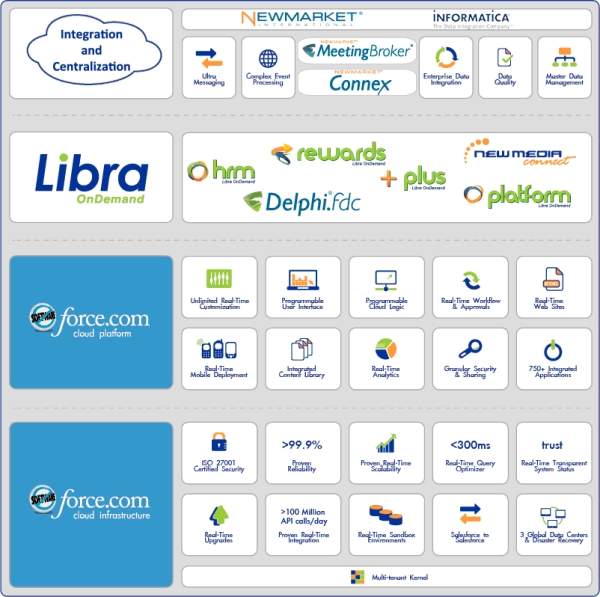 Libra OnDemand provides database, security, workflow, user interface and other tools through its Cloud development platform.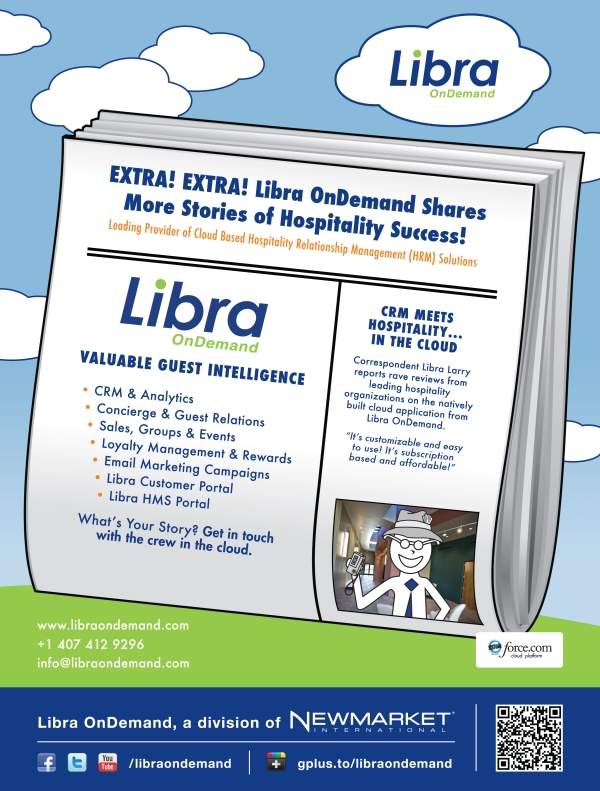 Libra OnDemand provides customizable software for hotel management.
Customer relationship management: account and contact data is collected and synchronized, providing a complete 360° view of each customer
Analytics: guest and company data is centralized, providing limitless graphics and reports
Email marketing: communications, surveys and campaigns are easily automated, with the ability to create dynamic lists and segment databases by multiple criteria
Concierge services: manage customer expectations with access to local venue information and activities scheduling, all within a single guest itinerary.
Customer requests and incident management: customer service requests, incidents and comments are managed and tracked, ensuring satisfaction
Sales force automation: track sales activities, set revenue goals and monitor each sales representative's performance, while achieving improved team organization
Group sales management: guest room and group block tools provide powerful capabilities for managing group sales, on both the enterprise and property levels
Event and catering management: manage the entire process from the initial customer inquiry and ordering service items to printing out banquet event orders and departmental function sheets
Loyalty program management: recognize loyal customers with customized, innovative, frequent guest and membership loyalty programs
Rewards redemption: reward frequent customers with service requests and/or flexibly configured rewards programs
Libra customer portal: self-service options allow for in-house and frequent customers to access supplemental information relevant to their stay via web services integration
Libra HRM portal: specific use case access to Libra OnDemand modules with limited functionality are accessed through mobile devices at a fraction of the cost
Secure hospitality management system
Libra OnDemand provides a comprehensive, flexible, secure and affordable solution that streamlines and automates the way guest interactions are managed. With Libra OnDemand, there's no worry about infrastructure requirements and fees, so customers are able to focus on their guests and ultimately achieve more success for their hospitality organizations.