SDD (Jazz Fusion) offers SaaS, hosted call accounting, guest HSIA billing and personalization, technology integration and middleware, communications profitability services, internet and VOIP integration guest services.
SDD is a software and services company corporately based in Delray Beach, Florida. Primarily appreciated today as a cloud-based managed service, JAZZ Fusion is a collection of integrated software tools and management services for billing and provisioning voice and internet services over enterprise and property-based networks.
JAZZ Fusion can be implemented as premise-based software serving a single property, as hosted software serving an entire customer enterprise, or as a software service (SaaS) that can be subscribed to over public and private networks. JAZZ Fusion can include TeleManager profitability management services that help customers drive maximum returns from the JAZZ software and customer infrastructures. JAZZ Fusion supports telecommunications and internet infrastructures globally.
Internet and VOIP services for hotel guest rooms
SDD has provided centrally-hosted JAZZ managed application services since the year 2000, and today is widely integrated with the most prominent enterprise telecommunications and hospitality technologies in the world. JAZZ's broad reach allows service personalization for guest high-speed internet and voice over internet (VOIP) services across geographically dispersed hotels and hotel guest rooms.
SDD believes technology and management lead to success and it is for this reason that SDD clients include many of the largest and most prominent hotels in the world.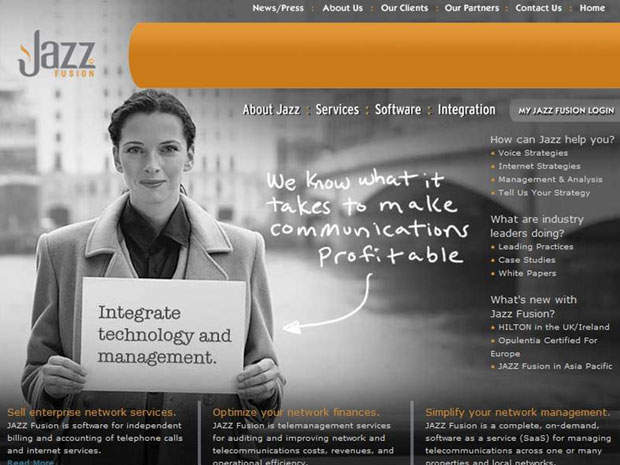 The most frequent application of JAZZ Fusion shifts voice technology integrations and call accounting services to the cloud for nationwide or global management of a hotel portfolio's in-room voice services.
JAZZ Fusion consolidation into the cloud allows individual hotels and service providers to maintain a diversity of on-premise and hosted voice-switching and business systems platforms, while maintaining one consistent business layer for managing the guest experience.
The JAZZ Fusion cloud capability is augmented with SDD's JAZZ Fusion TeleManager services. TeleManager leverages JAZZ technology to provide ongoing management and optimization of a hotels voice and internet broadband facilities. JAZZ is widely integrated with commercially available telecommunications and hospitality systems.
Voice and internet billing
The JAZZ Fusion team can offer voice and internet billing and provisioning features as a SOAP / XML based web service within your total solution. Some organizations embed JAZZ Fusion technology into their total solutions because:
JAZZ Fusion web services eliminate your need to bundle and distribute call accounting and internet billing software within your solutions
JAZZ Fusion web services eliminate your need to develop integration partnerships and to initiate complicated backend integration efforts. JAZZ Fusion can provide your total voice, internet or video solution backend integration
JAZZ Fusion provides sophisticated and widely adopted billing and provision capabilities. JAZZ Fusion web services provides highly developed and widely used pricing and packaging without the development of complicated pricing packaging and billing software
JAZZ Fusion web services make you future proof. There are no partner releases to accommodate, no hardware requirements and no process and operating system compatibility questions. Just simply embed a SOAP / XML interface and subscribe
JAZZ Fusion web services let you control the timing and presentation of financial information. It lets you converge information seamlessly across one or many properties and customers
JAZZ Fusion web services accelerate your efforts to support an enterprise through its ability to support multiple groups of properties and customers
Telecommunication management
TeleManager powered by JAZZ fundamentally changes how telecommunication costs and revenues are managed across both a commercial property and an enterprise. The JAZZ TeleManager service continuously extracts data from a property telecommunications infrastructure and feeds it back as prioritized financially measureable problems and opportunities to be noticed and considered.
TeleManager powered by JAZZ simplifies and improves telecommunication management by allowing you to take advantage of an SDD hosted service offering that frees you from detecting telecommunications problems and instead acting upon them. TeleManager's low cost and high returns offer a significant ROI and has proven to pay for itself many times over.
The benefits of JAZZ Fusion include:
Enhanced telephone department profit performance
The reduction of on-site call accounting technology
Minimize the hotel management resources required to support telephone department profit performance and cost
Enhanced guest satisfaction
Key technology advantages:
Centralized enterprise platform: JAZZ Fusion is delivered via SDD's centralized enterprise technology platform that delivers full call accounting functionalities to multiple properties. JAZZ fusion cloud based architecture reduces property technology and enhances the manageability of multiple property applications. JAZZ Fusion can be hosted by the customer or SDD
Guest-dynamic personalization: JAZZ Fusion enables the hotel to increase demand for communication services (both voice and HSIA) by providing pricing and service package bundling designed especially for the guest or group. This facilitates the ability to increase profitability without increasing prices, by also driving usage.
Ongoing profitability optimization support
Where most competitive offerings leave day-to-day management up to the hotel, SDD's JAZZ Fusion program supports the hotel in attaining, and then maintaining optimum profit performance. The support program includes:
A complete communications revenue, cost and technology audit
Ongoing monthly measurement and reporting on revenue and cost efficiencies
Expert Account Team support focused on the identification of operational and strategic profit enhancement opportunities
Account team support dedicated to assisting the property in transforming opportunities and accomplishments
Six sigma oriented measurement and verification processes
SDD also offers voicemail, IVR / mini-bar and guest wake-up options for international clients. Please contact SDD if interested in learning more about its offerings: