SIHOT hotel management software and tailor-made solutions are designed to cover all hotel processes.
The SIHOT product suite comprises specially adapted processes for effective, streamlined procedures with efficient use of professional software, which save time and money for hospitality businesses. The programme's open structure, modular and flexible configuration make it ideal for every hotel and budget.
Our company is continuously developing the platform to meet the increasing demands of the hospitality industry, priding ourselves in anticipating upcoming trends. In all this, user-friendliness, stability and reliable technology take the highest priority. SIHOT is one of the leading software applications on the market, headquartered in Germany with a global presence in Spain, Portugal, the UK, Australia and Brazil.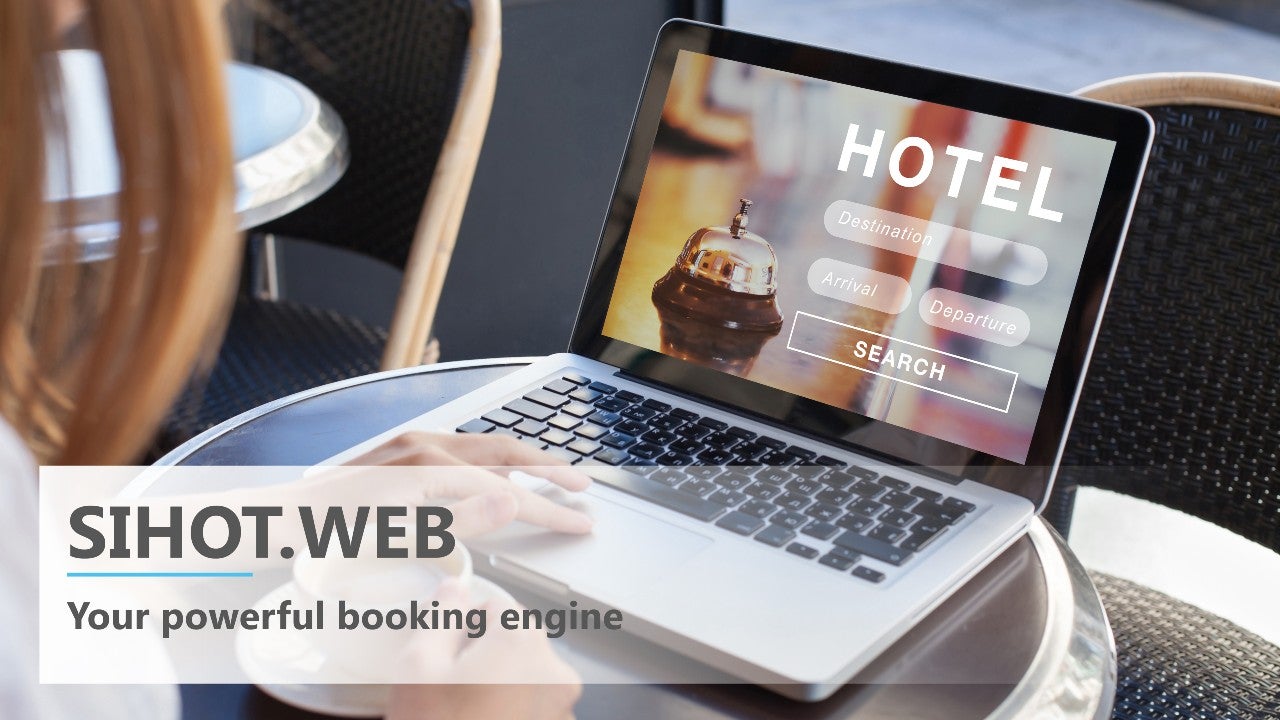 SIHOT.WEB is an integrated hotel booking engine.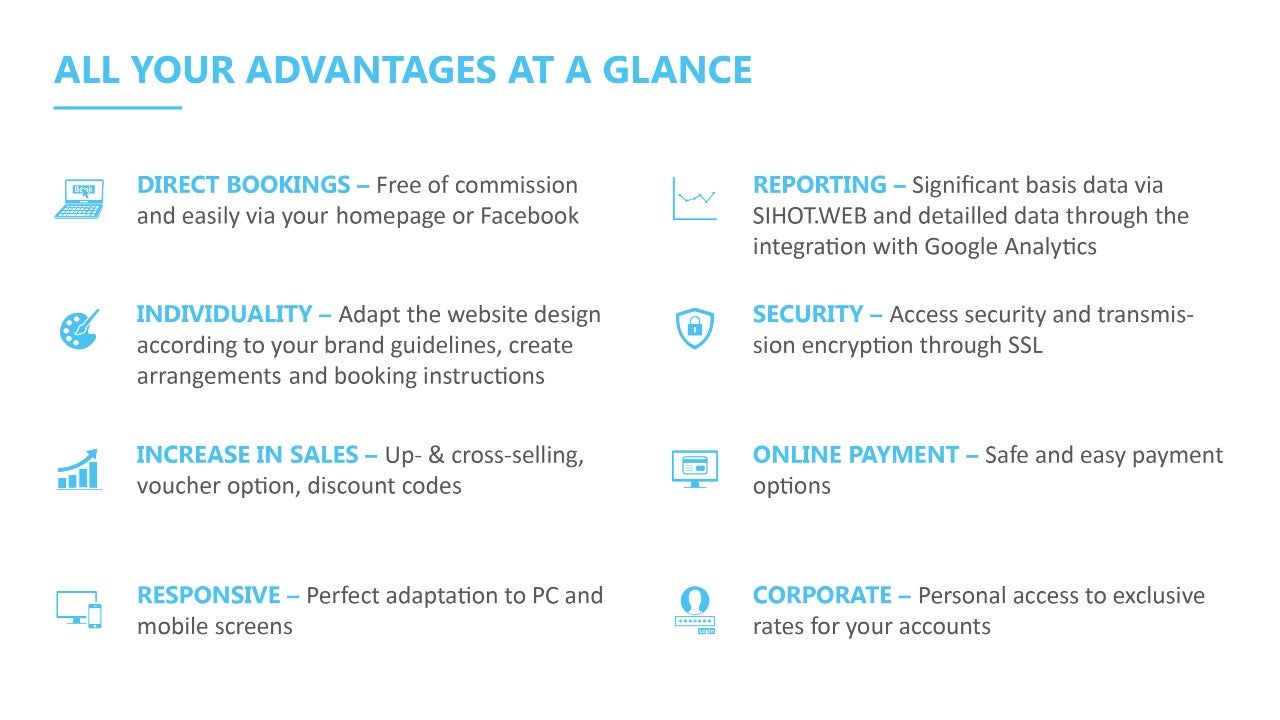 Advantages of using SIHOT.WEB for your hotel bookings.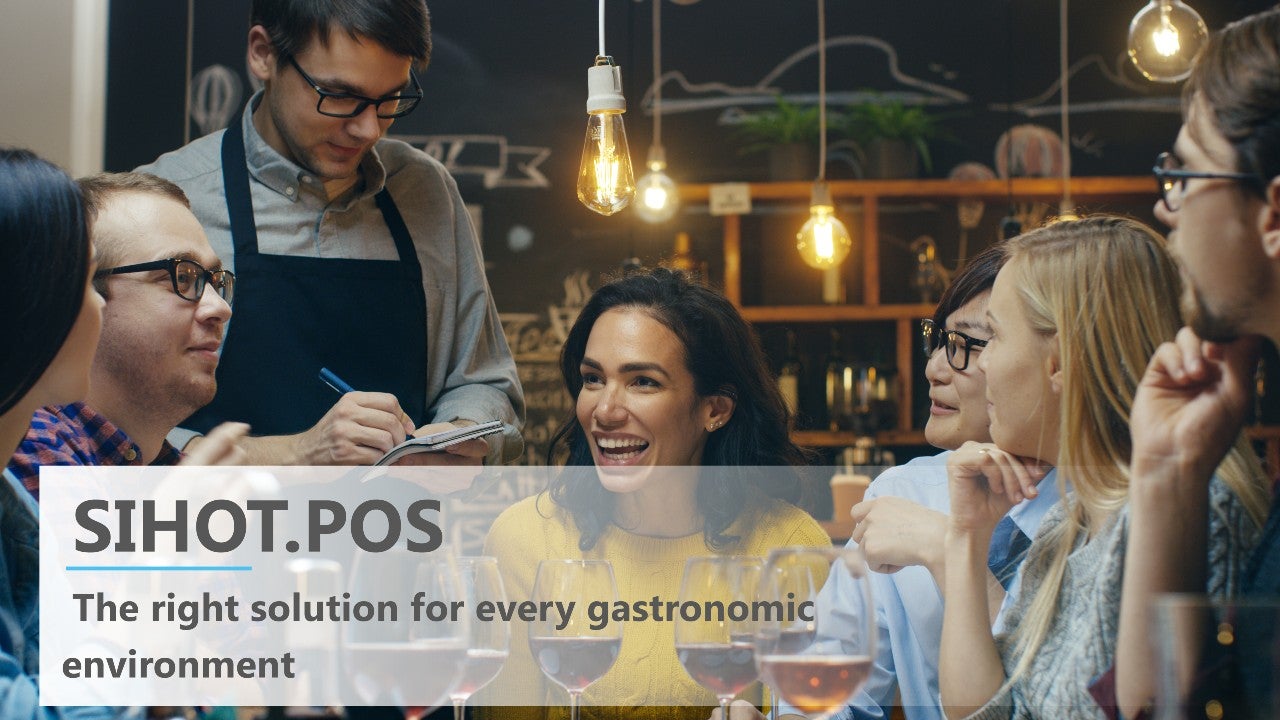 SIHOT.POS is designed for managing various gastronomic complexes or hotels.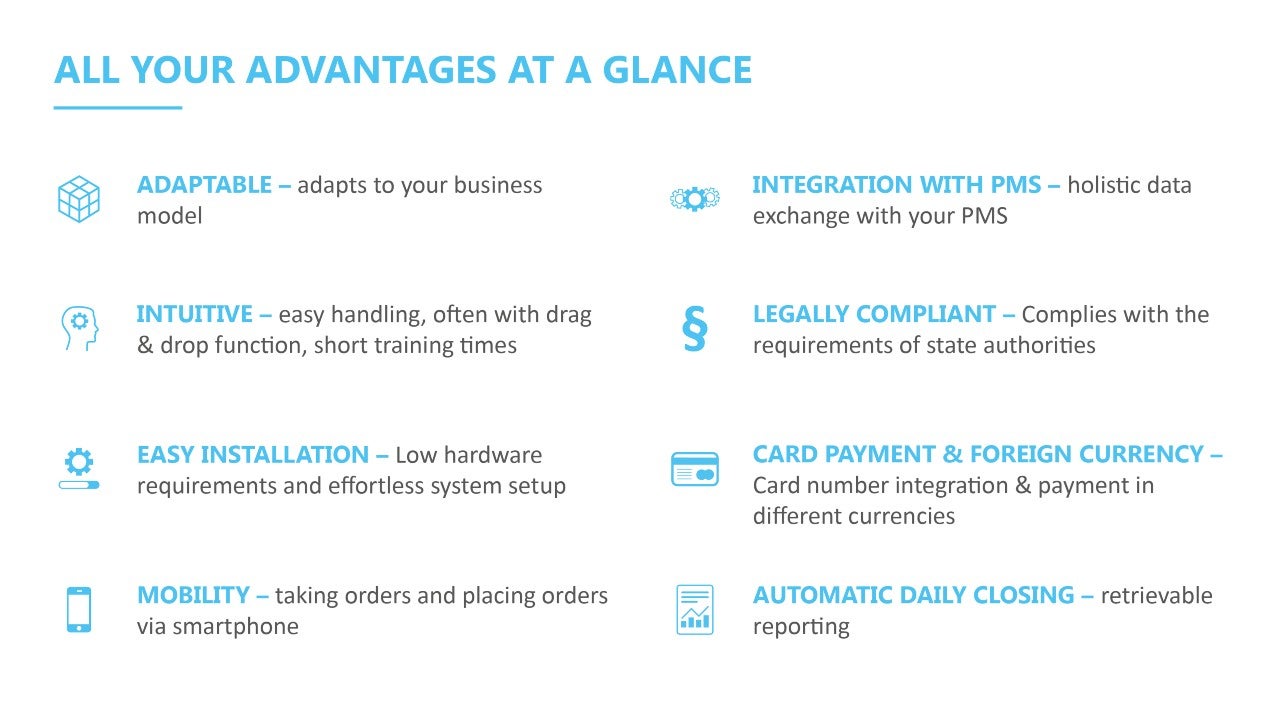 Advantages of using SIHOT.POS.
Property management system for hospitality businesses
Our SIHOT.PMS is the heart of the SIHOT.SUITE, a complete hotel management software solution. It is based on a modular approach, allowing users to fully optimise each individual solution.
Front office, reservation and property management functions are combined in an adaptable, dynamic user interface. Our installation process offers high flexibility, allowing us to adapt the system to suit your business operations, with Cloud, software-as-a-service (SaaS), on-premises and remote options. All data is managed securely in Germany.
To learn more about how SIHOT.PMS can improve the efficiency of your processes and enable your employees to focus on your guests, fill out the enquiry form on this page.
Point-of-sale management software
Our SIHOT.POS point-of-sale (POS) system makes it easy to manage different outlets in a gastronomic complex or hotel, making it suitable for every gastronomic environment.
For companies with several branches, there is the option to control all branches through the system.
Clear reporting functions can also show performance of branches in different countries or continents, narrowed down by country, branch or outlet.
Event management for hospitality businesses
SIHOT.C&B is a universal event management solution that oversees all facilities. It can be used with SIHOT.PMS to optimise the management of conference capacities such as rooms, event accessories and event services. With complete integration, event planning and organisation can be combined with hotel reservations, providing an overview of all processes. Event services can also be booked directly at the cash desk.
SIHOT.C&B features a common guest base for front office, sales, and banqueting, in addition to a direct link between room reservations and events. Alternatively, the programme can also be used autonomously without a property management system (PMS).
Integrated hotel booking engine
SIHOT.WEB is your powerful booking engine. You can choose to use the booking engine with a PMS, which provides real-time data transmission and exchange.
SIHOT.WEB retrieves the current price and room availability from SIHOT or other PMS and transfers online bookings and waiting list reservations directly to the hotel database. The availability of online rates can be checked directly via the front office system. Manual entry and administration of allotments and parallel availability controls are no longer necessary.
The system offers other advantages, including one-page booking, online payment, vouchers and an exclusive login area for corporate accounts and VIPs. For more information about SIHOT.WEB, send your enquiry using the form on this page.
About SIHOT
Working with SIHOT, you can expect a long-term partner. We have been in the market since 1986, with extensive experience across the hotel industry. We have grown with our customers, learning from them, and adapting our software to their standards.
Using high-quality data from the SIHOT product suite, you can increase your return on investment (ROI) and improve the guest experience.
From hotelier to hotelier, our customer support is unique in the industry. All our employees have a hospitality background and an understanding of your requirements, so they can recommend the most suitable solutions. We are available 24 hours a day.