The Skyware full-service enterprise solution offers hospitality businesses feature-rich systems to improve guest experiences and revenues. Skyware's flexible, scalable technology can be adapted to address property management systems, activity / spa scheduling, online booking engines, and account receivable and yield management tasks.
The modular software solutions can be used individually for task-specific process, or integrated into a single seamless system. Skyware's exceptional customer support ensures that users gain the tools they need to increase profits, reduce staff costs, centralise operations and draw more customers in.
Hotel property management systems
Skyware's property management system (PMS) provides a scalable solution for all types and sizes of hotels, including independents and boutiques. Skyware's single-screen concept provides fast processing of guest requirements to increase staff efficiency, make administration tasks seamless and improve customers' experience.
The Skyware PMS offers:

The Front Office tool can be integrated with many other systems for channel management, GDS, point of sale, electronic door locking and credit card gateways.
Skyware sales and catering hotel solution connects all departments, providing a joined-up guest services and hospitality service from a single database.
The Skyware spa and activities module links guests activity schedules, spa treatment programme appointments and other special requests on to each guest's record.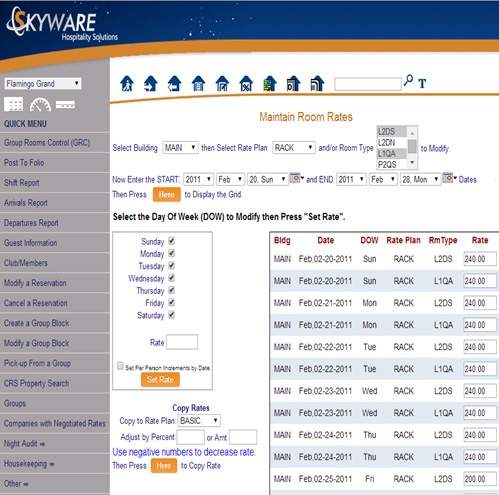 The Front Office system offers user-defined, integrated yield management rate builder logic with seasonal, multiple rate templates.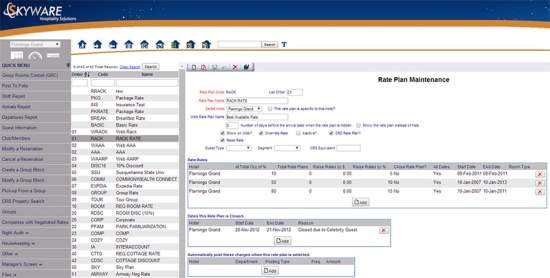 The Skyware system has a guest history and marketing module with customisable views and an unlimited reservation history tracker.
Front desk guest services and administration
Multilingual and multi-currency options, as well as customisable databases
Individual, group block and wholesaler management
Integrated "commission-free" online booking engine
Allotments and travel agent bookings
Customisable guest and document management and CRM
Accounts receivable module, statements, reporting and credit card interface
Custom report generator / query builder
Integrated with Synxis, Pegasus and many popular OTA and channel managers
Hospitality software for catering and sales services
Skyware sales and catering provides a user-defined sales and catering programme that works as a seamless, standalone account, sales and catering management system.
From one screen, the module manages conference rooms, enables users to make reservations for guest and conference rooms to prevent double bookings. Every department can be kept informed via automatic reporting and notification of their duties.
Features of the Skyware sales and catering tool include:
Seamless integration with the Skyware PMS Hotel system
A graphic scheduling facility with guest room blocking and links to meeting rooms
Automatic posting and invoicing
Scheduling of multiple-day events
Full account management
Guest room, services and functions managed from a single form
Drag-and-drop catering management menus
Quick-event and banquet management
On-screen and printable report generator
Point of sale system for restaurants
The Skyware point of sale system enables hotels to manage guest services without a third party system. The intuitive user interface is easy-to-use without any training, with pleasing, flowing menus to allow for faster transactions. With optional customer facing displays, Skyware's internet-based POS system provides immediate feedback and communication to the customer.
Skyware point of sale software offers:
Cloud-based management, reporting and database
Conversational ordering
Touchscreen
Integrated payment drawer management
Seamless room charge posting
The Skyware point of sale system is built upon an integrated platform for seamless implementation and flexible scalability. Cloud-based management and reporting let businesses stay up-to-date when on the move, from quick service to high-end restaurants, lounges to bustling bars, gift shops to pro-shops.
POS management can be rapidly streamlined, as the tool is designed for fast processing of any purchase in cash, credit or transferred to the room. The module enables users to configure taxes, products, pricing, discounts, costs, receivables and suppliers, and receipts.
Spa and activity schedule manager
The Skyware spa and activities software module is an integrated, guest-centric scheduling and billing application developed to help resorts manage their operations and enhance guest services.
Time and costs can be reduced, as the tool can be fully integrated with the online reservation booking engine. Guests are able to make reservations online, which may be adapted to an overnight package, a service reservation for an hour, or a combination package. Multiple activity schedules can be set up to service spa, tours, tennis and golf reservations, transportation services, and more.
The Skyware spa and activities module links guests' activity schedules, spa treatment programme appointments and other special requests all on the guest's record.
Key features include:
Seamless integration with Skyware Front Office software
Scheduling by treatment type, service provider, time or facility to personalise sessions
Spa and activity management through the reservation system, with full billing capability
Attendant scheduling that shows flexible breaks and lunches through the week
Confirmations, itineraries and administrative processes configured to manage complete guest room, activity and spa reservations