TripCraft® is an innovative technology company providing hospitality's first mobile commerce (mCommerce) platform, supporting mobile applications for guests, management and staff.
We go beyond today's understanding of mobile apps. We untether your traditional PC-bound applications to get you closer to your 'always on' customers, so you can deliver the best stay and management experience across your enterprise.
Enhance guest engagement prior to check-in and onsite
Connect guests and staff for higher service levels
Streamline operations and improve staff productivity
Increase revenue with greater communication and access to services
Mobile platform to streamline operations and boost hotel revenue
TripCraft offers a purpose-built mobile platform for hoteliers that can easily adapt to multiple back office systems and keep pace with evolving business needs and technology. Leveraging proprietary mobile cloud servers and applications, TripCraft solutions provide rich, robust and elegant functionality that extends your hotel's brand image to the guests and staff.
The platform is a white-labeled, turnkey enterprise-level system that connects directly with the brand's back office systems for marketing, reservations, guest loyalty, on-property services and more.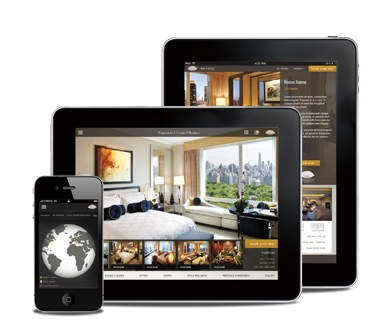 Dynamic image galleries, video, property descriptions and amenities, and detailed accommodations are optimized with TripCraft mobile web.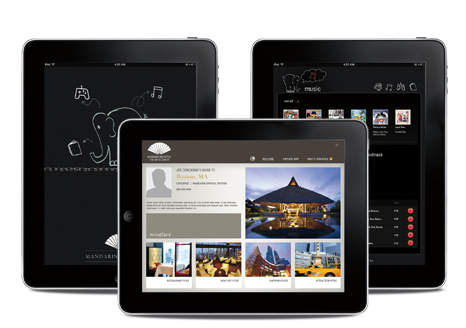 TripCraft enables onsite guests to stay connected for travel guides, spa, dining, and other on-property services.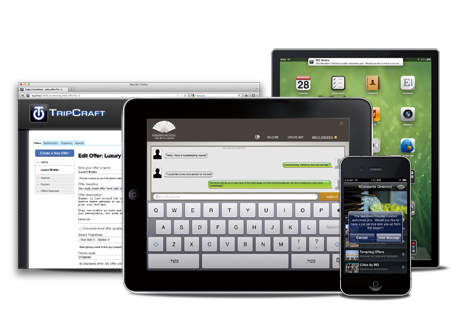 TripCraft engages guests with customized mobile marketing messages based on preferences, location and interests.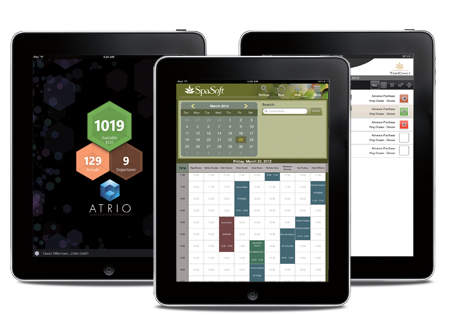 TripCraft mobile staff apps bring high-touch service to your guests at the point of service.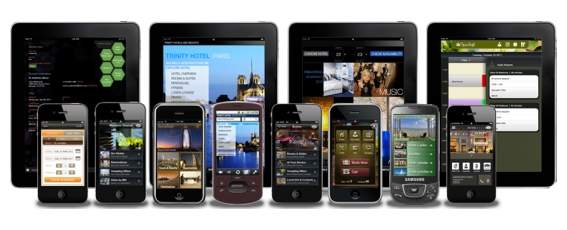 TripCraft develops for all web and mobile devices, including iPhone, iPad, Android and Blackberry.
Off-the-shelf and custom mobile applications
Guest solutions: reservations, personalized marketing, loyalty programs, travel guides, on-property services, entertainment and more
Operational solutions: front desk, spa, dining, property management, point-of-sale and more
Content management, reporting and tracking
Mobilizing pre-stay to post-stay
TripCraft's flexible and extensible platform supports guest and operational staff applications across the entire hospitality enterprise. Our solutions address a full range of functions that deliver added value when mobile.
Customer Solutions – provide your hospitality brand with a mobile app or website that not only delivers an incredible brand presentation, but also converts your mobile customers into mobile guests
Guest Solutions – offer a variety of mobile guest service applications that enable guests to communicate directly with the hotel concierge for reservations, recommendations and/or connect to spa, dining, and other on-property services
Outreach Solutions – provide the ability to create targeted, personal mobile marketing, including reminders, tips or offers based on guest location, history and preferences
Staff Solutions – deliver efficiency and enhanced service with mobile solutions for front desk, spa and concierge, plus upcoming dining, housekeeping and valet apps
Next-generation mobile technology for travel companies
The TripCraft platform is a cloud-based service that easily integrates with your existing distribution and back office systems, providing a centralized solution. Our platform supports native, hybrid, and website mobile applications, and offers a management dashboard that allows travel brands to control all aspects of their mobile presence.
Single scalable mCommerce platform
Full range of device development – iPhone, iPad, Android, Blackberry
Fully redundant cloud-based application
Native or browser apps
Fully integrated with legacy systems
Mobile commerce platform for hoteliers
TripCraft's mobile solution is ideal for leading hoteliers that recognize the potential of mobile commerce as a new business channel that increases brand loyalty and operational efficiency. We provide hoteliers with world-class mobile capabilities at a fraction of the cost and effort of development in-house.
Hospitality is mobilizing – today
Mobile devices, apps, and websites are the new face of customer engagement, as over one billion consumers will have smartphones by 2016. In 2016, 350 million employees will use smartphones – 200 million will bring their own.
Mobile spend will reach $1.3tn as the mobile apps market reaches $55bn in 2016. Hospitality brands are increasing mobile with the biggest jumps in Android and iPad app development.