Winhotel is a provider of fully customisable technology solutions for hotels, including a powerful property management system (PMS), hospitality mobile phone apps, channel manager and hotel reputation analytics.
Our solutions are available across a host of platforms, and provide fully integrated solutions for guest management, helping you to provide a relaxing, efficient service to your customers.
Property management system (PMS) with cloud, web, mobile and local access
Developed for independent hotels with 50+ rooms, our PMS is designed to be stylish, intuitive and easy-to-learn, with a powerful back-end design that provides data and information in an efficient, clear way.
Winhotel provides customisable technology solutions for hotels.
The company's property management system (PMS) is designed for independent hotels with 50+ rooms.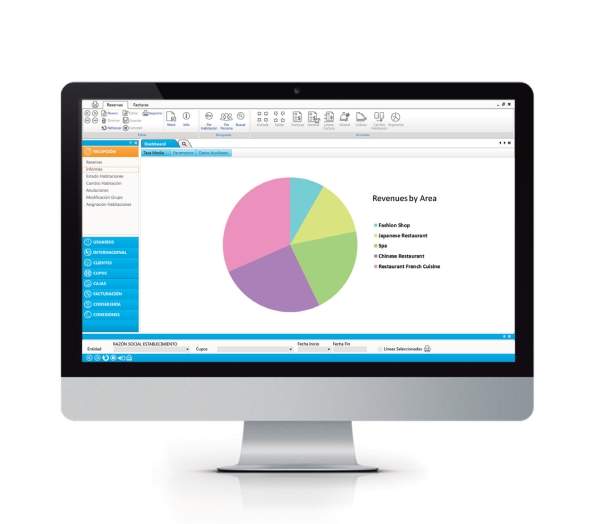 The PMS is designed to be easy-to-use and learn, with a stylish design.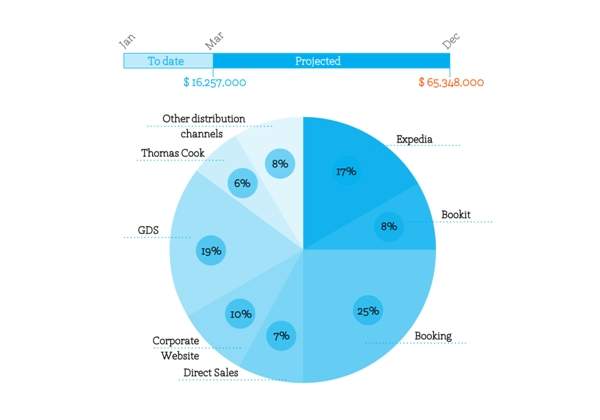 It enables extensive management of all aspects of the hotel, including reservations, front desk, billing and report generation.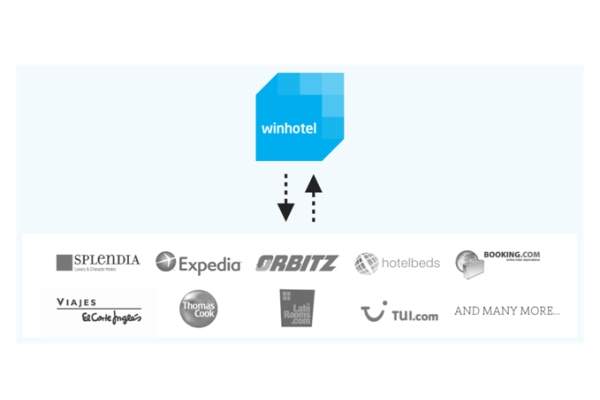 The integrated Channel Manager saves time and significantly cuts the chance of overbooking.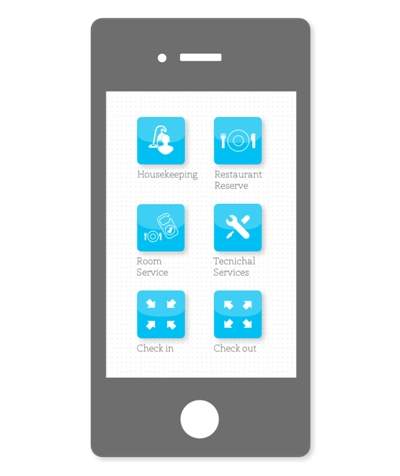 Winhotel also develops mobile apps for hotels than enable check-in and out, activity reservations, room-service ordering and more.
These are customised for your hotel, and can include information on location, nearby activities and spa treatments.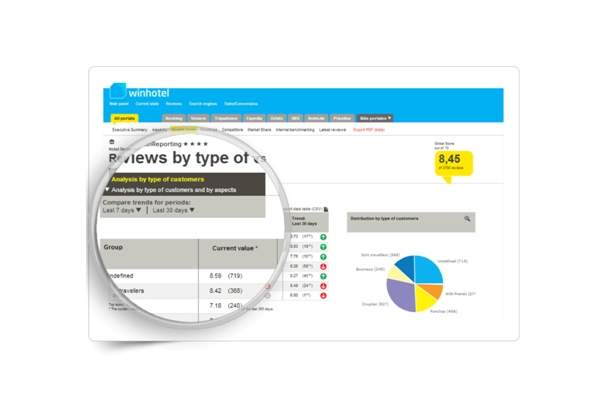 Winhotel's Reputation Analytics software provides detailed information about your hotel's online reputation.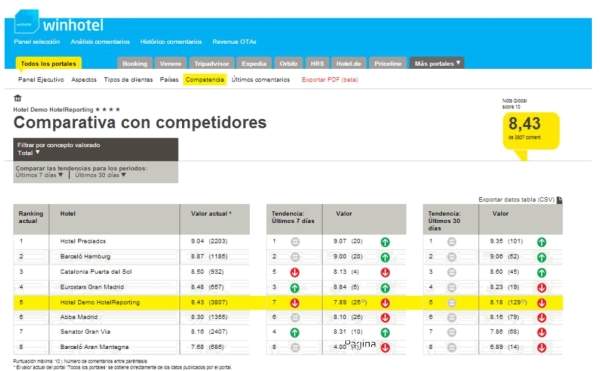 Reputation Analytics includes detailed information about competitors.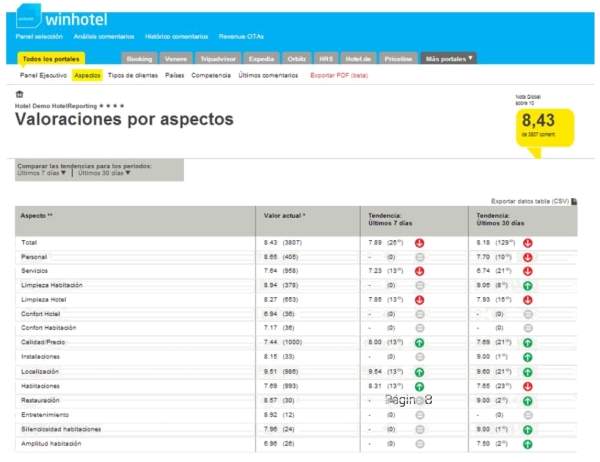 The analytics software helps identify weak points and make changes to avoid damaging your hotel's reputation.
With features including drag and drop functionality, report generation and access from any device at any time, including mobile phones and tablets, the PMS is designed to provide you with essential information quickly and easily. It comes with 12 modules to provide a complete and holistic management service:
Parameterisation: to enable specific operation parameters to be fully defined, including multiple hotels and operators, different billing series, room types, client types, taxes, customer details and more
Management: assessment of services and historical data to assess revenue impact, including services breakdown, multiple language invoice, report consolidation, sales forecasts and more
Reservations and planning: systematic management of online reservations and positioning methods, including reservation capture, tax and account data, instant room reports, reservation rates auto-allocation, smart overbooking management and more
Reception and front desk: management of check-in and check-out tasks, including rapid check-in / out, booking search by room number or name, stay status modification, active room management and more
Billing and collection: automatic billing, including credit management, automatic or manual room and extras billing, pro forma invoices, sales counter management and more
Treasury and currency: currency exchange management, including entry / exit information, liquidation of POS register and more
Daily closing and audits: automatic detection of planning errors or unforeseen events, daily productivity status, personalised closure and more
Reporting: report generation for all areas of the hotel, including booking, reception / front desk, reservation and invoice history, occupancy and more
Tariffs: ability for flexibility in rates, prices and offers, including special discounts for weekdays, early books, multi-bookings, etc., promotional formulas, different currencies and more
Due dates: improved collection control with different due dates for specific clients / agencies
Confirmation system: automatic confirmation system after bookings, with different languages, customisation, email and fax support
Auditor: management of disputes, fraud or human error to resolve enquires quickly, including auditing of transactions, advanced search by specific and wide-ranging parameters and more
Channel manager for automated booking downloads, rates and availability updates
With hotels using so many different websites to get bookings, it is very important that these are managed in an efficient and effective way. Winhotel's Channel Manager is designed for this purpose, enabling the management of rates and availability of rooms across many online agencies.
Fully integrated with our PMS, Channel Manager will immediately update information on all connected online agencies on the receipt of a booking, ensuring information on all outlets is accurate and up-to-date.
With support for over 100 different distribution channels, wholesalers and booking engines, Channel Manager ensures rate parity, saves time and drastically reduces the chance of overbooking.
Hotel-specific mobile phone apps for check-in, in-room dining and check-out
Mobile technology is playing an increasing role in the way hotels communicate with their customers. Winhotel has created a mobile phone application for this purpose, enabling a two-way relationship between hotels and their customers through smartphones and tablets.
Available on Apple's App Store and Google Play for Android, the app can provide customers with information about facilities, locations, spas, breakfast hours and more. Customers can book specific services such as spa treatments through the app during their stay, browse the hotel's presence on social networking sites and provide feedback on their visit. All of these can provide increased revenue and provide a personalised sense of care without overburdening staff.
Hotel visitors can access a wide range of hotel services through the app, enabling their stay to be hassle-free. These include:
Early check-in and express check-out
Wake up call request
In-room dining orders
Activity and excursion reservations
Amenity requests
Room cleaning
Room maintenance
Integrated online reputation analytics to improve online hotel marketing
A good online reputation is an increasingly vital asset for any hotel, but staying on top of this can be challenging and time-consuming. Winhotel's Reputation Analytics tool is designed to simplify this, by gathering and analysing content published by guests and alerting hotel managers to any areas requiring improvement.
Designed to be adaptable to each hotel's needs, the system will analyse the rank against competitors and identify weak points, enable trend-spotting and provide up-to-date information about what guests are saying about your hotel or chain.
The system will provide information about which areas to focus on, sales conversion rates and provide an assessment of different aspects of the hotel.