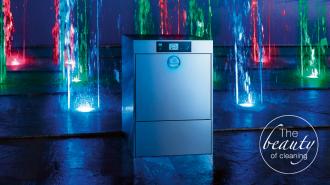 MEIKO, one of the world's leaders in warewashing, is introducing a new era for the food service industry with its first major launch in four years.
The result of many years of research, M-iClean has to be seen to be fully appreciated. MEIKO is the technological master in warewashing design and this is one occasion where creativity in design and engineering innovation have combined to produce a visually stunning product that is also entirely functional and user-friendly.
The new M-iClean range of undercounter machines achieves the perfect transition of technological ingenuity into product design. M-iClean condenses the most sophisticated dishwashing technologies into one visually stunning package, creating a harmonious combination of technology and aesthetics.
Key features
Eye-catching and informative LED illumination. The illuminated handle indicates machine status with a series of colours that are clearly visible from a distance. Blue: Machine is ready for operation. Pulsing green: The M-iClean is washing efficiently. Red: There is an important message on the display, such as a blockage or lack of rinse aid.
One-touch controls. Ergonomic touch display shows all available functions as clearly identifiable icons, while a dynamic progress bar shows how much of the wash cycle has been completed.
Colour coding. Making operation easy for operators in any language, any part of the M-iClean coloured blue or illuminated in blue can be touched, operated or cleaned. Components marked in blue, such as the M-iClean wash filter, are elements that can easily be checked or cleaned by the operator. Intelligent sensor technology.
Communication: M-iClean monitors key machine components, such as the M-iClean filter and rinse arm. To ensure that servicing is not unexpectedly needed, MEIKO encourages machines to talk to each other, with Bluetooth interfaces enabling the transmission of service data, significantly boosting machine efficiency. Its service-friendly design makes the machine easier to clean. For example, the wash pump is easily accessible from inside the machine, making it quick and easy to remove anything that shouldn't be there.
Big green heart
Energy wastage is cut thanks to an intelligent energy management system. M-iClean gradually switches its functions one-by-one into stand-by, using a progressive scale of power-saving modes instead of just one standby status.
The heat recovery system cuts steam emissions, reducing energy consumption by up to 15%, making emptying the dishwasher a far more pleasant experience.
Reduced carbon footprint. M-iClean uses a stainless steel combined wash and rinse arm which produces superb wash results as expected from MEIKO, but does away with a dedicated rinse arm makes the machine easier to clean and saving valuable resources.
No need to polish dishware after washing means reduced staff costs and fewer breakages.
The M-iClean can also be supplied with MEIKO's tried-and-tested GiO reverse osmosis water treatment. A micro-fine filter membrane removes virtually all particles from the water, so less detergent and rinse aid are required but the machine still produces sparkling cleaning results with minimal water consumption.
"We developed M-iClean because we wanted to create a beautiful combination of mechanical engineering, materials, technology, form and purpose," says MEIKO head of exports Klaus Engesser.
"But we were also determined not to over-engineer the M-iClean; we wanted to optimise every aspect of this smart, complex product to design for our customers a dishwasher that people understand instinctively."
For decades MEIKO has represented the best of German engineering and technological leadership.
MEIKO's latest product innovation, M-iClean, is the natural counterpart to M-iQ, the product line which caused such a sensation when it launched four years ago.
For more product information and images, visit the company website.
---
Image: The M-iClean undercounter warewashing machine. Photo: courtesy of MEIKO.