Crown Lockers is an ISO9001-2008 certified specialist manufacturer of bespoke changing rooms and wooden lockers for various applications.
Bespoke changing rooms for spas, leisure clubs and golf clubs
Wooden lockers and changing room furniture have the versatility to create an integrated luxury changing room facility. Changing rooms can be created using all wooden lockers and furniture or by combining wooden door lockers with glass doors and laminate door lockers together with Corian solid surfaces, granite, leather and other materials.
Whether you require a relaxing or vibrant environment, Crown Lockers will provide the solution. Give us a design brief and we will, in conjunction with your interior architects, come up with a changing room that works for both your client and your operations department. We have over 18 years' experience which we apply to prevent many unforeseen potential pitfalls in the design, or practical use and maintenance.
Bespoke lockers
Our bespoke lockers can be built to any width, height and configuration that will balance operational requirements against available space and budget. Finishes are board materials ranging from MFC colours and wood grains to wood veneers.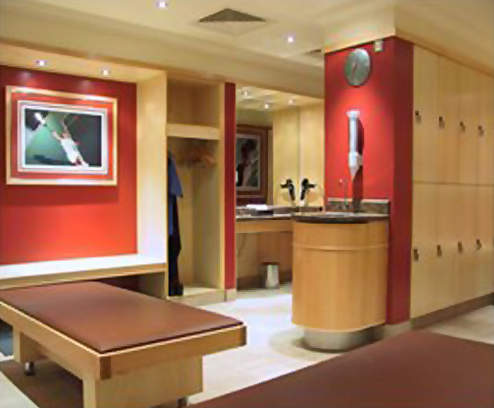 Shire Hotels, Kettering Park. Two-tier lockers on tiled plinths, flush maple doors fitted under bulkheads with high-level perimeter trim throughout. Ancillary items comprise built-in water fountain, costume dryer, vanity units, hanging robes, and seating.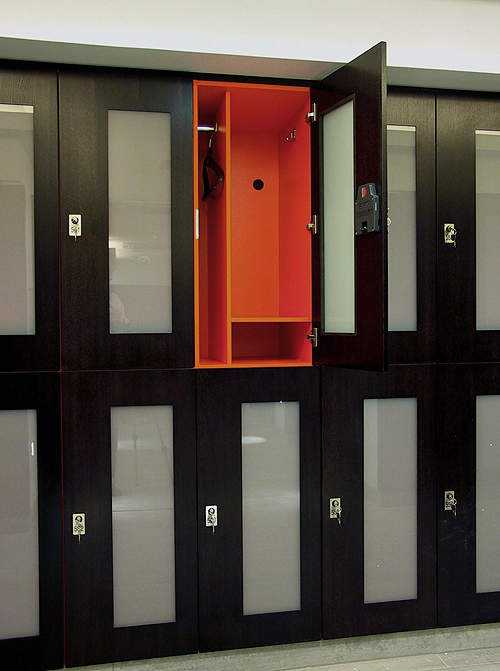 This image illustrates the striking effect that can be achieved by the use of coloured locker bodies. Locker bodies can have internal divisions. The doors are stained solid ash framed doors with etched glass door centre panels.
Walnut cantilevered seating fixed to locker fronts with red leather piped and boxed cushions.
Vanity unit with down lights in soffit, framed mirrors, and Corian counter. Drawer units and lower panels to plinth.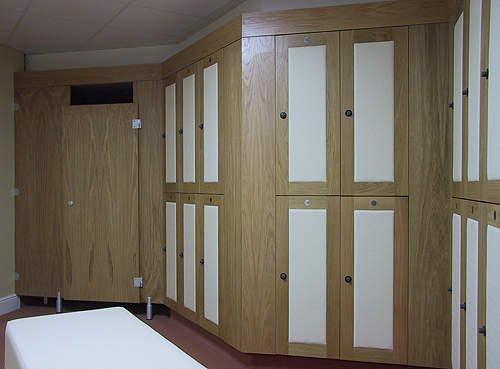 Flush scribes and corner posts with concealed light trough above the lockers. Oak framed doors with white upholstered centre panels.
A wide range door styles are available for our bespoke lockers – solid framed doors, flush doors, glass doors and other specialist finishes. If we haven't previously made a door that meets your aspirations we will manufacture one.
Our bespoke lockers come with several locking system options: RDF technology, digital keypad, cardlock, coin return, and conventional keyed cam. Any of these can be selected to meet your budget and operational needs.
Changing room seating
A range of seating is available to meet your needs; cantilevered seating with solid wood slats, upholstered or Corian tops are some of the options. Solid joinery bench, freestanding island seats with or without goalposts, resin seating – whatever you require we have a solution.
Vanity grooming stations
Our vanity grooming stations are complete integrated units with tissue dispensers, drawers, soffits, lighting, counter tops constructed from Corian, natural stone surfaces or wood.
Changing room fittings and components
We also can provide specialist units, including changing cubicles, towel stores, dirty towel drops, TV units, product display cabinets, drinking fountains and costume dryers.
Changing room locker installation
Crown Lockers is an expert in ensuring that the interfaces between the lockers and other installed units blend seamlessly within the room. The clever use of soffits, overhead lighting, flush finish scribes and closures, and wall panelling can make the difference between an indifferent changing room and a Crown changing room. All our installations are carried out by experienced and flexible installation teams.
Wooden lockers and storage units
Crown manufactures standard wooden lockers to meet a range of different environments and usage, including office lockers, school lockers, sloping top lockers, golf bag lockers and changing room lockers.
We also manufacture lockers and storage units for specific purposes such as cue storage, luggage lockers, cricket clubs and football clubs.