Focus SB are a UK-based electrical accessory manufacturer who provide wall plates and light switches to designers and architects. Our hotel multi-service plates, card switches and audio visual (AV) plates have been included in luxury hotels of distinction. We can also tailor make designs to meet the specific style requirements of our clients.
Multi-service hotel bedhead plates
Focus SB's multi-service plates add extra luxury and convenience to a hotel room. Usually placed beside the head-board of a bed, the multi service plate allow for lighting, music, television and do-not-disturb lights to be controlled from one wall plate, which sits flatly against the wall. Available in bronze with an antique finish, nickel with a satin finish, chrome or stainless steel. Focus SB can also design and manufacture card switches in any finish from their range, or bespoke.
Cover plates for audio visual, home automated lighting and other in-room control systems
We can make cover plates for many of the popular existing control systems, including Lutron, Teleadapt and Control 4. Our range of Audio Visual (AV) and Home Automated Lighting (HAL) plates can be personalised to hold practically any inserts. Cover plates are available in any of the catalogued ranges, which include Ambassador, Horizon, Prism, Morpheus as well as in unique, bespoke, styles.
Bespoke electrical accessories for hotels
Off the shelf accessories do not need to be accepted if something special is sought after, as we do bespoke electrical accessories. For this, get in touch with our in-house design team with your ideas and we will manufacture them. We are able to do short runs as well as mass production.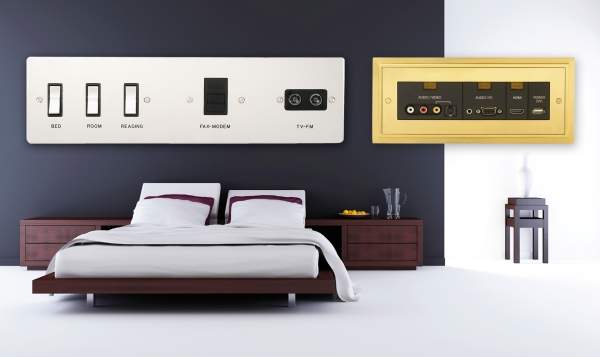 Focus SB provides bespoke electrical accessories to the hotel sector.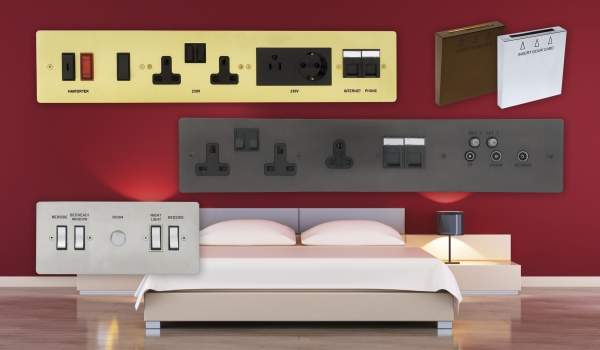 The company makes cover plates for in-room control systems.

Focus SB is a specialist manufacturer of multi-service hotel bedhead plates.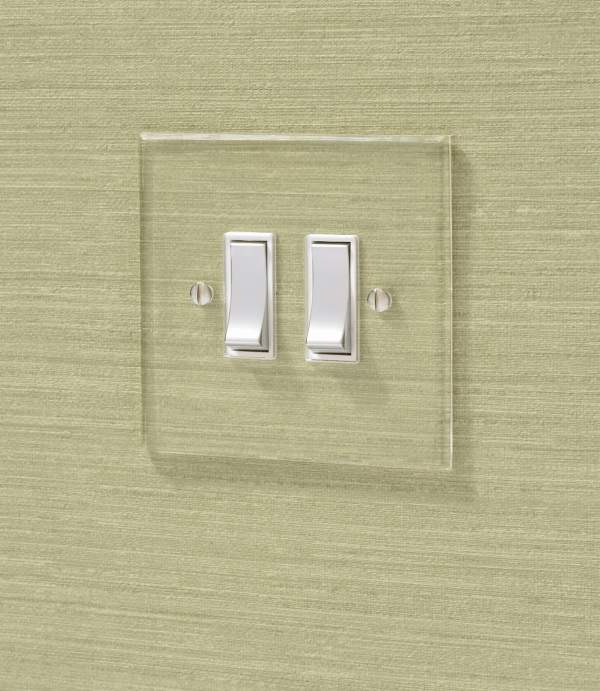 The Prism Clear Acrylic range is a discreet decorative wiring accessory solution designed for use with wallpaper.
Prism II clear acrylic cover plates are ideal for light switches in hotel rooms.
Focus SB bespoke products have been specified for a wide range of projects. We have worked with elaborate palaces in Dubai, which featured gold plated electrical wall plates throughout, to renovating boutique, kitchen, retro hotels, and country manor estate hotels, which have featured our wooden lighting plates with antique finishes. We are able to turn our hand to almost any design and style.
None of our products needs a gasket to be used, due to our electrophetic lacquer finish.
Engraving and silk screening of control plates
High specification plates can be engraved or silk-screened with lettering to identify the function of each individual switch or control. This, in the past, has been used on the Audio Visual plates and Home Automated Lighting (HAL).
Clear acrylic, prism, cover plates for light switches
The Prism Clear Acrylic range is made out of thermosplastic. It is a discreet wiring accessory solution designed for use with wallpaper. This modern design is much in demand at the moment. Prism and Prism II suit a wide variety of properties. Although its clarity and simplicity is very modern in appearance, it has not only been used in minimalistic lounge bars in the city but we have requests from country estate refurbishments as well. This plate is also available without screws.
Plates can also be finished to any RAL cover. Once the colour scheme has been decided, the plate can be installed and simply painted over for the exact matching finish.
At Focus there are no carriage charges for UK mainland next day deliveries (excluding weekends), no minimum order charge and no minimum quantity.
Our plates are made to last because we Focus on quality. Baring this mind, our plates have a lifetime guarantee.
Hotels in the UK are among the finest in the world and Focus SB has been worked on a number of hotel refurbishment projects throughout the country. Focus SB is proud to be a part of these various projects to help maintain the UK as a premier destination for tourists seeking luxury accommodation:
Aurora Hotel
Carlton Tower
Churchill
Corinthia
Crest
Hilton
Intercontinental
Lowndes
Meridian
Montana
Moran
Royal Berkshire
Royal Garden
Royal Lancaster
St Pancras Renaissance