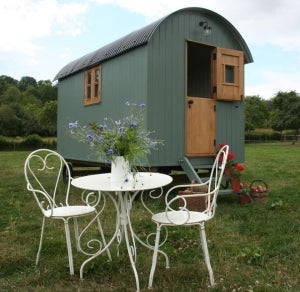 Focus SB's new Deckle Edge slate finished plates are being installed in the Good Life company's shepherd huts, an increasingly popular form of accommodation for those that like creature comforts when camping.
Phil Jones and his team at the Whitbourne-based Goodlife Company has brought the shepherd's huts into the 21st century by adding optional extras. "The trend for glamping, or glamour camping, has really taken off so we are seeing a marked increase in demand from bed and breakfasts requesting our shepherd's huts," he says.
Farmers used to construct shepherd's huts for the shepherd to sleep in while away from the farm tending his flock. "Our customers are finding a number of different uses for the huts," says Phil. "Some are using it as an artist studio, for music practice, a children's play den. The possibilities are endless!"
Among the many options that can be added to a standard Goodlife Shepherd's Huts are powered sockets and, for those wanting the genuine country house look, the Deckle Edge plate from Focus SB.
Roger Kemp, managing director, says that design-wise it is very versatile: "The Deckle Edge would suit a period country home, and fit well with the décor in the shepherd's huts. We are pleased to be working with partners that have a passion for working with traditional methods."
All shepherd's huts are hand built to individual specifications, with a choice of quality furnishings and fittings. The standard hut includes: oak framed double glazed windows, oak stable door, wood burner made by Windy Smithy, fully insulated floor, walls and roof using sheep wool, cast iron wheels to original design, solid oak axles and chassis, solid oak flooring, bespoke blacksmith forged light fittings and power points by Nigel Tyas Ironworks, finished internally in Farrow & Ball traditional paints, and fabrics supplied by Vanessa Arbuthnott.
For more information please contact Focus SB.