Jona Hoad Design designs and produces high-quality lighting products which are lights themselves, or incorporate light within them, primarily for hotels, high-end residential, spas and retail builds. Our core products are illuminated hotel room numbers with or without touch controls and entry systems, signage, doorbells, table lights, wall lights and floor lights, and we can also design bespoke one-off pieces. Our products are easy to install and provide a cost-effective, energy-efficient lighting solution.
Illuminated hotel room numbers
Illuminated hotel room numbers offer an innovative system of numbering hotel rooms, meeting rooms and spa treatment rooms. They can include status indicator buttons, an energy-saving cardslot and a swipe card entry system. The hotel room numbers are lit by LEDs and can feature any font, colour, pattern or logo. They can be any size, including floor-to-ceiling, with a metal or wood finish to the lower section.
The bespoke nature of the illuminated hotel room number allows the designer the opportunity to personalise it to sit in fully with their overall design. The unit also has the added benefit of working as a subtle secondary lighting source, softly illuminating the wall and defining the corridor space.
Illuminated signage for hotels
In addition to illuminated hotel room numbers, we can also design and produce illuminated signage to tie in with the theme of the build and the hotel room number units.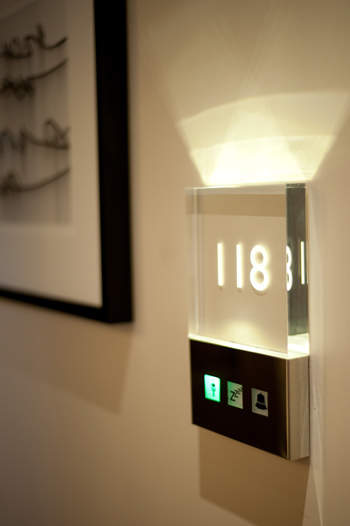 Jona Hoad Design is a leading designer and manufacturer of lighting products for hotels.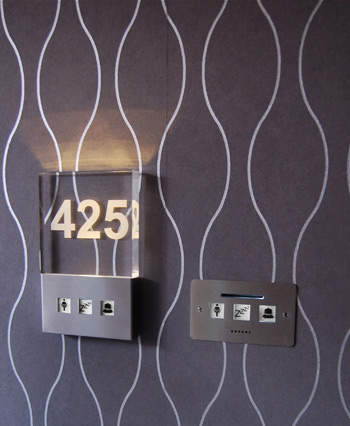 Illuminated hotel room numbers are one of our specialities.
Our bespoke doorbells have a simple and classic design, making them an ideal addition to any hotel.
We mainly use LEDs, acrylic and glass in the production of our illuminated room numbers.
We design and produce illuminated signage for hotels.
LED, acrylic and glass illuminated doorbells and room numbers
We mainly use LEDs, acrylic and glass and offer a wealth of experience in design, production and electronics whilst working alongside established, specialist manufacturers. We are able to develop custom electronics within lighting products, such as our doorbells and hotel room numbers, which means they can be programmed to suit the exact requirement of our clients. We have an extensive knowledge of acrylic and glass and have worked with many well-known brands within the hotel and leisure industry, and more recently with large international developers.
Freestanding and wall lights for hotels
We have a broad range of freestanding or wall lights, and can also design pieces to tie in with the theme of the particular project and be reproduced throughout the building. Our production pieces, such as the award-winning Catherine Wheel Light, are popular both in hotels and commercial buildings as well as private homes.
Bespoke doorbells for hotels
Our bespoke doorbells can be custom-designed to match any Pantone colour and the size and shape of the icons can be specified, along with any choice of font. They can also be pre-programmed with any sound. The touch buttons allow for easy cleaning and their slick lines make them a simple, classic design which is easy to install and operate.
Bespoke chandeliers and illuminated etched screens
In addition to the extensive range of illuminated hotel room numbers, doorbells and table and wall lights, Jona Hoad Design has designed and produced stunning bespoke chandeliers such as the Curtain of Light for the Liverpool Hilton and a 10m x 3m modular chandelier for Banana Republic's Covent Garden and Oxford Street stores. Our illuminated etched screens grace many bars and restaurants, both in the UK and internationally, along with featuring on-board luxury yachts.
A full-service approach to lighting products for hotels
We pride ourselves on our attention to detail and our dedication to ensuring that our clients are kept fully updated throughout the process, from the initial brief through to the realisation of the idea itself. We will work with designers, architects and, if necessary, the client themselves to advise on the feasibility of the idea, and endeavour to suggest the best solutions with drawings and prototypes. From our illuminated hotel room numbers, doorbells and signage, to bespoke chandeliers and production pieces, Jona Hoad Design will work with you to meet your deadlines and enhance your project.