For over 200 years Lobmeyr has been manufacturing representative lighting such as chandeliers, wall sconces and other lamps with the highest regard to artistic and traditional hand crafting techniques. We supply to our customers the services of lighting concepts from a decoration point of view, working closely together with interior designers and architects to create or facilitate bespoke designs and solutions as well as creating signature items for lobbies, restaurants, bars and banqueting halls.
We excel at supplying the most exclusive and authentic lighting solutions in traditional and timeless designs, contributing to some landmark projects.
Custom lighting designs for hotels
With our range of over 5,000 individual lighting designs and in-house design capacity we strive to supply the most suitable lighting items. Here we take into account the overall design concept of the project, the outlook of the principal and, most importantly, the architectural composition of a given room. Our aim here is to work within an existing architecture and design concept and not to dominate it with lighting items. From our existing design we can manufacture custom items to reflect the style of the project.
Bespoke chandeliers as signature items
For lobbies, restaurants and other public areas bespoke lighting items are ideal, as they enhance the visual signature of the project, contributing to the creation of landmark projects. Here we can bring to bear our in-house design team as well as outside designers. We mainly draw from a rich pool of emerging designers who repeatedly work with us in creating contract items or new designs for our lines.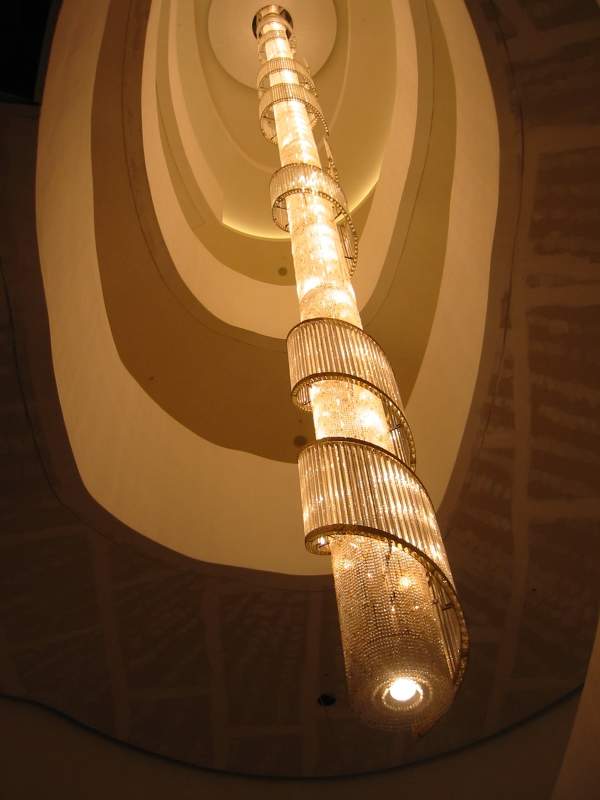 The 20m long 'Spiral' chandelier for the Concert Hall in Athens. It was designed by Stefan Rath for this project in 2004. Through geographic necessity we made this item 'Tested Earthquake Proof'.
The chandelier for the lobby of the Kokusai 21 Hotel in Japan was designed to resemble the city's coat of arms, the Lotus Blossom.
The chandelier for the restaurant in Vienna's Hotel Sacher. It is among the first three chandeliers designed for use with the Edison light bulbs. All of these were designed and manufactured by Lobmeyr.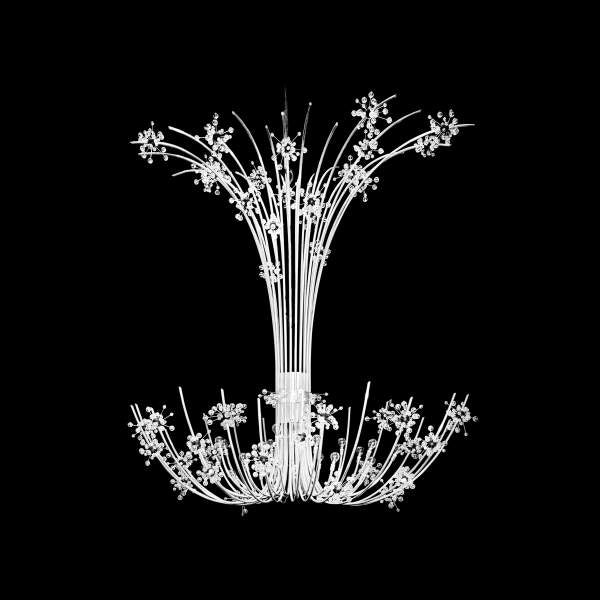 This chandelier was made for the Hilton Hotel in Paris. It was the first re-appearance of the typical 'Sputniks' of the Metropolitan Chandelier.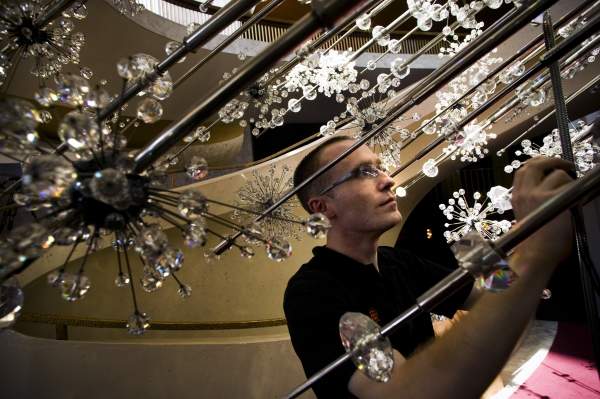 Managing partner Johannes Rath during the restoration of the Metropolitan Chandeliers in New York. With some projects even management is on site and touches base.
Design and support services for lighting projects
Drawing from centuries of experience our craftsmen are among the most skilled in the world. Working in a tight team with management and directors we are able to closely cooperate with the design team of a hotel to counsel, advise and troubleshoot a project, facilitating ideas and solutions often not thought of by hotel designers or technically inclined lighting designers.
We can aid the project best if included in the team as early in the project as possible. Some services in this field must not necessarily be linked with an actual sale and can be offered individually. For such assignments the managing partner Johannes Rath is prepared to jump on a plane and travel the world. Our lighting items do not only look gorgeous and are of the highest quality; we also take into account the serviceability and sustainability of our manufacture.
Unique lighting products for hotels, operas and theatres
We are a family owned and managed company in the sixth generation of the same family. The top management is involved in the day-to-day business and manufacture.
As a productive unit Lobmeyr is set up as an atelier or workshop with about a dozen highly skilled and trained master craftsmen. We hold traditional hand crafting techniques in high esteem but we gladly adopt modern techniques of manufacture where applicable. We prefer to stay true to a given design rather than deviate from that in order to facilitate industrial production techniques.
Our strength is the creation of unique items to the highest aesthetic and manufacturing standards. We may not be the most inexpensive supplier but we create items to be talked about and remembered. Thus our best showrooms are the hotels, operas, theatres and buildings of faith of this world.
The history of Lobmeyr
Lobmeyr was founded in 1823 by Ludwig Lobmeyr as a retail outlet for the finest crystal. Soon after that the range of services was expanded to include skilfully manufactured lighting. This was first produced by exclusive partner companies; in the middle of the 20th century our own workshop was set up to make good for the eroding quality level in the market.
In 1971 we bought the renowned company Zahn & Co to further enhance our capability in manufacture.