wedi has been at the forefront of bathroom design for more than 25 years since the introduction of wedi tile backer boards established the highest quality waterproof substrate for tiling in wet areas. wedi tile backer board has been specified in a host of high-end projects around the world, such as spa facilities in prestigious hotels from Germany to South Africa, and has become the perfect partner for hotels and spas creating endless design possibilities for walk-in shower design, bathroom design, and wellness areas.
wedi enables designers to create a virtually unlimited range of shapes, from curved walls to seating, essentially removing the barriers to creativity to achieve true 'wellness' facilities. Personalised dream showers with steam oases, tile-ready bathroom fixtures, and room dividers in all imaginable forms. Walk-in showers, wet rooms, unique wellness environments with heated seating; it's all possible with wedi tile backer board.
Waterproof tile backer board for wet rooms
The unique rigid blue core of the wedi building board makes it the ultimate tiling substrate, ideal for wet rooms. It is totally waterproof, requires no additional moisture barrier, is completely dimensionally stable and inert (which means it doesn't warp, rot or twist), lightweight and a great thermal insulator.
The range includes wedi building board Vapor, specially designed for applications where very high levels of humidity are a constant factor, such as commercial steam rooms and swimming pools. When tested, wedi Vapor building board exceeds the minimum industry requirement for vapour resistance by nearly six times, and presents an excellent substrate for both ceramic and natural stone tiles as well as other finishes. The low weight of the material makes handling easier, even in areas which are difficult to access, such as ceilings.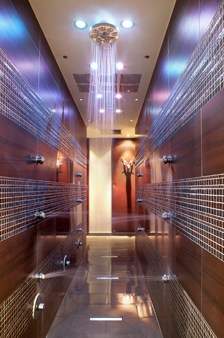 wedi walk-in showers.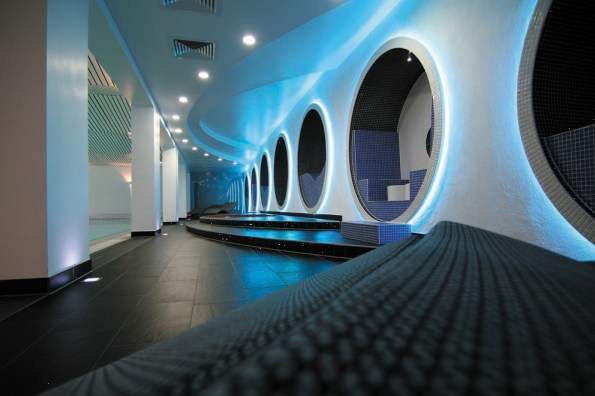 wedi wellness area.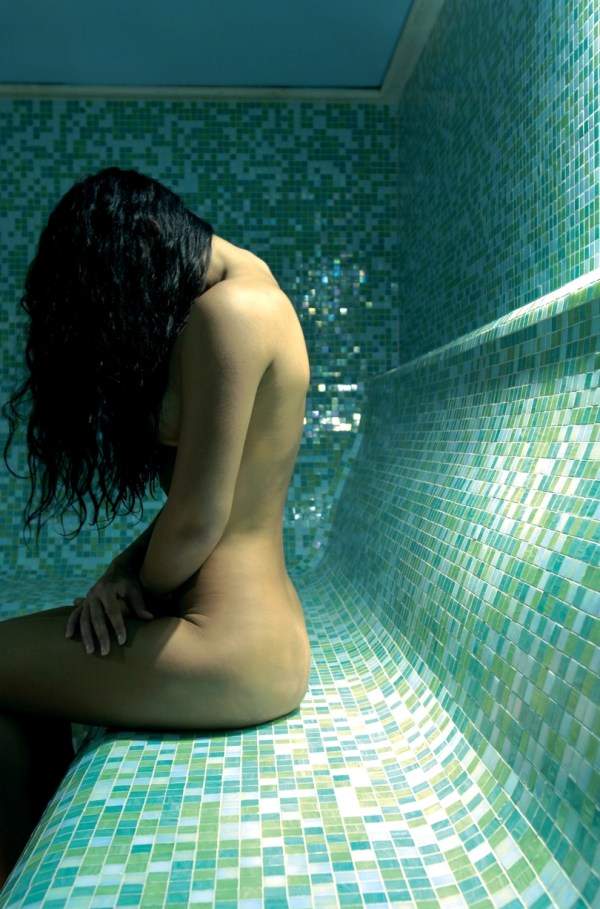 wedi manufactures waterproof tile backer board for wet rooms.
wedi products enable personalised walk-in shower, bathroom and spa design.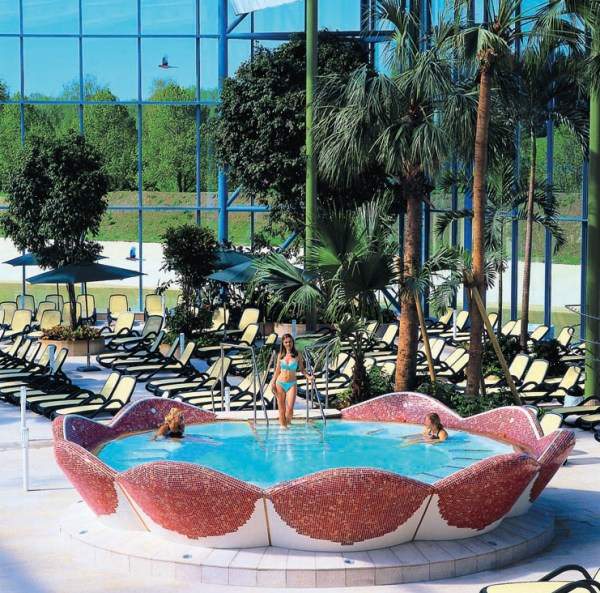 wedi customised building.
Personalised walk-in shower, bathroom and spa design
wedi Construct building board opens up the possibility to design and create circular shapes. The boards are pre-cut with horizontal and vertical incisions, which allow for narrow radii and versatile freeform shapes without affecting the waterproof properties of the board. Designers can also create diverse flowing wall shapes using the wedi Moltoromo modular system. The individual components of the Moltoromo system can be easily fitted together to create round, square or even serpentine wall lines.
For totally personalised solutions wedi provides designers with a full, customised building service. This can range from walk-in shower design, to specialised bathroom design, to completely unique spa and pool design variants. Here, wedi offers full support to designers, architects and builders, right from the initial concept, generating CAD designed to plan in all of the key components such as shower technologies, drains and supply pipes.
Individual products made from the impermeable wedi building board are produced, with test assemblies made in the wedi factory, before supplying the pre-fabricated components to site for assembly leading to reduced lead times and costs. For wellness areas, wedi is able to support in associated areas such as selecting lighting concepts, heating systems or even sound and shower technology.
Walk-in showers
wedi Fundo walk-in shower systems have been used successfully throughout Europe. All Fundo shower bases are produced from the impermeable wedi building board with a pre-set fall from the outer edges to the drain position. The same material is used to create a range of shower bases and shower partitioning kits, where designers can select from square, rectangular, round, spiral or quadrant standard shapes, or even have tailor-made designs to suit their exact requirements.
All Fundo walk-in shower bases are supplied complete with a high performance, 48l/min capacity drain, allowing for the most powerful showers to be incorporated into the overall design, again enhancing the user's overall wellness experience.
Wellness design elements
The wedi Sanoasa wellness design elements offer the architect and designer everything needed to create a complete wellness oasis. Top-quality equipped wellness multicentres, diversely formed Vario shower cabins as well as heated wellness benches and loungers can be fully integrated with massage showers, purifying steam baths and relaxing lighting displays.