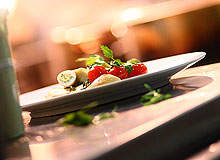 Let's face it, most restaurants are boring and there are many reasons for this sad state of affairs. A full-service hotel needs a restaurant for a variety of events, such as breakfasts, business luncheons for conference guests and dinner buffets for tourist groups. It is an all-purpose place that cannot be styled like an Alpine chalet or a Greek tavern.
The hotel restaurant has a set of criteria. It must be seen to be as flexible as possible with the ability to seat a young couple, as well as a group of 25 from an international company. Tables and chairs must be movable, and lighting, air-conditioning and ventilation should be able to adapt to flexible seating. It is difficult to please everyone – and often the innovative ideas of creative designers end in the wastepaper basket.
This is seen in hotels of all categories, brands and locations. The esteemed traveller is faced with designs seen many times before, such as the 'international' menu cards serving multiple variations of Ceasar salads, Wiener Schnitzels and entrecotes, with the only questions being: how long does it take to be served, how does it look this time and will it taste like the last time?
No wonder that most guests prefer to dine outside, even asking a pizza service to deliver room service so they can watch TV with their shoes off and feet on the table.
Many hoteliers don't even complain, saying that their restaurant doesn't yield anyway – meaning that every guest staying away is a good guest. But that's not an option for the businessman or for the genuine hotelier.
New take on hotel dining
"There are hotels with restaurants so inviting that guests pick them because there's life."
With competition mounting and new ideas popping up, 'daring' hoteliers are exploring new ideas. According to location and guest segments there are now hotels with restaurants so exciting and inviting that guests pick them because there's life and action.
These establishments are places of communication with lots of attractions.
A mix of interesting people, young and old, looking for entertainment and an exchange of ideas is appealing. The everlasting combination of 'culture, art and cuisine always finds the kind of guests who are the 'spice of life' in our hotels.
So why do so few hotel chains – the exception being Mandarin Oriental – with professionally trained hotel staff leave the field to newcomers or foreign restaurateurs who are scarily successful at creating all sorts of new exciting places?
London is a melting pot of ideas that is expressed in an array of boutique hotels and incredible restaurants. In Hamburg, where some of the most interesting restaurant / hotel concepts have far survived their trial period, the Gastwerk Hotel and the East Hotel make almost as much money with food and beverages as they do with accommodation.
Culinary attraction
Recently, new forms of restaurants have appeared such as Bar Boulud (Mandarin), Sketch, Roka and Zuma, Dalesfordorganic and La Fromagerie, some teaming up with grocery stores, garden centres or department stores.
"The hotel restaurant must be seen to be as flexible as possible."
Menu cards are being replaced by electronic tables (Inamo in London) or devices similar to iPads (La Baracca in Munich).
They are so popular that even in the German province of Bielefeld you can see the impact on the gastro scene – yet we are waiting for the first popular hotel chain to focus on the traveller who chooses a hotel because of its fantastic restaurant. It's about time, isn't it?