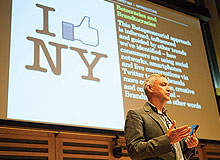 Climate change and recession, the rise of social media and the emergence of app culture have had a radical and long-lasting impact on consumers and how they think and behave. For brands, retailers and businesses globally this has been particularly problematic.
Social networking has created a generation of collaborative, creative and conversational consumers. For teen and 20-something consumers who now take the virtual for granted and regard the real world as an increasingly surprising place to explore, play and embrace, 'local', 'intimate' and 'experiential' have become the buzzwords.
Conviviality Culture
Live events, micro-festivals, one-to-one theatre, event retailing and knowledge raves: a new 'betapreneurial' mindset has given rise to a generation that is daring, risk-friendly, small-scale, networked, highly responsive and in continual development.
"The stuff that digital technologies have catalysed online and on screens is starting to migrate into the real world of objects," says Wired magazine columnist Russell Davies. "Ideas and possibilities to do with community, conversation, collaboration and creativity are turning out real things, real events, real places and real objects."
"The 'betapreneurial' generation has helped to drive a new just-do-it attitude."
As a result, this generation has helped to drive a new just-do-it attitude. These people, who want to turn off, tune out and drop out into a real world of real human beings and convivial moments are at the live, beating heart of the new Conviviality Culture.
Retailers have demonstrated the methods of production to their customers online through video content. Luxury brand Hermès shows artisans producing leather goods on the brand's website.
But now stores are taking this one step further, giving customers the chance to smell the leather, feel the textures and see the processes involved in the manufacturing of goods. In doing so, they are bringing the factory to the store.
In London, the Chin Chin Laboratorists' ice cream shop enables customers to get up close and watch owners Ahrash Akbari-Kalhur and Nyisha Weber make ice cream using liquid nitrogen.
"We wanted to amplify the theatrical stuff and make the most of it," says co-designer Shai Akram. "The workstations are as transparent as possible so people can watch and see them making the ice cream."
In the new Conviviality Culture, people are re-discovering the art of conversation. New micro-salons are hosting debates, discussions and face-to-face talks all round the world. At Context Club in St Petersburg, politicians, economists and scientists host talks with 20-something audiences.
"We wanted to create a space where people from different businesses and communities can share knowledge and experiences with each other," Context Club project coordinator Oksana Zhironkina tells LS:N Global.
In London, the Rough Luxe Conversations, founded by hotelier, designer and curator Rabih Hage, host debates over lunches and dinners. "Online social networks are complete fluff," Hage says. "I am interested in a much more authentic, flesh-and-blood community."
Rurban revolution
Our Rurban revolutionaries are 30 and 40-something consumers who are embracing rural values in an urban and inner city setting. From Brixton, Brooklyn and Berlin to Buenos Aires, Stockholm and Los Angeles, they are redefining our sense of city, and how we want to live, work and play there. Keen to live 'hyperlocally' and grow their own food, they are also kick-starting a micro-brand revolution in the food, fashion, alcohol and beauty sectors that is already making inroads with consumers seeking brands with meaning and relevance in a post-recession world.
As Rurban consumers prefer micro-brands, we are seeing the return of the corner shop. In today's Rurban setting, the corner shop takes on the role the village grocer once played in a countryside community.
"'Local', 'intimate' and 'experiential' have become the buzzwords."
The Brixton Cornercopia in south London is a good example. It sells homemade jams, chutneys and confectionery made by local cooks, bakers and growers.
In France, national retailer Casino and national newsagent Relay have teamed up to offer small-scale, local-feel services. Chez Jean, the new proposition, is a limited-choice outlet where customers buy their daily coffee, groceries and newspapers.
"Consumers want a simpler life – they want their essentials and they want them slotting easily into their daily lives," says Cecile Poujade, director at Paris-based brand and strategy consultancy Saguez & Partners, which advised Casino and Relay on the new store.
Restaurants from California to Singapore that appeal to Rurbanites now grow their own.
One of the pioneers was Alice Waters' Chez Panisse in Berkeley, California. In Singapore, chef Willin Low maintains a garden at his city centre bar Wild Oats, and the city's Fairmont and Four Seasons hotels grow their own curry leaves, lemongrass, ginger and pandan leaves for their restaurants.
Other hotels are also growing their own. In Toronto, a 4,000ft² green rooftops the Fairmont Royal York Hotel, where the chefs tend vegetables and herbs for use in the hotel's kitchen. Some restaurants are taking the idea even further. In Kuwait, Prime and Toast opens a new vertical garden this September designed by Thomas Klein International and PS Studio.
Generation D
Born between 1995 and 2002, Generation D is the first generation of genuine digital natives. This generation is the product of Rurban parents and Convivial Culture siblings. For them, technology is like oxygen – they can't live without it.
Just as Gen Ds see no difference between the virtual and real worlds, so they expect brands to be in both. As a result, brands are joining up the bricks of their stores, with the clicks of their websites and their mobile presences, to offer a joined-up, seamless, inline experience to their demanding Gen D customers.
In Spain, Diesel is putting Facebook kiosks into its stores for shoppers to try on clothes, post a photo to Facebook and wait for feedback from their friends. In the US, teen clothing store Forever 21 has installed an interactive billboard in New York's Time Square on which a virtual model takes a picture of the crowd below, and turns one of the pictured people into a frog. People are more likely to be picked out by the virtual model if they are carrying one of Forever 21's distinctive yellow bags.
Fashion chain H&M promoted its spring collection called The Blues by partnering with social game MyTown, which has more than three million users.
Players could unlock rewards and earn points by logging on using an iPhone app near a real-life H&M store and earn real-world discounts by visiting digital H&M stores in the game. As the new Shopkick scheme rewards users as they check in to stores and come closer to the point of purchase, so the even newer Future Checkin, only available on the iOS 4 at present, automatically checks people in to their favourite locations.
Future media landscapes
"Consumers want a simpler life – they want their essentials and they want them slotting easily into their daily lives."
We are now on the verge of a time of newer rules and another ruler. In this brave new world of fragmented media, people are always on, multitasking at multiscreens, sharing and e-socialising, creating and debating the content they consume. Technological leaps are facilitating this shift, making it easier and cheaper to make, consume and engage with an ever more social, immersive, measured, targeted, joined-up, multimedia, multiplatform, transmedia experience.
Thankfully in this complicated media world, there is a unifying factor. "Today, everything has condensed down into one, single channel," says YouTube spokesperson Chris Dale. "And that's the channel of you."
And the key to unlocking access to 'you' is the new king: context.
The principal forces behind the seismic shifts in today and tomorrow's media landscape are socio-cultural and technological. As consumer societies in mature markets suffer 'stuffocation' and realise that consumerism is not making them happier, they are seeking quality over quantity, experiences rather than goods, connection instead of materialism.
There is a different picture in emerging markets, as people enjoy the first fruits of their growing consumerist and materialist cultures. Everywhere, however, technological leaps are making media more immersive and entertaining.
Today's city dwellers are feeling the strain of their always-on lives, the constant beeps of their mobile phones – 40% of people take work calls when they are by the pool on holiday, according to Hotels.com – and the impersonal brands that litter our modern society. Many are looking for more meaning in their lives. 
They are also, as media scholar Professor Henry Jenkins has noted, part of the 'participatory culture', which creates, uploads, shares and socialises constantly. There are now 1.75 billion internet users, and they send 247 billion emails each day, according to Swedish digital monitoring company Pingdom. Every day 300,000 new users join Twitter, according to online magazine TechRadar. And they send 50 million Tweets each day, according to Econsultancy. 
As people make their own TV schedules through on-demand and personal video recorders, they still want a social element.
The Big Intimate report, edited in full is available from www.lsnglobal.com. The next briefing, The Transformation Economy, will take place on 9 March 2011 at The Roundhouse, London. Contact Lucy Colledge at lucy@lsnglobal.com and +44 20 7791 2020 for more details and tickets.