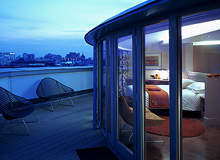 Eco-friendliness is no longer just a priority for smaller or boutique establishments, but is also becoming a part of corporate strategies across the board. In-room recycling facilities and organically sourced menus are not just useful added extras, but have proved to be real selling points for the hotels that adopt them. Here, Hotel Management International selects the hotels that are leading the way, by taking the idea of going 'green' that little bit further and using the latest technologies to ensure that they blend in and work with their surroundings as much as possible.
Forum Homini Hotel – Letamo Game Estate, South Africa
In South Africa's Cradle of Humankind, where many of the oldest traces of man have been excavated, stands the Forum Homini Hotel. Fitted with a green roof, the building is constituted of recycled construction materials and waste rock from a nearby former mine. Invasive plants, which once plagued the area, have been reconstituted into mulch or building materials and replaced with over 100 indigenous plant species. Benefitting from an on-site black-water treatment plant, which converts seweage into potable water, the Forum Homini blends easily with the rock into which many of its suites are hewn. 
The Zetter – London, UK
The Zetter, in the Clerkenwell area of London, has a great advantage over most other metropolitan establishments. There is a borehole located beneath the building, from which fresh water can be sourced for drinking, flushing toilets, and to drive the hotel's refrigeration system. As well as recycling all of its glass and paper and being fitted with an energy loop system, The Zetter's bath and shower products are packaged using sustainable materials and contain no potentially harmful compounds, such as phthalates and petrol-derived ingredients. The Zetter is also a founder member of the Sustainable Restaurant Association, which supports local suppliers and offers advice on waste reduction, energy efficiency and Fairtrade suppliers.
Wolgan Valley Resort & Spa – near Sydney, Australia
At the foot of Australia's Great Dividing Range, the world's third longest mountain chain, the Wolgan Valley Resort and Spa is the first hotel to be certified as carbon-neutral by the CarboNZero greenhouse gas-reduction programme. Its design incorporates a variety of reclaimed materials, such as old fence posts and pieces of defunct railway bridge, and the hotel is powered by solar panels in tandem with a heat-recovery system. All water output is recycled, while greywater nutrients are removed through paddock irrigation. All food consumed in its restaurants comes from within a 100-mile radius, helping to cut emissions and boost local trade.
Element – New York City, US
Starwood's Element range is a leader among the larger chains when it comes to adopting eco-friendly measures. Its New York City hotel benefits from a few small, but highly effective green touches. Carpets, furniture and floors in all guest and communal rooms are made from recycled materials and wall art is mounted on bases made from reused car tires. Low-volatile organic compound (VOC) paint, which is of significantly lower vapour pressure than normal varieties, is used to improve indoor air quality. Even the iconic 'Do Not Disturb' sign has been replaced by a magnetic equivalent.
The Wyndham Hotel chain – US and Caribbean
The bars at many of Wyndham's US and Caribbean hotels now have eco-friendly beverage menus. As well as being made with recycled materials, approved by the Forest Stewardship Council, the menus are tailored to offer organic and locally sourced products. Each page contains an Eco Tip to give the guest a clear illustration of how unsustainable practice affects the environment. For example, it would shock many to know that a 15 to 20-year-old tree is only big enough to produce around 700 paper shopping bags. The new menu coincided with the launch of a signature cocktail, the TRU Blue Signature. For every one sold, the makers of the cocktail's ingredients plant a tree on behalf of the hotel chain in rainforests throughout Central America.
Arenas del Mar – Manuel Antonio, Costa Rica
Located next to Manuel Antonio National Park on the Pacific coast of Costa Rica, the Arenas del Mar is geared towards self-sufficiency. Its roof is made of tiles fashioned from discarded banana bags, and plants such as cherry tomatoes and bell peppers are grown in a hydroponic garden adjacent to the main building. Due to its remoteness, waste-management controls in the hotel's vicinity are lax and attempting to dispose of imperishable products, such as cooking oil, can cause environmental damage. As a way around this, the Arenas del Mar uses excess oil to manufacture soap for use in employee housing areas. A number of scented varieties are available.
The Cortijada Los Gazquez Creative Retreat – Andalucía, Spain
Once five individual farmhouses nestled in the mountains of Spain's Andalucía region, Cortijada Los Gazquez is a completely off-grid retreat. Powered by a combination of wind turbines, photovoltaic panels and a biodiesel generator, cooking is carried out in a wood-fuelled kitchen, making the hotel virtually zero-carbon. The most impressive aspect, however, is its water recycling system. Rainfall is collected on the roof and deposited into a 50,000-litre underground tank through a series of canals and filtration systems. Black water is pumped into a septic tank, from which the refined waste moves into a system of aerobic and anaerobic reed beds, which purge 98% of bacteria. The resultant clean water is then used to irrigate the trees, which end up back in the kitchen in the form of cooking fuel.
The Orchid – Mumbai, India
Despite being only a stone's throw from Mumbai's bustling airport, The Orchid is not a typical airport hotel. Surrounded by acres of gardens and designed with ecological principles in mind, it is Asia's first certified eco-friendly five-star hotel and the world's only eco-hotel to be granted ISO 14001 status. Recycling facilities are available in each room and bin bags are made from reused milk pouches. Cisterns in The Orchid's bathrooms use only six litres of water per flush as opposed to around 20 litres in a conventional model, and its taps, fitted with aerators, have managed to cut around 50% from the hotel's previous consumption levels. New staff members are reportedly shown Al Gore's An Inconvenient Truth to align them with the hotel's Green philosophy.
Adrère Amellal – Siwa Oasis, Egypt
Located in the Siwa Oasis, home to much of Egypt's minority Berber population, Adrère Amellal is built out of mud, rock salt and clay, allowing it to blend easily into the dramatic landscape. It does not use electricity, but relies on lamps and candles for light and heating, and local climate affords it the luxury of a natural ventilation system. The hotel is the centrepiece of a wider sustainable development project known as the Siwa Initiative, which will see the area's animal and agricultural waste converted into bio gas and organic fertiliser. The scheme also calls for the promotion of local women's artisanship and the use of traditional architectural styles, all of which have helped increase local employment and revive old trades.
The Savoy – London, UK
During the recent refurbishment of London's iconic Savoy, £2.4 million was spent on environmental technologies and amenities to temper its high levels of opulence. The hotel is powered by its own combined heat and power plant, which reduces reliance on the national grid by 50%, and a sophisticated waste-management system recycles up to 90% of the total produced. Nicolas Ollivier, the green butler, is a pioneer in his role, dishing out advice on green restaurants and sites of interest, in addition to his conventional duties.