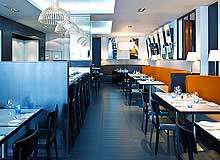 Whether traditional and classic or trendy and modern, equipped with the newest technological gadgets, the interior design of public areas and rooms in a hotel is an important factor in helping guests to decide where to spend their holiday or business trip.
While luxurious and lush interiors are still a great selling factor of many high-end hotels, others have made the step towards practical simplicity and minimalism. Simple but original rooms, equipped with modern state-of-the-art technology, are the new credo of the industry. Spiced up with new values such as sustainability and social conscience, a new and exciting market has opened for interior design.
Co-founder and managing director of Blacksheep, Tim Mutton, has specialised in the area of interior design for the hospitality market. After setting up the company in 2002, he was voted into the top ten of the UK's 'Most Influential People in the Leisure Trade' in 2009.
Here, he talks about the future of interior design for hotels, what designers and hoteliers have to change to make a long-lasting impression in the industry and why it is sometimes worth taking a risk.  
"I get bored of designers talking about residential vernacular and that they make you feel at home."
Elisabeth Fischer: What makes a good hotel room?
Tim Mutton: The best thing with rooms is to just keep it really simple. At the end of the day you're going to sleep in there so it must be able to induce you to sleep. Sometimes designers just get a bit design-greedy. They feel this necessity to fill the room with loads of stuff – I really hate that. Just keep it simple.
Of course, it's an easy thing to say and when we have to draw out what simplicity is we sometimes struggle. But I think it's just things like a great bed, good lighting, and the things your finger tips. The ability to understand how to switch the lights or the TV of is really important for a guest.
EF: Is the concept of home important for the design of a hotel room?
TM: Not in my opinion. Why do you go to a hotel if you want to feel like you're at home? It is important to some respect but at the same time you go to a hotel to loose yourself so you don't always need reminders of home. It's nice that hotels offer things that you don't have at home like service, a spa and all the other bits and pieces.
I get bored of designers talking about residential vernacular and that they make you feel at home. You're in a hotel and on an adventure, even if you're a business traveller or in a resort.
EF: What direction is the hospitality interior design market headed?
"We are still stuck in a bygone era where we need huge lobbies with huge voids to make you feel really impressed when you walk into a hotel."
TM: The market is enormous but I think it goes down to specifics. Major hotel chains are now increasingly concerned about having more segmented brands, which are very specific for certain demographics and users. Blacksheep specialises in the mid-market to high-end and we are obviously designing very much a destination venue for hotels.
As I said before, simplicity is very important. However, the flipside is that we are still stuck in a bygone era where we need huge lobbies with huge voids to make you feel really impressed when you walk into a hotel. It's like in the 20s and early 30s when the hotel boom really kicks of from a luxury perspective. But things are shifting quite quickly now. We're doing a lot of public area design and there is quite a new movement in there, which is quite exciting.
EF: Is interior design a significant selling factor for hotels?
TM: I think it is important but I don't think it's the most important thing. Sometimes designers can get completely overruled with their work and see nothing else beyond their design nose. There is good design and there is bad design. Good design is all about designing for the customer and looking at the operational performance aspects of how design can work. You can have something designed really well and have the best-looking areas but if the service is bad then the design won't help make things better.
Great food and service, passionate leadership and qualified staff – all these things really matter. Design cannot alone sell a hotel and if then it's only for a very short term. It's such an ephemeral world.
EF: Do you have a signature style or is every new job the start of something completely new?
TM: Yes, we do have a signature style. A lot of designers say they don't. It's a bit epidemic at the moment with designers refraining to say that they've got a signature because they might get pigeon-holed. We don't mind being pigeon-holed in terms of what we do because we do it really well.
Brand is really important and the client or the guests understand that. We are designing branded environments and there are a lot of things that go into that. Quality is incredibly important and it's a key element of our style; it presents our attitude towards work.
Of course, every client is very different and that's the beauty of what we do. We don't use the same pallet with every new job because every project is different – what we design in India is not the same as what we do in London or in China. But yes, we do have a signature style. 
EF: What are the main challenges of designing the interior of a hotel?
TM: It really depends. There are loads of technical issues and there are also the star-standards. I'd like to throw that out of the window straight away. There are so many hurdles to get over, but what is great about our work are the solutions to the problems. That's why clients come to designers and that's what designers should be offering to their clients: dealing with the inherit problems that you have with hotels.
EF: Is there space for originality in the hospitality industry?
TM: Yes, absolutely. That's the foremost and that's what we are all about. There are designers who design in the past and all their references come from the past. Personally, I don't really like that. I like designing for the future.
Originality is incredibly important but you have to be very conscious of how you deal with originality. You will find that a lot of people within the industry are adverse to risk. It's about finding those who are willing to take the risk. Obviously, risk-taking is about doing your homework and about understanding of what you are doing. We're not taking a risk to the point of being foolhardy but only where we can see an opportunity.
EF: What are the future trends of interior hotel design?
TM: There are a lot of trends – again all driven by the consumer. There are global trends, regional trends and obviously city trends but at the end of the day it goes back to where we started our conversation. It's the essence of simplicity but done really well.
Nowadays, there's also a bit more of a casual atmosphere in terms of what people want. We are also talking about sustainability and technology, and social conscience will become increasingly important. Social conscience is massive but I don't think it happens in the hospitality and hotel industry at the moment.
"Design cannot alone sell a hotel and if then it's only for a very short term."
EF: You mentioned sustainability; how has the green concept influenced interior design?
TM: I don't think it has as much as it should do, which is a real issue. In interior design we are actually the worst offenders. We rip stuff out and we put stuff in; it's basically sticking stuff in the bin all the time. We really need to sort that out. There are some who are doing brilliant work and they are leading where the rest should follow.
The problem with designers, especially interior designers, is that we are not governed by a particular body. So they won't have that conscience about the sustainability issue and it's very difficult as a collective to control that.
EF: What's the most exciting project you have worked on?
TM: I'm very excited about one we have done in Wroclaw in Poland, for the Puro hotel. It is about to open in June. It's not a huge project, a 150-bed hotel and, what we call, a budget-intelligent brand but a really nice project. They've taken quite a bit of risk on it and have already got some cracking reviews even if it's not even open yet.
We've been heavily involved with the client and we've got a really strong bond with them. We just signed the deal for another two hotels. We met about two years ago and initially we just talked about designing the public areas but then we ended up also doing the rooms and helping with a lot of technical issues there. The hotel is quite different to the market and it will unquestionably get a strong position there.