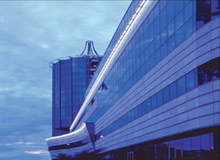 "This is theatre," Marco Piva exclaims. "Architecture, interiors and technology should reflect that. We need to find a new way of defining the hotel; design must move away from the current level of rigidity and be gazed upon with new eyes."
The Milan-based architect and designer is attempting to direct this shift at all levels. As well as commissions for names such as Rocco Forte, Intercontinental, Hilton International and Mövenpick, working on everything from small interior designs to large-scale building projects, Piva's interests include chairing the Hotel Technologies (HOT) Group and overseeing Technotel Hospitality as art director.
It is an extensive brief, although the 57-year-old Italian insists that each interest bleeds seamlessly into the other. "What I've discovered through my work is that if you succeed in providing continuity in the design process – from master plan to construction to interior design to product design – the client fully appreciates the final product and is saved money," he says. "With no break between architecture and interior, the entire process is streamlined."
"There is no value in copying. There is only true value in evolution."
THE ROLE OF TECHNOLOGY
Technology is a vital component in such streamlining, especially in light of the environmental pressures being applied both legislatively and from the consumer. "There are many ingredients in the mix but 'green' is now the centrepiece," Piva begins.
"This is not something one should come to late, it must be addressed at the very beginning and it's my job to ensure that the operator has a full understanding of just what a difference they can make. It is not enough to try and fix a problem further down the line; efficiency must be built into a hotel's very foundations. The use of renewable energies is vital, even in oil-rich countries." And few places are more oil-rich than Dubai.
In what are arguably its highest profile projects to date, Studio Marco Piva is working on two 400-room hotels within the Palm Jumeira, Dubai: Mövenpick's Resort Oceana and Zabeel Investments' Tiara Residence. "Both are quite advanced in terms of architecture," the studio boss tells me, "We have revised designs alongside the developers, looking at choices of materials for the façade and the dimensions of interior space.
"Oceana will be closely linked to maritime design: the bending lines, technical materials, functionality, etc. The Tiara work is more classical, rooted closer to the Middle East."
The designer cannot hide his excitement about the opportunities that working in the Emirates affords him. However, when it is suggested that this might be because of the increased autonomy it has been know to allow, Piva rebuffs the implication instantly. "For the level of projects that I'm undertaking," he counters, "the level of freedom is always the same. Good designers will try to deliver something different every time. I know I do."
ALWAYS INNOVATING
Piva's take on 'different' would make some developers in the Middle East blush, so grounded is it in functionality as well as aesthetics. "There's no point in developing something new if you are not also developing something better," he exclaims. "I never try to follow a particular style and will never repeat something that I've done before. There is no value in going out to China or the Far East and undertaking that ugly process of copying; there is only true value in evolution."
This is where Piva stands with a real advantage: as both architect and interior designer, the overall concept is defined at an especially early stage. "Interior design is the inner skin of architecture," he claims. "There is a single line telling one story. In a novel, one may have different words, sentences and chapters, but there is also a harmony, a whole. There is nothing worse than a space or a building which tells too many tales or, worse still, one that tells none."
CONSULTATION AND RESEARCH
Surprisingly, for a man who looks upon design as such a streamlined process, Piva is just as passionate about the importance of getting investors, general managers and their staff concerned with the creative process.
"Aesthetics are nothing without functionality," he begins. "If one does not keep management involved at every stage, the finished product will be less relevant to the needs of the operator. I even like to speak with chefs and barmen. I am attempting to express a level of service, too. There must be an open dialogue, not only when working on particular projects, but also conceptually, in defining the future direction of hotel design."
Piva does believe that things are improving. "Clients are becoming ever more invested in finding value through design," he claims. "Every project that I develop comes on the back of much research: investigating the location, the culture, the value of the space and any memories that it may hold. People want to be a part of that."
Underlining this point, Piva draws on the sense of drama he feels hotels should elicit. "All public areas should be a series of theatre scenes," he says. "The way one welcomes a guest or serves a drink is all part of the play. Putting on a show requires the directors, stage designers and actors to all work as one."
ROOTED IN ITALY
The constant referencing of art and literature casts Piva as the quintessential passionate Italian, and, although much of his work now takes him away from Southern Europe, he is keen to discuss the health of its domestic creative scene.
"There was a time that was not so good for Italian designers," he admits, "but that is all changing quite quickly now. There is plenty to do in the area of renovation, a lot of opportunities around the two and three-star sectors for bringing hotels up to speed."
Many of these buildings are in absolutely beautiful locations and the process has already begun, giving both young and established Italian designers great opportunities to do new and different things.'
His studio has not been left behind by the Italian hospitality industry's renaissance, and Piva is particularly keen to highlight two projects that reflect this. "I am designing a new development in Sardinia for Club Mediterranean," he reveals. "There have been many unique considerations to be made because it is in such a special environment and the surrounding nature is an integral aspect of the experience.
"We have emerged with an architecture that addresses this thematically and does not invade the landscape and the beauty of the island. Instead, we hope to become another component of it."
Of his recently completed Italian works, Piva is excited about the T-Hotel in Cagliari, open since December 2006. "It's a very interesting experiment," he begins. "We worked from a very small nucleus that was the existing building and created a tower that is a strange mix of concrete and metal structure.
"Inside, we've managed to brand it through the use of vibrant colours and unusual materials. This may be a business hotel, but our approach has enabled a genuine crossover. I believe it's a real success."
"There is plenty to do in the area of renovation, a lot of opportunities around the two and three-star sectors for bringing hotels up to speed."
The use of colour, emphasis on unusual materials and an obsession with constant reinvention brings to mind another designer who, unsurprisingly, proves to be Piva's hero: Philippe Starck. "Philippe is the man," he effuses. "Whenever I see him, I must stand back and say, 'Bravo'. To be such a free spirit while remaining so consistent is remarkable. The way that he is constantly moving between disciplines has influenced many people."
Piva's name may not be quite as recognisable as Starck's, and he claims to have little interest in celebrity, but Piva believes that his work will do the talking. "If somebody enters a room and says, 'Ah, a Marco Piva', I will be delighted," he smiles.
"However, much of what defines me as a designer should be more subtle: perhaps the choice of a certain chair, made from a certain fabric, positioned in a certain room. It is an understanding of space. The guest will feel the difference, even if he cannot fully grasp it."
One can be certain that even the most design-agnostic hotel guest could not fail to appreciate the intelligence, insight and attention to detail that Marco Piva brings to every project he touches.