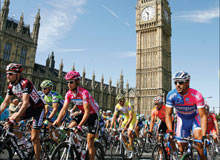 All eyes were on London for the weekend of 6–8 July, as the UK's capital played host to a triple bill of glittering spectacles. With iconic landmarks, world-class facilities and a truly global feel, the city is ideally positioned for holding major international sporting and musical events.
So when the Grand Départ of the Tour de France and the Live Earth concert came to town, alongside the regular highlight of the tennis finals at Wimbledon, London was not just showing off its iconic status to the world – it was also accommodating a huge array of visitors.
Undeterred by the unpredictable British weather and recent security threats, hundreds of thousands of people flocked to the city in anticipation of a sports and entertainment extravaganza, and they were not disappointed. Fears of poor weather proved unfounded: summer 2007 saw record levels of rainfall and serious flooding in some parts of the UK, but the weekend of 6–8 July passed without a single drop of rain in London.
More surprising still was a rare British victory at Wimbledon: Jamie Murray became the host nation's first champion since 1987 by winning the mixed doubles title with his partner, Jelena Jankovic.
HOTEL PERFORMANCE
"The organisers of the Tour de France alone reserved some 1,200 of the capital's rooms each day for teams, staff and press."
So, amid the carnival atmosphere in London, how did hotels perform? Results from Daily HotelBenchmark™ by Deloitte, indicate that hoteliers, too, had reasons to celebrate.
One of the reasons London was in a position to host such vast numbers is its provision of accommodation. According to tourist information website Visit London, the capital has over 80,000 hotel rooms spread across all gradings. But with demand for rooms as high as it was that weekend, even such an abundant supply was almost saturated.
The organisers of the Tour de France alone reserved some 1,200 of the capital's rooms each day for teams, staff and press. Occupancy levels rose to 91% and 96% respectively on the Friday and Saturday nights.
Such weekends provide a rare opportunity for hotels, and for the three-day period hoteliers in London managed to achieve average room rates of £149, 13.5% higher than the previous year. This pushed up revenue per available room (revPAR), which averaged £127 over the three-day period, 24.9% higher than in 2006. And for Saturday night alone London's revPAR peaked at £143 – an incredible 36.8% rise on the previous year.
In all, the weekend of 6–8 July gave accommodation providers in London a rare opportunity, but the celebrations may not end there. With the Olympics coming to London in 2012, hoteliers can expect many more international events to be drawn to the capital.
Ken Livingstone, London's mayor, has already said he expects the Tour de France to return to the city in the future. The international publicity that such an event generates, and its visibly successful organisation, mean that London could be set for an unprecedented boom in the years leading up to and beyond 2012.