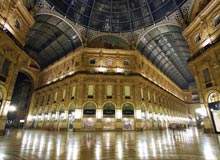 There's a wonderful scene in the classic heavy metal mockumentary 'This is Spinal Tap' in which band member Nigel Tufnel explains to the film's director that the bands amplifying equipment can go up to 11, even though amps usually only go up to 10.
"Why don't you just make 10 louder and make 10 be the top number?" asks the director. Nigel is stumped. And so it is with the hotel rating system. Five stars just aren't, it seems, good enough anymore.
"Five stars just aren't, it seems, good enough anymore."
When the Burj Al Arab declared itself a seven-star hotel, the industry accepted it, with its tongue firmly wedged in its cheek. This is Dubai, which like Las Vegas, is a different world, a parallel universe for the travel industry and a place where standards are anything but standard.
For all its palatial bedrooms and impeccable service, the Burj's seven-star status was self-proclaimed and so, in many people's eyes, meaningless. However, when the Town House Galleria opened in Milan this year and announced it was, likewise, a seven-star operation, eyebrows were raised much higher. Just what did the extra two stars mean away from the Disneyland environment of Dubai?
STARS IN THEIR EYES
It makes no sense that hotels which offer the kind of legendary service as, say, the Peninsula in Hong Kong, the George V in Paris and the Dorchester in London, are effectively represented in the same bracket as a beach resort that sells the majority of its rooms through packages. The author of the celebrated Hip Hotels, Herbert Ypma, thinks the star rating system for hotels is redundant.
"The entire system is desperately in need of an overhaul," he says. "It's mainly concerned with certain features, but not with the quality or the execution of those features. The emergence of more and more hotels calling themselves seven-star is cutting further into its credibility."
Furthermore, professional inspectors and critics are being edged out of the market by the internet; the UK's RAC Hotel Guide was a recent victim of the web's effect on market forces and has ceased publication.
While there is still no international ratings standard, the temptation for hotels operating at the very top of the hospitality food chain to reclassify themselves with essentially fictitious ratings is irresistible. And given that guests are relying more and more on peer-opinion sites such as TripAdvisor to guide them, is the star system even worth re-evaluating?
"The emergence of more and more hotels calling themselves seven-star is cutting further into the rating system's credibility."
As it stands, the system is effectively self-regulating, with vast differences in how stars are awarded from country to country. In Germany and Scandinavia there are extremely stringent regulations, while in Italy or further afield in Asia it can often be a free for all.
As long as the star system exists, some hoteliers will try to manipulate it. In some cases, it's a matter of underselling: some hotels with most of the trappings of deluxe five-star properties cling to their four-star status, because to be considered technically five-star is to lose out on some lucrative conference bookings, as certain business sectors might ban patronage of five-star resorts.
Alessandro Rosso, the owner of the Town House Galleria, believes his seven-star rating is fair, and SGS, the world's leading inspection and certification company, is awarding it its new SGS 7 Stars Certificate. "We have opened a unique hotel and we have asked for a unique rating system," says Rosso. "Many hotels have similar characteristics, but there are also hotels that can guarantee a better service."
At the Town House, service begins with a lengthy pre-arrival questionnaire of your likes and dislikes, and continues with your own personally stocked wine cellar. Bed and breakfast it certainly is not, but the Town House Galleria isn't just saying it's a little bit better; it's putting itself in a different league. According to Duilio Giacomelli, the MD of SGS Italy and CEO for south-east Europe, "this new classification of excellence will revolutionise the world hotel system".
Certainly, SGS's involvement lends a certain credibility to the Town House Galleria which, interestingly enough, remains unrated on Tripadvisor. At this level of exclusivity, it seems, the internet isn't a consumer's first port of call.
Hotels applying for the SGS 7 Stars Certificate will be visited by incognito inspectors to ascertain the level of 'customisation, discretion and luxury' offered. Chauffeur collection at the airport, in-suite check-in, a private butler for every superior suite and at least four different types of international cuisine in-house are just some of the criteria that must be met, all of which, it must be said, could be comfortably accommodated by some of the world's grander five-star hotels.
It's quite possible that the seven-star hotel is merely a reflection of what the more forward thinking five-star hotel looks like these days. It's not about whether it's got a pool, but what goes on at the pool.
"Star ratings are not of great concern to our customers," says Jason Pomeranc of Thompson Hotels, a US-based boutique chain that includes such cool destinations as the Roosevelt in Hollywood and 60 Thompson in the trendy New York neighbourhood SoHo. "We offer a certain style and way of life, and focus more on experiences, such as a popular destination restaurant or a lively bar and lounge scene," he adds.
DEFINING LUXURY
As well as a star system, many hotels try to communicate to potential guests what they offer through membership of an umbrella body, such as Design Hotels, Claus Sendlinger's international organisation inviting independently owned hotels to appear on its website and in its annual directory based on their 'individuality, progressive design and cultural authenticity'.
"The Michelin system carries such enormous respect because it's so rigorous and so difficult to get a star."
Many a design-conscious traveller has selected a hotel purely on the basis of inclusion in the Design Hotels portfolio, which remains small (under 200 properties worldwide), suggesting inherent exclusivity. The properties include some decidedly budget hotels – Design Hotels offer what Pomeranc would call a luxury 'experience' rather than guaranteeing a certain kind of luxury. The star system, in contrast, is about upping the luxury stakes. But just how luxurious can a hotel get?
"I'm waiting for a hotel to open which calls itself ten-star," says Herbert Ypma. "I really don't know what the replacement for the star rating system can be, but the points system only has relevance when it is a Michelin star for a restaurant.
"The Michelin system carries such enormous respect because it's so rigorous and so difficult to get a star (and so easy to lose one). Food is judged without a single thought to a dining room's design, its ambience or the cost of a dish.
In many ways, the hotel star system does the same, but offers a less nuanced judgement. Even a two-star hotel can offer excellent service and a wonderful ambience, though you may find yourself carrying your bags up four flights of stairs and sharing a bathroom. At five or seven-star prices you should be guaranteed a kind of perfection, or at least see evidence of management striving for it, but from the mid-market down standards vary wildly and word of mouth really counts.
Everyone's looking for that wonderful, charming and cheap little B&B right in the centre of Florence or Paris. Wherever it might be, you won't find it just by counting how many stars it has been awarded – by itself or others.