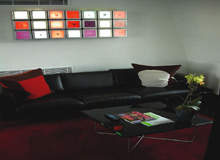 Just as the market for flights has become hugely fragmented – from low-end, no-frills airlines to the private jet – so the hotel sector is beginning to follow suit in terms of developing bespoke accommodation propositions. One of the emerging trends is the uptake in serviced apartments with kitchen facilities combined with high-quality hotel services.
THE CHAMBERS
"The luxury short-stay market has until now not been developed to its full potential," says Christine Boothroyd, managing director of serviced apartments The Chambers in Leeds. "We wanted to set a new benchmark for the discerning traveller staying in the North of England. It's really more like a cross between an apartment and a hotel, but what I wanted to do above all else was make it comfortable and luxurious."
The brand was launched in October 2005 and the Chambers contains 34 apartments, handily placed five minutes' walk from Leeds Central station with its own underground parking. Guests can choose to stay in either a one- or two-bedroom apartment, both with balcony, kitchen, dining area and lounge. The décor is contemporary yet practical – a neutral colour scheme of creams, dark greens and beiges. The Chambers offers up a formula that appears to be paying dividends, with over 90% occupancy. Boothroyd attributes its success and repeat bookings to word of mouth and personal recommendation. Guests come from as far afield as the USA and Mexico.
"It's great for businesspeople, who are sick of staying in conventional hotels and want something more home from home," she explains. "The kitchen is already supplied with basic equipment such as pots, plates and frying pans, but we also include things like a soup liquidiser, garlic press and different sizes of glasses. The cupboards are already stocked with basic provisions such as bread, milk, butter, condiments and oil." The kitchen includes a full-size fridge and freezer, and when the guest arrives, the table is set for dinner and it's up to them whether they do the cooking or call for assistance.
Boothroyd continues: "Whether it's organising a dinner party, providing a shopping service so that the heavier items are already put away for guests, obtaining fine wines or simply ordering sushi, we can sort that out. Our philosophy is to provide 'more than just a bed'." Guests have ranged from overseas executives to film producers, who are growing in number as Leeds and its environs provide an attractive location.
The apartments at the Chambers are large enough – three times the size of an average hotel room – to suit long working hours, providing room to think, but with provisions ready to eat or at the end of a phone. Flexibility is not just on the catering front either: travellers can have family and guest to stay over in the spare room at no extra charge.
How well do you
really

know your competitors?

Access the most comprehensive Company Profiles on the market, powered by GlobalData. Save hours of research. Gain competitive edge.
Company Profile – free sample
Thank you!
Your download email will arrive shortly
Not ready to buy yet? Download a free sample
We are confident about the unique quality of our Company Profiles. However, we want you to make the most beneficial decision for your business, so we offer a free sample that you can download by submitting the below form
By GlobalData
Building on this success, Boothroyd expects The Chambers to expand a long way beyond Yorkshire. "We are already making plans and investing accordingly with the aim of becoming a recognisable brand; one that is forward thinking, flexible and synonymous with offering the highest quality accommodation and service", she says.
A further 63 apartments will be developed at Park Place Leeds and will be open this year, in addition to the existing Chambers site at Riverside West, with a plan to eventually broaden the concept on a national scale.
MYPLACE AT MYHOTEL
Described in its publicity as 'Bond-like style with a Buddhist-like atmosphere,' the myplace apartment at myhotel Bloomsbury is everything the boutique hotel connoisseur would expect. Designed by Conran Design, the fifth floor of the central London building has been transformed into a contemporary living space complete with compact kitchen, wooden-decked open terrace affording panoramic views of the city and black-stained timber flooring and orange upholstery inside. The two-roomed apartment, which can be opened out into one, was designed to fit in with the demands of music and media executives, who favour the informal yet chic myhotel concept.
CLIFF BARNS
Set in picturesque Norfolk, in grounds overlooking strawberry fields, Cliff Barns is a bolthole for unwinding, getting together and celebrating, and is conveniently placed a short drive away from the coastline and just two hours from London. It epitomises the 'hometel' concept with the kitchen and dining area at its heart. It is a joint venture between interior designer Shaun Clarkson and set designer Russell Hall.
Clarkson explains the concept behind the barn: "Originally, we thought of the idea, because many of my friends had children and they couldn't really go out clubbing anymore and it was always such a disappointment when we went away anywhere, because the children couldn't really run around and we couldn't have fun. The idea was to have the high style of a hotel, but with a lot more freedom."
Now with something of a reputation as a party pad – more like TV's Big Brother house – Cliff Barns has grown to become a popular destination for reuniting old friends, or for birthdays and anniversaries, providing a more congenial destination for the sort of demographic that wants their music loud, their interiors fabulous and their freedom unconstrained.
"Whatever I design, there is an element of fantasy," says Clarkson, who is renowned in the bar and restaurant industry for his extravagant designs – such as the Atlantic Bar and Grill, Pop and Denim bars in London. "There is a slight theme to the interior and I certainly want people to feel they were going somewhere totally different." He seems to have drawn heavily on his interiors tool-kit, and Cliff Barns is summed up as 'rancho deluxe'. Not for the faint-hearted, it's the sort of interior begging for a party all by itself: think cowhide sofas, chandeliers and river rock fireplaces.
Other facilities are everything you would want for a weekend away – from a hot tub and sauna facing a landscaped garden to a barbecue in the courtyard. Guests arrive to a fully stocked fridge and drinks cabinet, and Cliff Barns has a huge range cooker on which guests can prepare meals. Alternatively, a professional chef can come and take the heat out of the kitchen. "You can cook your own Sunday lunch, for example, or there is a sliding scale of pricing for meals," says Clarkson.
"It's like having your own personal apartment in the middle of Mayfair."
In total, the property sleeps 18 – there are six double bedrooms, a kids' bunkhouse room that sleeps up to six and five luxury bathrooms. "It's a very communal experience," says Clarkson. "There's a huge kitchen table, so everybody really gets to know each other." It's an ideal place for extended families, but also could work as an unusual corporate environment – perhaps for a teambuilding exercise. Internet access and audiovisual facilities are available.
Even though, unlike the other properties, Cliff Barns is not designed for long-term residencies, it certainly sets a benchmark in terms of providing a middle ground between a hotel and the usual rented weekend apartment or cottage. Cliff Barns has proved so successful that there are already bookings pencilled in for 2008 and, since gaining its wedding licence, the venue has nuptials planned for this year – Clarkson's own included.
ATHENÆUM HOTEL AND APARTMENTS
Comprising 30 one- and two-room apartments, with individual décor in each, The Athenæum is in a block of Edwardian town houses with entrances located off Piccadilly, in London's West End. They can be hired from one-night stays to much longer-term residencies and all have luxurious finishes such as mahogany doors, mosaicked entrance halls and moulded ceilings. "It's like having your own personal apartment in the middle of Mayfair," says marketing manager Alison Wheatley.
In its original incarnation, The Athenæum was purchased by the Rank organisation in the 1930s and thereby began its long association with the entertainment industry. It was purchased in 1992 by Ralph Trustees, a family-run business that also owns The Grove in Hertfordshire and the Runnymede Hotel and Spa near Windsor. The hotel continues to attract a clutch of A-list stars, but Wheatley adds: "We have a real mix of guests, a lot of corporate bookings, but it is also good for families, as most of the apartments interconnect."
In 2005, The Athenæum underwent a refurbishment by British interior designer Justin Meath Baker. Fox Linton Associates will finish off work in the public area of the hotel during 2006, having completed two floors of guestrooms last year. Meath Baker Design has added a particular contemporary flavour to new apartments 3, 4 and 22.
Apartment 3 is designed with the urbane businessman in mind, with Philippe Starck polycarbonate chairs, velvet curtains and a silk chaise longue. It has a kitchenette for on-the-hoof food preparation, or guests can take advantage of the adjacent hotel, which is linked to the apartments by a private corridor (ideal for paparazzi avoidance). The hotel provides the apartment guests with five-star room service as well as use of the hotel's concierge, restaurant, bar, lounge and spa.
Apartment 4, meanwhile, is more family-orientated, perfect for parents who want to enjoy London with their children during the school holidays. The kitchen area here has a large fridge, microwave and washing machine and the kitchen walls have been clad with magnetic blackboard for the young and young-at-heart. There is even a childsize table and chair made of recycled bin bags.
Of Apartment 22, Justin Meath Baker says: "The kitchen is not about food, but indulgence. It's a really decent bar." The kitchenette here again has a contemporary feel with plenty of room for making cocktails. "The sitting rooms are also convenient for meetings, as you can easily accommodate four or five people," says Wheatley.
Like The Chambers, The Athenaeum holds informal drinks and get-togethers every few months to encourage longer-term guests to get to know one another and enhance the feeling of community. Alex Serra, a concierge, says: "People feel at home here. They can come and go discreetly, with none of the fuss and bother of a big hotel. In fact, many of our regular guests have come to think of us as friends."
EUROPARTHOTEL
"These are homes where you get the benefit of having a full-time household staff without the expense."
Europarthotel offers two luxury, serviced apartments at the centre of the European community in Brussels. The Europarthotel Montgomery is positioned within easy reach of the European Commission's headquarters, is close to the Belgian capital's shopping areas and is a short taxi ride away from the airport, while the nearby Quartier Louise has similar communications and amenities. Both anticipate the needs of business travellers, diplomats and tourists. Kitchen facilities are comprehensive: cooker, utensils, toaster, kettle and espresso machine with complimentary breakfast and minibar for those less inclined to self-cater.
GRAMERCY PARK
"I was aware of this social trend going on about living and providing services and amenities and privileges, and it just sort of worked out that way," says legendary hotelier Ian Schrager of his decision to offer up a set of luxury serviced apartments alongside his much-awaited hotel opening in an exclusive part of New York. The Gramercy Park project, which will come to fruition in Summer 2006, comprises a luxury hotel and 23 apartments known as 50 Gramercy Park North.
"I sensed the same opportunity with apartments that I sensed in hotels and in nightclubs before that," he continues. "It's a barren wasteland. Nobody is doing anything creative and there's an opportunity for someone to come in with fresh ideas." So with architect John Pawson on board, Schrager has created what he describes as 'the best of the hotel with the best of residential living', in a slice of real estate priced at $3000 per square foot.
The result is a minimalist affair with white oak, large windows, and kitchens with cherry wood island units. The apartments, priced from $5m to $16m, have the use of the adjoining hotel's five-star services, but as well as things like the concierge and laundry, 50 Gramercy Park North also offers dinner party planning, grocery shopping – even dog walking. "These are homes where you get the benefit of having a full-time household staff without the expense, the management or the supervision of it," says Schrager.
This is not the first time that Schrager has offered a twist on the traditional hotel operation. At the Shore Club in Miami, buyers can purchase a suite complete with a full kitchen, but then lease it back when they are not in residence and split the profits between the owners and the hotel.
MARRIOTT UPS THE ANTE
In 2004 Marriott International opened 47 executive apartments on three floors above its 301-room hotel at West India Quay, near Canary Wharf in the regenerated Docklands area of London. The move followed the successful inception of similar operations at sites including Hong Kong, Tokyo, Mumbai and Prague. The Docklands complex includes four studios of 44m², 39 one-bedroom apartments and four two-bedroom apartments. A fully equipped kitchen comes as standard with a microwave, waste disposal, crockery and utensils.
The Marriott Executive Apartment (MEA) brand was designed with businesspeople and their families in mind, to provide space and freedom in their accommodation. Additional services again include 24-hour room service and access to a shop / delicatessen selling pre-cooked meals and fresh produce.
As the workplace becomes more international and travellers demand more than a one-size-fits-all hotel proposition, so the provision of food and dining facilities within hotel accommodation continues to grow in popularity. The trend so far has attracted a range of operators, from well-known hotel brands to individuals, and it shows no sign of abating. For instance, 2006 sees the completion of a development by Le Méridien across the Grand Canal Dock in Dublin. Designed by Portuguese architect Manuel Mateus of AMA, it will comprise a five-star hotel, spa, meeting facilities and 84 high-spec apartments with interior design concepts from Keith Hobbs of United Designers. The project is marketed as 'The Residences at Le Mériden Dublin'.
All in all, guests in this type of accommodation benefit from improved access to facilities such as personal training or gourmet catering. After all, living out of a suitcase needn't mean forgoing your home from home.