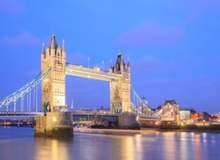 Deloitte revealed that London has been voted Europe's most attractive hotel investment destination for the second year running.
In the company's survey of senior hospitality industry figures, around 31% of respondents chose London as the number one hotel investment destination.
Barcelona and Madrid came in joint second place at 27%, while Amsterdam ranked as the third city at 26%.
Henn na Hotel, a hotel staffed entirely by robots in Sasebo, Nagasaki, Japan will open on 17 July.
The 144-room hotel has a modern design and features amenities that can be operated through a tablet.
Upon entrance, guests are welcomed by an English-speaking 'robotic dinosaur' receptionist, along with a Japanese-speaking female humanoid with blinking lashes.
Marriott International signed a $12.2bn agreement to acquire Starwood Hotels & Resorts Worldwide.
Combining Starwood's international brands with Marriott's presence in the luxury and select-service tiers, the acquisition is expected to create the world's largest hotel company.
Starwood shareholders will receive 0.92 shares of Marriott International class A common stock, and $2.00 for each share of Starwood common stock.
French royal château Palace of Versailles was expected to be converted into a luxury hotel in order to raise revenue for its maintenance.
Seven million people visit the state-owned château every year. The increasing number of visitors triggered successive governments to cut funding for the historic palace from €47.4m in 2013 to €40.5m.
The palace is inviting private companies to bid to create hotels in three of the 17th century mansions located 100 yards from the main building.
Blackstone Real Estate Partners VIII affiliates signed a definitive agreement to acquire outstanding shares of common stock of Strategic Hotels & Resorts for approximately $6bn.
Under the agreement, Blackstone will acquire all outstanding shares of common stock of Strategic Hotels & Resorts for $14.25 per share in cash, and all outstanding membership units of Strategic Hotels Funding, not held by the company, for $14.25 per unit in cash.
The board of directors of Strategic Hotels unanimously approved the agreement.
Hilton Worldwide added digital key to its Hilton HHonors app, which helps guests to bypass the hotel check-in counter and access their rooms directly.
It also helps guests gain access to other areas where keys are required.
Hilton said that with new age technology, loyalty programme members will get to use their smartphones as their room key to 170,000 rooms across 250 US properties by 2016.
US-based Ashford Hospitality Trust completed the acquisition of the remaining 28.26% ownership interest in the Highland Hospitality portfolio from its joint venture partner Prudential Real Estate Investors (PREI) for around $1.7bn.
Ashford already had a 71.74% ownership interest in the 28-hotel Highland Hospitality portfolio.
The deal was first announced towards the end of 2014.
Hilton Worldwide Holdings completed the divestment of Waldorf Astoria New York to Anbang Insurance Group for $1.95bn.
As part of a 100-year management agreement, Hilton Worldwide will continue to operate the 1,413-room property.
The hotel features cosmopolitan restaurants (including Peacock Alley, Bull and Bear Prime Steakhouse and Oscar's), bustling lounges and bars, the Guerlain Spa, more than 60,000ft² of high-tech equipped function space, a business centre and boutiques.
US-based Interstate Hotels & Resorts signed 18 management agreements with an affiliate of Cerberus Capital Management for its hotel portfolio in the UK.
The new deal increased the Interstate's UK division's hotel-portfolio to 59 in the country.
Interstate Hotels & Resorts CEO Jim Abrahamson said: "The UK continues to be a priority strategic growth area for Interstate, and it is gratifying to see our portfolio expand in the region through a new relationship with a world-class owner.
The Port Authority of New York and New Jersey has selected MCR Development and JetBlue Airways to renovate the Trans World Airlines terminal at John F Kennedy Airport into a hotel complex.
According to New York governor Andrew Cuomo, the $265m project will involve a new 505-room hotel, which is expected to have a 10,000ft² observation deck and restaurants, as well as a spa.
MCR CEO Tyler Morse said: "Accessible to the general public as well as all airlines from all terminals, the 505-room hotel at the rehabilitated TWA Flight Center will be a tremendous amenity for the entire JFK International Airport.