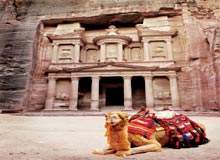 The credit crisis has produced financial instability in many economies worldwide. According to the Economic Intelligence Unit, world gross domestic product (GDP) growth is expected to slow down from 3.7% in 2007 to 2.6%. However, in the Middle East and North Africa (MENA), GDP is forecast to grow by 6.1%, suggesting that the Middle East will be largely unharmed by one of the most dramatic economic downturns since the dotcom bubble burst.
According to the World Travel & Tourism Council (WTTC), the travel and tourism industry is expected to generate some $8tn during 2008. So far in 2008, hotels in the Middle East are enjoying some of the world's highest occupancy figures, strongest revPAR and best average room rates. It is predicted that international visitor numbers here will grow between 6% to 10% in 2008, compared with a global rate of 3% to 4%.
The Middle East hotel sector can, at this moment in time, be split into two distinct groups. The first has achieved a strong absolute revPAR, growth in average room rates and often a drop in occupancy due to the influx of new supply. Examples are Dubai and Doha. The second is achieving a much lower absolute revPAR level, but is experiencing exceptional revPAR growth, driven by increases in both occupancy and average room rates. Amman and destinations in Egypt fit into this pattern.
POPULARITY SURGE
Destinations in Egypt were the fastest-growing markets during the first quarter of 2008. Egypt is becoming increasingly popular as a holiday choice, as it offers luxury at a lower price than its neighbours, but shares their good year-round weather. Tourist arrivals were up 22% last year, according to the Egyptian Tourist Authority, with Russia, Germany, France, Italy and the UK remaining key source markets. There is also strong growth from emerging source markets, such as India and China, which were up 34.6% and 56.6% respectively.
"Tourist arrivals were up 22% last year, according to the Egyptian Tourist Authority."
Egypt's strategy is to raise annual visitor numbers from eight million to 12 million by 2012. These increased numbers have encouraged hoteliers in Egypt to push up their rates. As seen in our table (overleaf), the culture-rich country took three out of the top five places for the first quarter of 2008 and experienced the best growth in revPAR.
According to data from the STR Global HotelBenchmark Survey, Taba was on top, with a staggering 107.7% increase. Occupancy was up from 43.1% to 68.1%, suggesting that the shadows cast by the 2004 terrorist attacks are disappearing.
However, when considering absolute revPAR, Taba has the lowest in the Middle East, at $25. Luxor and Alexandria, while enjoying strong growth, achieved revPAR of $48 and $57 respectively.
TARGET BREAKERS
The impact of the Amman bombings in 2005 led to a drop in revPAR growth, but in 2007 revPAR was up 19%. During the first quarter of 2008, hotels continued to perform well. Occupancy increased and average room rates were up 13.6% to $129. Jordan's national tourism strategy for 2004-10 plans to increase tourism revenue to $1.84bn and to double tourist arrivals to 12 million.
"Dubai's revPAR growth at the end of 2007 was up 17.4% to $239 compared with 2006."
According to figures released by the country's central bank, it has surpassed its financial goal ahead of schedule with revenue reaching $2.11bn during the first 11 months of 2007. However, the country's Department of Tourism and Antiquities reported that 2007 attracted 3.4 million visitors, which is still some way from the 2010 target.
The country's historical treasures are powerful magnets for tourists, with a 62% jump in visitors to the ancient stone-carved city of Petra (declared one of the new seven wonders of the world in 2007).
A $70m restoration campaign is in progress at other historical sites. Marketing to niche groups – including those interested in cultural heritage, ecotourism, MICE (meetings, incentives, conventions and events) and education – is the country's strategy for encouraging tourist activity.
EXCEPTIONAL START
Dubai's revPAR growth at the end of 2007 was up 17.4% to $239 compared with 2006. The emirate had a great start to 2008, with revPAR up 12.5% to $315 for the first quarter, compared with the same period last year, which has enabled Dubai to hang onto its title as top revPAR earner in the region.
Occupancy and average room rates reached exceptional levels, at 88.6% and $356 respectively. Abu Dhabi achieved 24.4% growth to $252 during the first quarter of 2008, with occupancy increasing to 86.7%. Average room rates were up 17.0% to $291, the second highest average in the Middle East after Dubai. According to the Abu Dhabi Tourism Authority, 20,000 extra hotel rooms will be needed to meet the emirate's projected 3.5 million visitors and, according to Lodging Econometrics, there are 69 hotels currently in the pipeline.
BEIRUT STRUGGLES
Lebanon's capital, Beirut, is still suffering from political instability. Attracting tourists is a problem and a number of hotel developments have been postponed. During the first quarter of 2008, hotel performance achieved a 20.5% increase in revPAR, but overall hotel performance results tell a different story with occupancy of 36.8% and average room rates of $115.
TOURIST DRIVE
Doha's hotels enjoyed double-digit revPAR growth, for four consecutive years leading up to 2006, when the country hosted the Asian Games. This excellent revPAR could not be maintained in 2007, and performance was down 12.0%. During the first quarter of this year, the country seems to have halted the declines and achieved a slight 1.8% increase in revPAR. With Doha's average room rates at $274 the outlook for 2008 does not appear to suggest that there will be significant revPAR gains this year.
"Saudi Arabia wants to reduce its dependency on oil revenues and is keen to boost tourism."
Occupancy is down and, according to Lodging Econometrics, 33 hotels equating to 10,403 rooms are now in the pipeline. Doha is therefore investing in developments and attractions that will bring in visitors to fill its spare rooms.
These include the Pearl Qatar, a 985-acre man-made island east of the West Bay shoreline, which is due to complete in 2011. Other attractions, including the Museum of Islamic Art, Qatar Science & Technology Park and Al Waab City will help to drive performance forward in the medium term. Doha's new international airport should be open next year and the country plans to raise visitor arrivals from 975,000 in 2006 to 1.5 million by 2010.
SAUDI BOOM
"So far in 2008, the Middle East has the best hotel occupancy and average room rates in the world."
Year-on-year analysis across Saudi Arabia was complicated by the timing of the annual pilgrimage, Hajj, which took place over two months at the end of 2006 and the start of 2007. In 2007, it only affected December, making it difficult to compare annual hotel business. As a result, Makkah and Medina were at the bottom of the revPAR growth table. So far in 2008, hotels in the capital Riyadh are achieving some of the highest levels of revPAR in the Middle East of $206.
Like many countries in the region, Saudi Arabia wants to reduce its dependency on oil revenues and is keen to boost tourism, both domestic and international. The Saudi Arabian Monetary Agency suggests domestic tourism will reach $19.5bn by 2010 and $27bn ten years later.
International tourism is also expanding rapidly and, according to UNWTO, international tourist arrivals to Saudi Arabia were up by almost 51% in 2007.
PROMISING PATTERNS
So far in 2008, the Middle East has the best hotel occupancy and average room rates in the world, as well as the second highest growth rates. While some markets, which have had meteoric performances over the past few years, are entering a maturity phase, they are still achieving outstanding results.
Local challenges exist, such as the rising cost of materials and the development of a skilled workforce, but the belt-tightening affecting Europe and the US seems unlikely to damage the Middle East. If the rest of 2008 follows the pattern already set for the first quarter, hoteliers should enjoy a five-year run of double-digit growth.