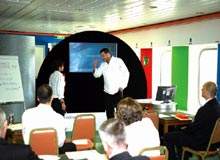 Bringing the far corners of the world together is part and parcel of what the hotel sector does. Blending amenities to cater for the needs of the world's different cultures is central to success for large, international hotel chains.
However, despite the vast experience that industry players have built up in this area, the world is becoming increasingly polyglot and hotels are tracking a moving target.
To compete, they must pay closer attention to the trends of globalisation. The industry must reflect the requirements of the global village in many aspects of its operations, including food, services, amenities, staffing policies and training.
Cultural issues have never before been such a crucial determinant of how a large hotel should operate. For instance, one of the major prospects for the industry is the growth of China – not only as a destination but also as the source of an increasing number of international tourists.
ACCOMODATING CHINA
Many hotel chains are expanding into China, investing heavily in new properties and working with Chinese partners to cater to both internal travellers and those arriving from Europe and the USA to see the delights of Beijing and Shanghai for themselves.
"Cultural issues have never before been such a crucial determinant of how a large hotel should operate."
InterContinental has stated that it aims to manage as many as 125 hotels in China by the end of 2008, though it currently has fewer than 50.
Much of this expansion is expected to be through managed operations, rather than direct ownership or franchising, and like many other hotel chain owners the group is having to adjust its strategy to suit the business culture in China, which differs from those of the USA and Europe.
Such cultural differences are also an increasingly important issue for hotel owners outside China, as growing domestic tourism in the country is likely to occur alongside accelerating growth in the number of Chinese tourists visiting foreign countries.
"Some Chinese already travel," says Wulf van Alkemade, managing director of the Strategic Amenity Alliance (SAA), which brings together partners across the hospitality industry to provide a global amenity supply source for international and regional hotel chains.
"The more educated and affluent tend to stay at the Hyatt or the Ritz or another luxury brand. Then there are also more middle-class Chinese travelling abroad and, like many Japanese tourists, they often choose to travel in groups."
PREPARING FOR THE CULTURAL SHIFT
Having recognised the need to cater to a growing number of visitors from countries such as China, the hotel sector must look in greater depth at how different cultures treat certain types of behaviour that come up in the everyday running of a property.
In some Asian cultures, for example, eye contact is not sought, as it can make guests feel uncomfortable, while in Western tradition it is equated with openness and honesty. This could be important in defining how staff address themselves to certain Asian guests.
More fundamental perhaps are the requirements of different cultures with regard to cuisine and the language capabilities of staff.
The growing number of Chinese tourists visiting the USA and Europe, for instance, is putting more pressure on hotels to have someone on staff at all times who can address these guests in their native tongue.
"Chinese guests need someone in the hotel that speaks their language, and they also need appropriate food," says van Alkemade. "That is obvious and logical. But remember, some groups of guests want to explore the local culture." And some aspects of service are universal. "In five-star hotels, people know your name after one day, and people like that. It cuts across any cultural considerations."
A NEW DEFINITION OF CULTURE
Parallel with the growing cultural diversity of guests, however, is the emergence of a new class of travellers, who are defined less by their cultural origins than their lifestyle.
As a result, van Alkemade believes the industry should take a broader view of cultural requirements, placing them less within a racial context and more within the new paradigm that is emerging from the global village.
What he has observed is the emergence of a new type of business traveller who has to some extent risen above the broad – and sometimes stereotypical ‐ definitions of nationality and cultural expectations. While he believes that the needs of different cultures must be closely considered and met, he foresees a future in which these differences will become increasingly less significant.
"With globalisation, and the CNN and MTV effect on young people who travel, the cultural differences are disappearing a bit," he says.
"We look at the development of cultural trends from a lifestyle point of view. Today, you have the road warriors – young people with laptops who spend their time on the road. Whatever culture they are from, they have a high-tech business lifestyle, which cuts across gender and race. It is more about the specific needs of the lifestyle. The globalisation of the business community has blurred the culture line."
DEMANDS ON EMPLOYERS
Cultural diversity in the workplace requires close monitoring if the best synergies are to be achieved.
"You need to give the best service to guests of all cultures, and you must also have the management policy in place to manage people from different cultures," says Erica Harley, managing director of Erica Harley Associates, an expert in HR, communications and customer service training.
"When you have people on staff who do not speak the local language, it can be a struggle to get the message across. You can't just give them a manual."
Harley works with many different clients in the hospitality sector, including Hilton and Sodexho. In her training methods she uses actors in workshops that combine theatre and roleplay to reproduce real-life scenarios in a practical setting and deliver staff policy training in a way that cuts across what are sometimes perceived as cultural and language barriers in diverse, multicultural workforces.
Her training has been developed to address a need – particularly apparent in the UK – where teams within a hotel may include members whose first language is not English, though this applies equally to English staff working overseas.
"Language is not the barrier, though people think that it is," adds Harley. "Attitude is the barrier."
EXPERIENTIAL TRAINING
The use of experiential training has proved to be an effective means of exploring the human aspects of various jobs in a hotel, without the need for staff to consult hefty manuals written in a language they may have difficulties in understanding.
Increasingly, hotels are embracing this kind of training as a way to incorporate cultural diversity in teams of staff, though it has also been used after encountering difficulties with staff policy training.
"Cultural issues can be a problem," adds Harley. "Some hotel chains have recognised the issue and see it as important. You need to look for every edge in this industry."
Certainly, such training is effective in getting key points across, such as how other people perceive your behaviour as a staff member, the importance of non-verbal communication and the need to create a rapport that can be tailored to the needs of guests and staff members from different cultures.
"Language is not the barrier; attitude is the barrier."
Above all, says Harley, the important thing is for staff to put themselves in the positions of guests and understand how attitudes and ambience can be affected by staff behaviour.
"The training is very intuitive and painless – totally different to what I have seen before," says Tammy Mariaux, director of hospitality networking group Arena, who has witnessed this kind of workforce training in action.
Arena has become one of the hospitality industry's best-known networking groups, and as such has encountered the issues that cultural differences can throw up. Mariaux has also seen how these issues can be effectively overcome if hotel managers take the correct approach.
"If an employee's first language is not English, they need to have very visual training," explains Mariaux. "It can focus on body language and how that affects communication. In a multi-ethnic work environment it is a very practical way of training that overcomes communications difficulties and cultural differences."
CULTURAL CLICHÉS OR COMMON SENSE?
While it is important not to fall into the trap of stereotyping groups from different cultures, it is crucial to look at the basics that cultural diversity might require of a hotel.
For instance, it is common sense to provide both bath and shower facilities to Japanese guests, who traditionally like to use both in their regime of personal hygiene. It also makes sense to provide Asian guests with the option of cuisine from their home region.
However, the key in both staff training and the provision of guest amenities is to provide flexibility and choice. Cultural diversity may provide many challenges, but it also presents just as many opportunities for differentiation and synergy.