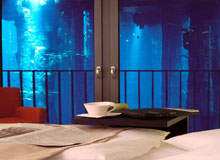 The impact of the housekeeping function on the success of a hotel's operations cannot be underestimated. Although the staff providing this service do not necessarily interact directly with the public, the quality of their work is critical in shaping guests' memories of their stay.
"Housekeeping is an important part of the guest experience," says Werner Knechtli, general manager at the Radisson SAS Hotel in Berlin. "Other things such as security are important, but what guests really want is to feel at home, to feel comfortable."
"The cleanliness of the rooms is crucial to guest satisfaction."
Knechtli's property, which has around 115,000 room nights per year, based on about 75% occupancy, places significant demands on its housekeeping staff, but the cleanliness of the rooms is crucial to guest satisfaction, and therefore a key factor in generating repeat business.
Also, as guests become more selective about their accommodation, getting the basics of cleanliness, efficiency and friendly service right becomes more of a challenge.
"Guests' expectations are higher now, particularly in terms of deadlines," observes Knechtli. "They want their rooms to be ready by the time they come back from breakfast."
Despite the evolution of benchmark standards across the industry, the housekeeping function must be closely managed and constantly reviewed and improved.
Although housekeeping is a basic necessity rather than a function where hotels can gain a clear competitive advantage, it clearly has a direct and critical impact on the guest experience.
CLEANLINESS IS SECOND TO NONE
Ask any executive housekeeper and they will say that standards of cleanliness in the guestrooms is top of their list of priorities.
Guests should not be able to tell if anyone has slept in the room, so a clean environment is very important. That is why suppliers of hygiene products to hotels are constantly looking to improve their standards and develop high-performance products.
One example is Perstorp, which has reacted to growing public demand for superior hygiene products by developing a new material, Polygiene, which acts as an improved barrier against bacteria.
"Polygiene provides antimicrobial protection and was developed for electrical accessories and toilet seats," says Anders Norin of Perstorp. "Now we are developing other products suitable for a hotel room. We will be able to put full antimicrobial protection in a hotel room – on the walls, the ceiling, the floor. It provides increased freshness.
"Polygiene does not require any changes to the cleaning techniques, so it is more for the guest than to reduce the housekeeping requirements, but the antimicrobial coating is part of the material, so it cannot wear off and it cannot be cleaned off."
MANAGEMENT DEFINES QUALITY OF SERVICE
The use of new products to improve standards of hygiene is one approach that hotels can adopt to improve the performance of their housekeeping function, but it will not be the main factor that determines efficiency or overall quality of service.
Whichever products are used, it is housekeeping staff who determine how well the service is delivered, and hotels are now finding more varied options for managing their staff requirements.
A growing trend is the outsourcing of housekeeping staff requirements. Knechtli's Radisson SAS Hotel has chosen to use staff provided by an external supplier, and believes that it is a useful part of the management strategy in terms of efficiency, standards and flexibility.
"The efficiency of the housekeeping function depends on the standard operating procedures that you have in place from the start of the day to the time the trolley comes back," explains Knechtli.
"We employ one executive housekeeper, one assistant, seven supervisors and eight room attendants, but most of the room attendants are outsourced. Of course they are trained to our can-do attitude, our standards and our service philosophy."
The main advantage of this arrangement is the reduction of staffing costs. It allows hotels to pay room attendants on the basis of the work they do, which will change in response to occupancy rates.
It also guarantees that the job will be done, even if an individual worker is off sick. The task of supplying enough staff to cover the work becomes the responsibility of the service provider, not the hotel. It also eliminates the need to directly recruit employees for a function with a high staff turnover.
"Whichever products are used, it is housekeeping staff who determine how well the service is delivered."
However, using outsourced staff also brings with it certain responsibilities. Knechtli acknowledges that constant monitoring is essential, though the benefits still outweigh the costs: "We check every room, and it must comply with our policy.
"More hotels are using outsourced staff. Besides the benefits in terms of cost and flexibility, quality assurance and long-term maintenance of property value are now key requirements for modern housekeeping. We also minimise the fluctuation in employees performing housekeeping duties, and we pay only for the number of rooms that are cleaned."
However, for an outsourced agreement to work there must be a relationship of trust between the hotel and its external partner. The hotel must be certain that the supplier will provide staff who will perform their housekeeping duties to the required standards. "We have chosen the right partner. There should be no difference [between in-house and outsourced staff] in terms of friendliness, cleanliness and speed," says Knechtli.
To make sure of this, greater responsibility is given to staff employed directly by the hotel, principally executive housekeepers, who are ultimately held accountable for the performance of the outsourced workforce.
Still largely the domain of larger chains and properties, the outsourcing of housekeeping staff is likely to increase, but before taking action hotel managers should first examine whether a different approach might be more suitable.
THE ALTERNATIVE TO OUTSOURCING
There are others who feel that the extra cost of employing staff directly is worth it. The five-star Lapa Palace in Lisbon, Portugal achieves a unique feel in its rooms by incorporating small personal details that make them feel more personal.
Ferreira believes that this makes a real difference to guests, and that it is important for the housekeeping staff to understand and be involved with the room and service policies that define the hotel.
"In a luxury hotel, all staff must feel that they are part of the hotel."
For instance, guests can choose the type of pillow they want from a menu of nine, which has a knock-on effect on the duties of the housekeeping staff.
"Our rooms are very clean, with linen sheets and special towels," says executive housekeeper Adélia Ferreira. "Also, our staff are trained to take care of the guests' needs in a friendly manner."
This blend of good service and individual detail depends on housekeeping staff identifying with the hotel brand, and Ferreira believes it is important that these staff are employed directly by the hotel, rather than supplied by an external company.
However, making this work demands a different kind of management style, designed to minimise potentially high turnover of housekeeping staff. Whereas outsourcing passes on this problem to the service provider, Ferreira's approach is to provide an environment that encourages good employees to stay. This in turn allows the hotel to benefit from the experience that these employees have accumulated over the years.
"The turnover of our housekeeping staff is not high, because of the ambience in the hotel and because work conditions are very good," says Ferreira. "We treat the staff like they are part of the family, and we are all close. It is very important to make them feel part of the team."
This does not necessarily mean a more rigorous recruitment process, but it does keep control of quality of labour in-house. The potential pay-off is that employees are more reliable and can become an integral part of developing and implementing policy.
"In a luxury hotel, all staff must feel that they are part of the hotel," adds Ferreira. "We have a very open work environment, and I am willing to accept suggestions from the staff. They let me know if something is not working well. This kind of feedback is much better with our own staff."
Although Ferreira's approach may also entail greater training costs, she believes this has some advantages: "If we hire people with no experience, we can train them to our concepts. They don't have any bad habits."
Ferreira's model perhaps places loyalty above flexibility. When deciding whether to try a similar strategy or opt for outsourcing, a hotel must ask which of these approaches serves its housekeeping function best.
The success of a hotel's housekeeping strategy will depend on how that strategy is implemented and to what extent it meets the needs of the property.