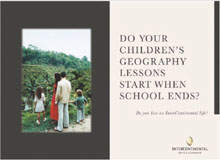 Jenifer Zeigler, senior vice president of global brand management for InterContinental, joined InterContinental Hotels Group five years ago from Coca-Cola, where Brandweek magazine hailed her as one of their Top Ten Marketeers of the Next Generation.
Given the brand marketing and business strategy portfolios for Holiday Inn Express's 1350 North American properties, she helped the chain achieve record growth in both occupancy and revenue in 2003 and 2004.
Her Stay Smart® advertising campaign won her four of the New York American Marketing Association's Effie awards.
In 2005, she moved to become senior vice president, global brand management at InterContinental Hotels and Resorts.
"The hotel industry has been slow to take a disciplined approach to branding and marketing," says Zeigler. "I think it has been waking up to this in the past five years or so. When I came to hotels from The Coca-Cola Company in 2000 I was truly surprised at the lack of marketing sophistication in the industry."
"The hotel industry has been slow to take a disciplined approach to branding and marketing."
Proof of the change has been the speed with which adjustments now have to be made. "Once, you could simply apply traditional brand management disciplines and make a difference. Now, competitors start to do the same thing very quickly, and so you have to apply that brand marketing discipline faster."
The key, she believes, is innovation, which even if it can be copied, gives a brand a few years before it is time to move on to the next good idea.
Zeigler's killer innovations for the North American Express Holiday Inns were the Express Start Breakfast Bar and a Simply Smart shower package.
She readily accepts that the approach to selling InterContinental Hotels and Resorts' 46,035 upscale rooms worldwide will not be quite so straightforward.
Even as she was still settling into her new office in Windsor, the business was just launching a new global advertising campaign, 'Do you live an InterContinental Life?'
Consumer feedback on the Sydney-based commercial had not yet come in, but the response from hotel staff, managers and owners, says Zeigler, had been "tremendous".
The commercial features a businessman with a spare afternoon, for whom the InterContinental's concierge organises a trip piloting an America's Cup yacht with its crew. There are no pictures of turned-down beds, groaning dining room buffets or elegant sophisticates at the bar – in fact, there are no interior hotel shots at all.
InterContinental is trying to link its hotels to the locale, rather than offering a homogenised experience where guests have to peer out of the window to remember which city they are in.
According to Zeigler: "The InterContinental consumer is looking for a unique stay, unique to the locale they are visiting. So a lot of what we will be delivering to differentiate ourselves will be in the service arena."
Key to the InterContinental Life is the concierge, whose role as fount of all local knowledge and fixer of every little problem is now being recognised as pivotal to the brand.
"We are launching a whole new service training programme across the system, reaching 40,000 employees. It is really about teaching all of them, from housekeeping to the pool attendants, how to create and provide memorable experiences relevant to our target guests."
The investment in this programme is relatively small, but Zeigler believes it will help open up the world outside the hotel, enhancing the guest experience.
CONSISTENT CONSUMER EXPERIENCE
Despite the fact that its brand marketing is pointing out the differences between countries, property by property, the overall aim, says Zeigler, is to create a consistent consumer experience in terms of service and amenities.
"I truly think that InterContinental is a fabulous brand that has history and some of the best operators and general managers. But we have a great opportunity to take this to an even higher level."
Consistent customer experience is something that Distinguished Hotels, with its mix of city and country-house properties, also promotes.
Bruno Maini is Distinguished Hotels' senior vice president of business development. He points to the challenge facing him and 'friendly' rivals such as Leading Hotels, namely that his 150 hotels, (with on average 60 rooms each) are not all built to be exactly the same or even similar.
"The product itself is different in our part of the industry, so the challenge of the brand is much greater, because you have to find unique features that are present in each property."
Some analysts believe the less a hotel brand is viewed as a commodity, the more likely it is to generate loyalty. Thus, with an intermediary such as Distinguished, the variety of properties can actually count in a brand's favour, providing there is a strong, unifying marketing message borne out by customer experience.
COMPETING ON SERVICE
Intermediaries such as Distinguished, says Maini, represent a safe haven for independents, where they can buy into a distribution, sales and marketing network, and a brand that delivers a message of quality services and commonalities.
"It is a challenge, but this is the way to compete with the big brands. You do not try to match them dollar for dollar on their pricing. What you do is offer a different product. There is an enormous number of customers out there who, if they receive the right message and the right input, will choose an experience rather than what the Americans call the cookie-cutter approach."
The Distinguished brand seeks to differentiate itself from the competition with the common denominators of welcome and service. Maini adds that membership of its loyalty scheme, Distinguished Club, is a recognition rather than a reward club. The customer may receive good rates or upgrades but is given no points for a stay at a resort hotel within the group.
Here Maini warms to a favourite theme. Though in the 1980s he was part of the marketing team that developed InterContinental's original loyalty scheme, The Six Continents Club, he is critical of the direction the reward business has taken since.
"The airlines began rewards because they had empty seats on flights that were going anyway", he explains. "The hotel industry followed and now it has become a huge business, to the extent that one chain is having to book resort hotels from a competitor to meet demand for reward card holders, which its own resort properties cannot meet.
"The question is where will it end? In most destinations, there is an abundance of inventory and new hotels are being built all the time. It seems to me that if you reward customers with points all the time, there will come a point where you are actually paying them to come and stay with you. I know some hotel groups now wish that they had never started reward schemes or had pursued them at a slower pace."
It is also bad for the industry if customers are attracted by price and reward rather than service and price.
In Maini's view, the effects are already showing: "Sometimes when you walk into these huge properties you do not find the service you expect, even if it is a five-star property."
CUSTOMERS DRIVE PRICING
"The less a hotel brand is viewed as a commodity, the more likely it is to generate loyalty."
In Maini's view, the four- and five-star hotels have suffered from corporate cutbacks on accommodation expenses: "Leaner companies have driven down rate levels, and then want to pay the same year on year, as if the hotel industry lived in a non-inflationary world. But because costs have risen, so have rates.However, rather than paying, these businesses are opting to put their people into three-star hotels – hence the boom in these properties."
In branding terms, three stars has traditionally been about utility and cost rather than service, but Maini wonders if this is changing: "I believe the three-star properties are taking the place of the four- and average five-star, because there is very little difference between staying in top three-star hotels which are very, very good as against a lower four-star hotel."
Maini cites the case of London, where during low periods four-star hotels are trading down to three-star prices.
With hotels having to compete on price, originality, experience and service, the winning strategy is sure to create a hotel experience that will retain customer loyalty without the need for increasingly expensive loyalty schemes.
Creating the perfect hotel experience at a price the business traveller is willing to pay is certainly within the realms of the possible, even without recourse to miracles.