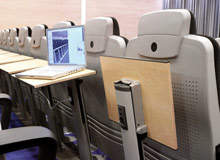 Recently, a US hotel hosted a major conference for the great and the good of the IT security world. A mix of encrypted and open connections to the internet was provided so that delegates could log home.
Halfway through the event, the organisers displayed on the big screen the IDs and passwords of a group of security experts who had logged into their office emails over one of the insecure lines – proof, if any were needed, that even IT
professionals can get security wrong.
It also highlights the kinds of connectivity hotels need for their conference suites, to say nothing of the way they allow their guests to log on from their rooms.
Business guests expect to have high-speed internet access in their hotels, even if research suggests that not all of them use it. Most conferences also need the ability to log on to the web.
"Business guests expect to have high-speed internet access in their hotels."
Hardwiring the property up to an internet connection, whether an ADSL link or a leased line which the hotel manager also uses, has been the traditional option. But as some have found to their cost, wiring up a hotel can prove extremely expensive,
especially if the technology evolves a few months later and the old wiring has to be ripped out and replaced.
A NEW STANDARD
The good news is that the current Cat 5 ('pipe') wiring can take up to 100Mb of data. Given that television quality video requires a maximum of only 8Mb, these pipes look set to remain the standard for some years, according to Graeme
Powell, European managing director of iBahn, the major provider of hardwired connectivity to chains such as Hilton, Marriott, De Vere, Rocco Forte and Mandarin Oriental.
Nevertheless, Cat 5 wiring does have a high capital cost. An alternative from Telkonet uses a hotel's electrical main to move data signals via plug sockets to wherever it is needed.
The company uses proprietary hardware and software in its iBridge box to convert the powerline communication (PLC) signals back and forth to digital. Currently its PLC link handles 7Mb, but next year it is launching a 40Mb iBridge system. According to
David Powell (no relation), Telkonet's international managing director, the multichannel iBridge irons out any power spikes by automatically switching data to another channel the minute it detects a change of signal.
SECURITY STANDARDS
Both iBahn and Telkonet have wireless (WiFi) solutions that ride on the back of their main connectivity. Unlike some WiFi links outsourced by hotels to local providers, both Powells say their links are encrypted, secure and reliable.
In July 2005, Telkonet's iWire system gained a Federal Information Processing Standard (FIPS 2) rating, the second highest for security. Nevertheless some multinationals such as Siemens remain so suspicious of wireless connectivity that they
still forbid their employees from using it.
SAFETY THROUGH ENCRYPTION
Because, in theory, anyone can plug an iBridge into a hotel's electrical system, Telkonet relies on its encryption system to lock the unauthorised out and cannot easily detect intruders.
"Some multinationals remain so suspicious of wireless connectivity that they still forbid their employees from using it."
However, herein lies Telkonet's low-cost appeal. iBridges are only issued to guests upon request as they check in, along with iWire if they do not want a physical link. They could later take their Telkonet kit and computer down to the bar or, if
the headwaiter will stand for it, to their dining table.
Among Telkonet's customers are Choice Hotels International, Sandman Hotels, America's Best Value Inn, Best Western, Ramada, Hilton, Holiday Inn and Sheraton.
The dedicated iBahn and Telkonet WiFi links work equally well in conferences where delegates can have data sent directly to their laptops or PDAs. Indeed, participants could follow proceedings in this way from their rooms if they wished.
Hotels in Europe may be happier to make the capital outlay on Cat 5 pipes because they can still charge for internet access, for both guests and conferences.
In the USA, marketeers have for the last two years made high-speed internet access a free perk. In Europe, it generally remains a service for which guests pay between £10 and £15 a day.
CONFERENCING THE NEXT STEP?
Though both iBahn and Telkonet say they are looking at it, neither firm yet provides the plasma screens and other audiovisual equipment that are the other essentials of a modern conference.
iBahn is just about to start marketing directly to conference organisers to have them adopt its technology. This might redirect the conference firm's choice of venues towards hotels that were already Cat 5-wired or could be easily wired on an ad
hoc basis.
However, iBahn's Powell warns that a hotel's high-speed communications are only as good as the weakest link in the chain, and that link is often the connection to the outside world: "There are now only a few hotels that still manage
their high-speed communications in-house. The subject is too complex, and not many hotels have more than one IT manager on site. The trend is towards managed facilities and, increasingly, high-speed wireless connectivity, which may become the norm in the
next couple of years."