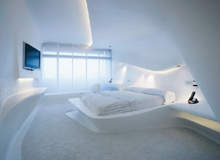 Although some hotels are still relics of the 'boxy', anonymous era of construction, thankfully more and more are being built with an unusual architectural appeal, whether it's a completely new build, a refurbishment or a new lease of life for an old building.
Take, for example, one of this year's most talked about hotel launches, the Puerta America in Madrid, owned by Spanish chain Silken, which already has properties such as the Domine hotel in Bilbao and the Diagonal in Barcelona to its name.
Much has been made of the fact that there are numerous celebrated architects and designers involved – 19 at the last count.
Typical of the fanfare surrounding the project is the comment by the Spanish architect and designer of the exterior structure Felipe Saez de Gordoa that it is "a utopian hotel, a Statue of Liberty, an open book".
'Freedom' was the watchword, and all the designers were encouraged to really let their hair down – not that they needed much persuading.
"Big is beautiful, at least in the world of hotel construction."
Another striking feature is the text of Paul Eluard's poem Liberté, on various coloured drapes and in several languages, covering the facade. This was the brainchild of French architect Jean Nouvel, who says this highlights his desire to create "a link between freedom and pleasure".
Nouvel sees his work at the Puerta America as "a crossroads between art and architecture, which allows guests to experience extraordinary moments and creates small worlds for people to enjoy."
Though the project is hardly restrained, from the outside the building looks reassuringly rectangular. So much the better; had its owners opted for some kind of pyramid-style Luxor, they would have ended up with a construction wholly unsuited to the airport suburb in which it is located. As it is, the external structure is a picture of understatement, a perfect complement to the wonders inside.
Each of the 1,200m2 floors has a standard plan: four panoramic elevators leading to a lobby that provides access to both the rooms and suites (28 and two per floor, respectively).
Every floor has enough visual treats inside to satisfy even the most jaded designer hotel aficionado.
On the first floor, designed by Zaha Hadid, the world of sci-fi holds sway. A double helix chandelier, designed by Hadid for Italian manufacturer Sawaya and Moroni, dominates proceedings in the lobby. The bedroom walls are carved out of the acrylic stone material LG Hi-Macs, creating a built-in bed and desk in one continuous organic form.
If guests want circular beds, they can try Ron Arad's floor, or if they prefer marble sphinxes, stone flooring and velvet armchairs, they can immerse themselves in the work of Seville-based designers Victorio & Lucchino. And when it all gets a bit too much, they can wander around the John Pawson-designed reception area.
It all adds up to a 14-storey, 34,000m2 structure, thought to have cost around €75m. Silken plans to take its bold brand of hotel construction to London next, with the opening of a five-star Norman Foster-designed hotel earmarked for 2006.
LOFTY AMBITIONS
Big is beautiful, at least in the world of hotel construction, with another well-known hotel brand, the Hilton Group, opting for a grand architectural statement.
Expected to open in autumn 2006, this new mixed-use development (it combines a Hilton hotel with 219 one- and two-bedroom apartments from the 25th floor upwards) will be situated in the heart of Manchester, at the junction of Deansgate, Great Bridgewater Street and Liverpool Road.
The 47-storey tower, expected to cost around £100m, is the work of Ian Simpson Architects, designers of the Urbis museum, also in Manchester, and Simpson himself is considered something of a Gaudi figure in the north west of England.
When completed, the tower will be 157m high – with a striking glass blade on top extending it a further 13m – and hold the title of the tallest building in Manchester. On the 23rd floor, a 'sky bar' will offer hotel guests dramatic views of the surrounding area.
The 285-room four-star hotel will feature a range of accommodation, including executive rooms with private access to a clubroom and extensive meeting and conference facilities. Full health and fitness facilities, operated by LivingWell Health Clubs, will also be available.
Wolfgang M Neumann, president of Hilton UK and Ireland, is optimistic: "We expect the hotel to perfectly complement our existing Hilton Manchester property. Manchester is a vibrant and energetic city, and the appearance, ambience and quality of the tower building will reflect this."
Simpson is equally bold in his predictions, and he hopes to create a "spectacular and beautiful addition to the Manchester skyline".
THE ART OF DESIGN
When the City Inn Westminster was launched in September 2003 it was the largest new build hotel the UK capital had seen for 30 years, with 460 bedrooms, a stylish cocktail bar, the Millbank Lounge, and a contemporary restaurant, the City Café.
David Olson, associate at project architects Bennetts Associates, explains: "This was the fourth City Inn to be conceived. During the development of the other three, the owners developed a strong idea of what they wanted and how the elevations would work."
"Restrained, urban and modernist without being a fashion statement."
David Orr, the obviously delighted City Inn chief executive, characterises the hotel as "restrained, urban and modernist without being a fashion statement".
Upon first impression it appears to be a glass-dominated structure, but steel panels and gable walls in blue terracotta balance out the need for natural light.
The new City Inn was not, however, without its constraints. Planning requirements from Westminster Council stated that there had to be access between John Islip St and Millbank, as well as a significant amount of public art on display, as the site was only a stone's throw from Tate Britain.
Olson adds: "The public had always walked across John Islip Street, and obviously it was important that this was maintained. City Inn also wanted to be a good neighbour, and the client didn't want the public art to be a token gesture but something integral to the building. With the Art Street, both of these requirements were satisfied."
Created by artist Susanna Heron in partnership with Bennetts Associates, this 80m-long arcade, partly used for al fresco dining at the City Café, features 5m-high slate engravings carved in Heron's studio and a textured mirrored glass wall that provides views around the corner and back onto the street.
The Art Street is also a boon from an architectural standpoint. "It's reasonably compact, yet gives the building a third elevation, as well as providing a nice, temperate environment for diners," observes Olson.
KEEPING IT SIMPLE
The Hotel Daniel in Graz in Austria is an excellent example of what can be done to renovate an existing hotel structure.
The new design concept came courtesy of German designer Werner Aisslinger, famous for his minimalist approach to product design. So what did he make of the task of injecting a little pizazz into a fairly simple 1950s building?
'It was easy to connect the concept to the existing architectural context,' says Aisslinger. "The house is somehow not from a certain period and we didn't want to push the 1950s idea, so we kept it simple with changes of light and colour."
Aisslinger won a competition in July 2004 to complete the project and just over a year later the hotel saw its official launch.
The brief involved making the relatively small 101 bedrooms more comfortable and contemporary. This was done by using materials such as horizontal oak veneer and felt.
Structural changes included knocking down walls in the basement and installing a new air conditioning system, but by and large the building stayed the same.
In the lobby, Aisslinger wanted to create a large, light, loft-like area: "We had the spaces of 1950s Californian case study houses in mind – wood, Eames chairs and plants with a friendly simplicity."
This large public area is easily reconfigured and includes an internet area and a meeting room. The bar and restaurant is also open plan, and the breakfast terrace features a fireside lounge and library.
A BOLD STATEMENT
As stylish cities go, New York ranks pretty high, so it's no surprise to find it playing host to a daring construction project like the Hotel on Rivington, a 20-storey property located on Manhattan's Lower East Side.
A young design practice, consisting of principals Matt Gryswinski and Amador Pons, was appointed for the job.
According to Gryswinsksi, the project had something of a chequered history: "It was originally conceived as an apartment building, and so when we got there a lot of the exterior was already done. It was up to us to redevelop what we could."
What Gryswinski and Pons wanted to do when they came on-board was capitalise on the Rivington's height advantage in being the only tall building in the immediate area.
The architects used four types of glass for the building's exterior (the higher you ascend the more translucent it becomes), while zinc-clad tiles cover the lower part of the building. "The idea was really to open up the views, fill the angles with light," explains Gryswinski.
"Reinventing the contemporary motifs of other designers is one thing; creating something equally fresh and exciting in a Grade II listed building is a different matter."
Guests are afforded spectacular views of the city, and in those rooms where the full-height bathroom windows face the street Gryswinksi and Pons have ensured that the steam and the position of the shower preserve guests' modesty.
They also had to bear in mind the hotel's earlier conceptual incarnation as the Surface Hotel, part of a brand extension of the swanky style magazine of the same name.
A good example, which continues the slightly risqué theme, is the spectacular entrance, based on Marcel Wanders' Egg Vase. The scaled-up version, made with hardwearing sculptural foam, is equally sensual. "It was playing with the idea of entering through this erotic vessel," adds Gryswinski.
REINVENTING THE PAST
Reinventing the contemporary motifs of other designers is one thing; creating something equally fresh and exciting in a Grade II listed building is a different matter. But that's just what owner Girish Sanger has done at the Courthouse Hotel Kempinski in London.
It opened in June 2005 and features 116 rooms and suites, three dining areas, seven meeting rooms, and a spa, complete with hot tub and swimming pool.
Located just off Regent Street, opposite Liberty's department store, the Courthouse, as the name would suggest, was previously more likely to be accommodating lawbreakers than tastemakers.
Its listed status meant that some original features, such as the external facade, had to be kept. In the entrance hall, the original terrazzo floor, vaulted ceiling and terracotta tiling also remain, and the oak flooring and Robert Adam fireplaces in Carnaby's restaurant create a unique atmosphere in what was the payments office.
Sanger, who together with his mother was responsible for realising a significant part of the design concept, explains: "We didn't want to go too traditional or too contemporary, so what we have created here is a fusion of styles."
In the bar, low seating and a wall-length glass bar are both very modern in style, while the three former ladies cells have been converted into special private booths.
"There were a lot of structural alterations to be done," admits Sanger. "With the cells, we had to put in temporary steel supports to form a platform, slowly demolish around them and gradually introduce the permanent support – a bit like a giant game of Jenga!"