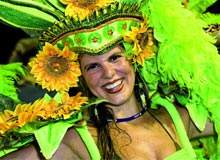 The global hotel market got off to a good start in 2008, driven by strong average room rate growth. Analysis by business advisory firm Deloitte showed that, for the first six months of the year, all regions across the world – apart from North America – recorded double-digit revenue per available room (RevPAR) growth (in US$).
The battle for the fastest-growing region was a tough one, but Central and South America came out on top with RevPAR rising by 23% to $82.
This has largely been driven by average room rate increases of 19.5%. Most markets have witnessed strong growth, Sao Paulo in Brazil taking pole position with a 36.5% increase in RevPAR to $72.
Panama City continues to do well, with average room rates jumping by $35 compared to 2007, reaching $161. The country's political stability is attractive to US tourists and investors and strengthens its appeal to long-haul travellers from Europe, who are keen to explore new destinations in the region.
"Cities in Switzerland and Austria saw rapid improvements when they hosted UEFA Euro 2008."
Other cities reporting RevPAR growth in excess of 30% include Rio de Janeiro and Santiago.
The Middle East came a close second in terms of RevPAR growth in the first half of 2008, up by 21.6% to $135. The region can boast that it also had the highest occupancy and average room rates in the world at 75.3% and $180 respectively.
Healthy double-digit RevPAR growth continues in Dubai, albeit at a slower pace than last year – up by 9.6% to $274. The emirate also achieved the highest occupancy and average room rates in the region at 85.3% and $321.
In Abu Dhabi, RevPAR rose by 40.5% to $240, with occupancy rising to 84%. Average room rates fuelled RevPAR growth and the emirate now stands at $286, the second highest in the region.
After a 38.6% jump in passenger traffic at Abu Dhabi International Airport in the first half of the year and a long list of attractions being developed, including the new Formula 1 Etihad Airways Abu Dhabi Grand Prix in 2009, the emirate's success is likely to continue.
Resorts in Egypt also reported strong RevPAR growth, as the country becomes more popular with tourists because of the present low price of luxury status accommodation. Taba came out on top, with RevPAR rising by 93.2%.
Occupancy grew from 45.4% to 71.1%, suggesting that the 2004 terrorist attacks no longer overshadow the plus points of spending time in Taba. However, when looking at absolute RevPAR, the sunny destination is the lowest in the Middle East at $27.
If hotels in the Middle East follow the pattern set in the first half of the year for the rest of 2008, hoteliers could enjoy a remarkable five-year run of double-digit growth.
In Europe RevPAR was up by 15.2% to $115 in the first six months of the year.
Although the economic slow-down and the strength of the euro against sterling and the US dollar may deter visitor numbers from these countries, a number of European cities have reported strong growth.
Hotels in Russia continue to report some of the highest RevPAR results in Europe, with Moscow achieving a RevPAR of $268 – up by 25.1%. St Petersburg also witnessed strong growth, rising by 37.1% as a result of strong average room rate growth.
This impressive hotel performance, alongside a strong economic performance due to high oil prices, is setting the stage for an increasing amount of foreign direct investment into Russia.
Paris saw RevPAR rise by 25.5% to $267 as the city played host to several sporting events in the first few months of the year, including the RBS Six Nations Rugby Championships and a friendly football match between England and France in March.
In Turkey, Ankara and Istanbul reported double-digit increases in RevPAR.
RevPAR in Ankara rose by 20.6% to $80, while Istanbul was up by 37.7% and achieved a much stronger absolute RevPAR at $185. Turkey's Ministry of Culture and Tourism is encouraging development in the industry and recently set a long-term tourism strategy with the ultimate goal of becoming one of the top five destinations in the world to welcome the highest number of tourists and tourist receipts by 2023.
Cities in Switzerland and Austria saw rapid improvements in hotel performance when they hosted the UEFA Euro 2008 football tournament. In Vienna, where the final match of the tournament was played, RevPAR in June alone rose by 74% as average room rates soared by 93.2% to $328.
This performance led the city to achieve a 31.3% rise in RevPAR growth for the first six months of the year to $141.
Hotels in Asia Pacific reported a 13.3% growth in RevPAR for the first six months of 2008, breaking the $100 milestone. Improvements have been driven by double-digit increases in average room rates, which now stand at $147.
Bali stole the show in terms of RevPAR growth across the region, with a staggering 38.8% increase to $86. The Indonesian resort island has seen an impressive rebound in the past 21 months as it recovered from the bomb attacks in 2005.
Singapore has also seen exceptional growth. Although occupancy dipped by 3.9% to 79.6%, average room rates soared to $216, resulting in RevPAR growth of 33.6%.
This September, the country will host the inaugural Formula 1 SingTel Singapore Grand Prix. This will be the first street race in Asia, attracting Formula 1 enthusiasts from around the world.
In South Asia, Mumbai saw a 17% increase in RevPAR, reaching $229. Average room rates in the city now stand at $319.
Increased capacity at Mumbai's Chatrapati Shivaji International Airport and a shortage of rooms in the city is driving this pattern as hoteliers push average room rates higher.
"Bali stole the show in terms of RevPAR growth."
Meanwhile in North-East Asia, Beijing was in the final phase of preparations for the summer Olympic Games as first-half results came in and although occupancy fell to 61.8%, average room rates were boosted by 18% to $138. The outlook for the region is promising, with a number of sporting events attracting a large number of travellers.
Big developments in the aviation industry, including the expansion of low-cost airlines and additional routes for the Airbus A380, will enable travellers to move freely in the region and in turn buoy performance. However, the rate of growth in the Asia Pacific region is likely to slow in 2008, in line with global economic conditions.
North America was the only region in the world not to achieve double-digit RevPAR growth in the first six months of 2008. However, many other regions have benefited from exchange rate gains against the US dollar.
While occupancy dipped to 61.5%, average room rates grew by 4.8% to $109 – a $5 increase on the same period last year. Specifically in the US, data from Smith Travel Research shows that there has been an increase in weekday demand and a drop in weekend demand, which highlights that leisure travellers are curtailing their travel plans.
Cities on the east and west coast are benefiting from the weak dollar as visitors from Europe and Asia get greater value for money from travelling to the US. New Orleans was the best performer in the country during the first six months of the year, with RevPAR climbing by 15.5% to $86, driven by occupancy, which rose by 12.1% to 68.2%.
Although some may see the weak dollar as bad for the US economy, hoteliers will undoubtedly cash in as eager shoppers flock to the country.
In summary, global hotel performance got off to a good start in 2008, with many regions seeing strong double-digit RevPAR growth. With the present economic climate and the strength of some currencies against the US dollar, it is likely that Europe will see challenges as a result of a downturn in visitor numbers from traditional source markets, such as the US and UK, in the remainder of 2008.
As figures have shown so far in 2008, certain cities across the US will benefit from an influx in European and Asia travellers keen to take advantage of exchange rate fluctuations, which will help to offset the slowdown in the domestic economy. The Middle East looks set for a fifth year of double-digit growth and Asia is well placed to continue with another strong year.
Analysis has been provided by Deloitte using data from STR Global and Smith Travel Research Inc. For further information please call the tourism, hospitality and leisure team at Deloitte on +44 (0) 20 7007 0967.