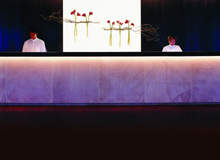 Technology has enabled hotel companies to increase the efficiency of front desk systems. This particularly applies to check-in, which can now be done online via kiosks or by mobile device, thereby reducing waiting time for the customer and helping to reduce transaction costs for the company.
The hotel industry has been significantly increasing its IT investments in the past two decades, with the expected benefits of more efficient internal operations, enhanced guest service quality, reduced transaction costs and thus improved profitability, and productivity gains and revenue increases. Furthermore the luxury hotel segment tends to adopt technology with a strategic focus on improving service quality, by providing either a wider or more personalised range of IT-supported services.
But what impact do these technologies have on service quality? Many studies have looked at the role of technology in improving customer service, but the service provider's perspective is also crucial.
Recent research at Lausanne Hotel School (Écôle Hôtelière de Lausanne) focuses on the perception of service quality from the perspective of the front desk personnel who engage with the client at the first, critical service moment. The study empirically measures the relationship between the use of IT and guest service quality at front desk in the context of Korean luxury business hotels, to investigate whether technology enhances quality.
The PMS and the front desk
The property management system (PMS) is often referred to as the single most important IT application for hotels, as revealed by a survey of 54 IT managers and directors representing 75,000 rooms in Europe, the Middle East and Africa (Murphy, 2007).
Within the PMS, front desk applications include check-in and check-out, guest credit audit, room status, advance deposits, cashier, and postings to guest accounts. These functions are critical to the guest experience.
A consistent knowledge of the use of these systems contributes to an overall improvement of service in the hospitality sector and enables customer-facing employees to better understand customers' needs. As a result of this improved understanding, employees should react more responsively to customers' requests, thereby creating and sustaining customer satisfaction and loyalty.
Existing research suggests that such benefits are observed more frequently in luxury hotels than in the budget or mid-scale segments because of the high-end category's strategic focus on using IT systems to improve service quality.
The research project
This analytical, survey-based research was conducted in the South Korean capital Seoul in the four-week period from January to February 2008, with front desk employees who have direct contact with guests on a daily basis and who have more than a year of relevant work experience. The front office manager or assistant front office manager tend to have more exposure to guest feedback channels, for example guest comment cards, internal customer satisfaction surveys and direct feedback.
The front desk managers of 98 luxury hotels completed a survey on their perceptions of the impact of front desk technology on service quality.
Key research findings:
The hardware and software deployed at the front desk are the most important factor in delivering service quality. For check-in and check-out, accuracy of message services and billing are the most important determinants for enhancing service quality, and the overall reliability of the front desk system is a key factor in service delivery.
The quality of training is a key element in the successful management of employees' IT skills, which was proven to have a strong positive correlation with enhanced service quality.
The PMS interface with other IT applications, for example automatic activation of voicemail upon check-in, connection with point-of-sale systems and link to the credit card reader, has a significant impact on service quality.
The management of luxury hotels must realise that the use of reliable, fast, user-friendly front desk IT hardware and software applications has significant effects on service quality. But perhaps more important is that hardware and software must be combined with robust skills of users and effective system integration, so that all components of the system complement one another.
Managerial implications
The reliability and ease-of-use of the front desk PMS and guest history menu along with the completeness and accuracy of the guest information must be given a high priority when upgrading or choosing a new PMS.
The format of the main menu must ensure easy and prompt access to the required functions, in particular to the guest profile search feature and the split bill function – these elements of the technology are significantly and positively correlated with guest service quality.
"The format of the main menu must ensure easy and prompt access to the required functions."
These findings can also help hospitality IT suppliers to design effective PMS systems.
During the hiring process, management must ensure the choice of IT-friendly and skilled employees who are more likely to outperform non IT-literate employees. Because the degree and quality with which front desk PMS interact with other hotel applications were found to be significant, hotel managers must thoroughly monitor the efficiency and quality of data integration.
Another implication for hotel managers and IT suppliers is that a user-friendly, chain-wide guest portfolio with an electronic connection to the front desk PMS provides improved recognition of guests and understanding of their preferences during check-in. These empathy-related service attributes impress the customer and may enhance customer loyalty.
Hotel managers and IT suppliers must regard the front desk technology as an opportunity to gain competitive advantage by providing highly personalised services. The PMS interface with third parties' booking systems were found to provide a better understanding of the preferences of the guest, whereas its interface with the hotel website booking engine and central reservation system was found to be a less reliable enhancer of service quality.
Today's hotel guests understand the power of technology and have higher expectations for customer recognition and service quality. The aim therefore in dealing with these new, tech-savvy guests is to exceed their expectations of the service they receive.