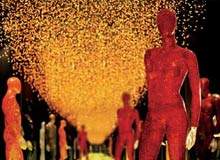 A well-chosen colour scheme can be crucial in winning over hotel guests before they've even uttered a word to the reception staff. Colours create moods and atmospheres instantly – for better or worse.
Hotels are now considering their colour palettes very carefully, with hardy perennials such as shades of beige increasingly out of step with the new approach. That is not to say natural shades are without their admirers, but it is good to see a broad spectrum of colours finding favour.
Increasingly, interior designers are looking to use colour to really define spaces within hotels, from the bar to the fitness centre to the conference facilities.
Fortunately, there were a raft of exhibitions in London (100% Design, Decorex, Focus) and Milan (the Host and Sia events) at the end of 2005, giving interior design professionals the chance to see the wallcoverings, flooring, furniture and fabrics in – to borrow a phrase from the world of fashion – "this season's must-have colours".
Black and white has long been a classic colour combination in fashion and it has recently been making its mark in interiors too. At Decorex Andrew Martin launched the Chaucer collection, a stylish, handblocked lacquered damask on either linen or damask. At the much-admired Puerta America Hotel in Madrid, French designer Christian Liagre has created the Lagrimas Negras or 'black tears' bar, where the backlit LG Hi-Macs white acrylic stone with cod paisley pattern complements the black leather bar stools. Black and white tiles have also been installed in the hotel bathrooms of the Dakota hotel in Nottingham, which opened in 2004.
"Autumn's colour launches have shown that bathrooms needn't be devoid of colour."
Flocked wallpaper has been reclaimed from the walls of unsavoury British pubs to become a firm favourite with design trendsetters, and few do it better than Cole and Son. Both its Woods and Malabar designs embrace the monochrome trend, but for a bit of colour diversion, look no further than the paisley swirls of Una Lindsay's 1960s design Rajapur, which places sour lime on stone. At 100% Design a contemporary splash of lime green could also be found on Hitch Mylius's new hm44 chair and stool in a fabric by Danish firm Kvadrat.
With carpets, traditionally the hardest working element of a busy hotel, colour must come second to practicality; out goes the palest of creams, in comes heavy-duty, easy-to-vacuum grey. At the Focus exhibition Wool Classics came up with something of a compromise colour wise, working with designer Nina Campbell to create a selection of neutral but nice shades. The Rupert design, a classic plaid pattern that was originally a blanket design, is available in the slightly duskier green stone colour, with taupe and bronze also available. At Host Pedrali also launched its glamorous Gliss chair in a sharp citrus green.
AUTUMN CLASSICS
Autumnal reds and oranges, from pinkish hues through to out and out Heinz tomato soup, were out in force last year. Amat 3, exhibiting at Host with Marzorati Ronchetti, presented a number of furniture designs for public areas, including the Twist barstool, available in a wide range of colours in Knoll textiles and Spinneyback leather (the vibrant blood red is particularly striking). Pedrali's Mya chair in striking orange polypropylene also made a statement.
In September 2005, Scottish fabric firm of the moment Timorous Beasties teamed up with established British furniture firm SCP to launch its London toile, following on from the success of its Glasgow toile, a wry comment on its native city in print form. The London toile is available to buy as a fabric in a range of colours, and works well as both a drapery and an upholstery fabric. It is also available to buy upholstered on selected SCP furniture designs.
Meanwhile, Italian tile specialist Sicis launched its Glass 3 collection at 100% Design, featuring a juicy red shade with a shimmering iridescent quality. Glass 3 is suitable for both walls and floors and creates a seamless feel in a hotel bathroom. With the warm shade, a small feature area such as a splashback could also provide a touch of exotic opulence.
Indeed, autumn 2005's colour launches have shown that bathrooms needn't be devoid of colour, despite the predominance of white or off-white suites with stainless steel fittings.
For example, at 100% Design Philippe Starck unveiled the Starck X collection of sanitaryware, a collaboration with German manufacturer Duravit, which features a dash of vibrant yellow lacquer in its unusual basin design, perfect for the bathroom interior in dire need of some contemporary styling.
Another important launch at the end of 2005 was textile manufacturer Bute's Braemar collection of fabrics for upholstery. The collection, whose honey-comb-like structure provides great texture, includes colours such as mustard, bitter chocolate and ecru, and was designed with the contract, hotel and leisure sector in mind. Bute hopes these unusual colours will add the wow factor to a variety of hospitality projects.
WINTER OF CONTENT
Nights drawing in, misty mornings, mild drizzle turning to cold sleet – all these seasonal themes have provided inspiration for several hotel openings, with shades such as plum and grey proving particularly popular.
The 187-room Hotel Gansevoort in New York, which opened in spring 2004 in the city's fashionable meatpacking district, offered a colour palette of greys and natural hues with a dash of blackberry for good measure courtesy of interior designer Andi Pepper and architect Stephen B Jacobs, both of whom have worked on New York's Library Hotel and Hotel Giraffe.
The free-standing building is clad in zinc-coloured metal panels, the entrance has 18ft internally illuminated colour changing glass columns and 14ft-high revolving doors, and many bedrooms feature glass-covered balconies and bay windows.
Choosing white or off-white here would undoubtedly have been too bright, not to mention too reminiscent of a suburban shopping arcade. Instead, there are eel-skin columns, mohair panels and accents of leather and velvet, creating an environment the designers felt was "sleek yet comfortable".
The penthouse features more muted tones and textures, including mohair, distressed leather, a leather and tweed sofa, slate tables and a mink throw. Although some areas are minimalist in sentiment – a stainless steel sink here, a backlit glass door there – the colour palette helps to create a mood that is aspirational yet cosy.
Two other new Gansevoort hotels will keep the same type of structure and colour scheme while further upping the ante. The 170-room Gansevoort West in Los Angeles, formerly a relic of the beaux arts architectural style, includes rooftop lounges connected by a glass bridge and a 1,800-seat concert hall, while at the Gansevoort South in Miami, an infinity pool will be surrounded by a 12,000ft teak pool deck and dining area.
LET THERE BE LIGHT
Back in Europe, architectural firm Douglas Wallace is working on a couple of Monogram hotels which are expected to set the pace in terms of design, texture and colour for Irish hotel interiors.
The G hotel in Galway, featuring input from hat maestro Philip Treacy, has already garnered many column inches, while its sister hotel, the D in Drogheda, looks set to be every bit as noteworthy.
Designer Angie O'Brien has a clear vision: "We have a range of ideas, a lot of rich, strong woods and crisp whites in clean, generous spaces to really bring in the light."
To create this bright effect, the reception area of the D is surrounded by Venetian plaster walls with a polished finish, as well as a sparkling, reflective gold wall complemented by bright, contemporary furniture and plenty of leather panels.
Elsewhere in the hotel, wallpaper incorporating black velvet has been used, creating what O' Brien calls "a pattern statement which really marks out the space".
The bedrooms are very warm, with walnut veneer, textured vinyls in deep green and grey, and lots of taupe. O'Brien adds that lights needn't be just fittings; they can also be sculptures that draw the eye upwards to the colours which have been used to decorate the interior space.
Lighting was also important in the London City Hotel, the latest property from Scottish hotel group Apex. Some areas were devoid of natural daylight, hence the use of colour-adjusted mood lighting.
In the Addendum restaurant, mirrors and a sculpted ceiling help diffuse the moody amber light throughout the luxurious leather-dominated space.
John Thompson, associate at Edinburgh-based Ian Springford Architects, explains the other colour considerations: "We were conscious of complementing the natural materials within the interior; we've been using a lot of American black walnut and cream-coloured marble. Like a lot of architectural practices three or four years ago, there was a lot of white, but with this hotel the colours were a bit more subtle, a bit warmer."
"Seasonal themes have provided inspiration for several hotel openings, with shades such as plum and grey proving particularly popular."
Inspiration comes from nature in the form of a bar which connects the restaurant to the brasserie and features slate and strips of glass that contrast with the backlit timber behind the bar area. Leather sofas in chocolate brown complete the cosy vibe.
"We wanted to highlight the outside of the space," adds Thompson, "so whether you are walking in or sitting in the brasserie you can always see the nearby gardens."
Taking into account the existing structure and finishes of a building were key factors in the refurbishment of the Hotel Russell in central London, completed by RPW Design in 2005.
Managing director Jan Wilson explains: "The interiors had a very turgid Victorian colour scheme incorporating four different marbles and an original mosaic floor. We wanted something that was going to work with these elements." Hence at the very centre of the proposed colour palette was a ubiquitous taupe, which Wilson lightheartedly compares to dirty bath water, and which acted as a foil to the original palette.
Although certainly not a slave to fashion, Wilson believes the popular accent colours of aubergine and lime have really made a mark in the bedroom schemes, creating a sympathetic contrast with the original building.
However, like many people in the trade, she feels that colour trends often work against successful hotels: "Generally we don't follow colour fashion trends. I dislike the fact that you can date a hotel by the colours that have been used."
Fortunately, there seem to be plenty of colour options available to keep this kind of pigeonholing to a minimum.