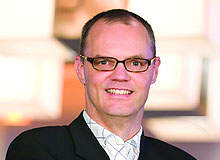 Among the places one would least like to have been at the height of the global financial downturn, the luxury and hospitality sectors must rate pretty highly. Nosediving consumer confidence, the decline of business travel, talk of an impending age of austerity, staycations and the death of bling; it all amounted to a full-scale assault on a number of the fundamentals that had seen both segments flourish in a previously booming economy.
In this context, spare a thought for Starwood Hotels & Resorts. The $11.5 billion hospitality giant, operator of a stable of leading high-end brands that include Sheraton, Le Meridien, Westin, St Regis and W, saw room rates cut by 20-25% on average and total revenues fall by 17% in 2009. But the last thing Starwood CEO Frits van Paasschen expects is sympathy. He is not only buoyed by a significant pick up in occupancy rates over the past nine months, but is also rather bullish when it comes to defending his company's position in the market. He has clearly had plenty of practice.
"I wish I had a loyalty point for every time somebody has asked me whether luxury is dead over the past two years," he chuckles. "Whether we're talking hotels, retail automobiles or anything else, there's no disputing that the top end was significantly hit, but the fundamentals have remained the same.
We have not seen a seismic cultural shift akin to that witnessed during the Great Depression; luxury is an essential component of the human condition and when people feel good about their situation and business confidence is high it will always be in demand."
An outsider's approach
"From a financial perspective we reduced our debt from just over $4 billion to under $3 billion and, perhaps most importantly of all, our leadership group has been galvanised as a team."
The 49-year-old triathlon enthusiast is approaching his third anniversary heading operations from Starwood's HQ in White Plains, New York, but his CV is atypical in an industry that can seem insular at times. It includes senior directorial positions at NIKE and Disney but, prior to his arrival at Starwood from his role as president and CEO of Coors, boasted no hospitality experience whatsoever.
Cynics might have cited this lack of conditioning as lying behind the seemingly counterintuitive decision of pushing ahead with extensive renovation work and new openings, even when the market was at its worst. While people expected Starwood and its ilk to retreat and weather the storm, van Paasschen came out with all guns blazing.
"In many ways, we have been able to emerge from the downturn a stronger company than the one that went in," he argues. "We opened more than 80 properties in 2009 and reached the landmark of 1,000 hotels worldwide this year. Alongside renovation projects, that means 60% of our portfolio is less than three years old or has been upgraded significantly during that time. From a financial perspective we reduced our debt from just over $4 billion to under $3 billion and, perhaps most importantly of all, our leadership group has been galvanised as a team. As Nietzsche said, whatever doesn't kill you makes you stronger, and there's nothing better for creating a shared sense of purpose than a crisis. We didn't simply slash costs; a lot of thought went into how we do business and the way in which we work together. This is a much stronger company for going through that process."
Role change and results
Having joined the organisation with a reputation as a canny operator of global lifestyle brands at a time when the industry, and Starwood itself, had never been in ruder health, events soon transpired to transform the new CEO's role significantly. He describes it as a move from "leader for growth" to "crisis manager". Van Paasschen had made a point from the beginning to spend as much time on the ground as possible, meeting with general managers and visiting properties – he has now been to more than 300 hotels in almost 50 countries – but did his lack of experience in lodging suddenly seem quite daunting?
"The worst thing you can do as a business leader is to build a team that looks and sounds like yourself," he counters. "They won't thank me for saying this, but our regional presidents have 115 years in the hospitality industry between them and they're excellent gatekeepers and offer great guidance.
"Brands have to demonstrate personality and make an emotional connection."
"One of the challenges you have in any large organisation, regardless of sector, is that people can become quite compartmentalised; they tend to see things solely from the perspective of their own function, particularly in times of uncertainty. A major part of my role has been to break down those barriers and remind our associates, both intellectually and emotionally, that we have shared success in mind."
While results do appear to be heading in the right direction – revenue per available room (RevPAR) was up 15% last quarter and is still climbing – van Paasschen stresses that the hospitality sector is able to act as barometer for the wider economy. "I like to say we have courtside seats," he begins.
"While things have picked up much more quickly for our business than we had anticipated at the start of the year, there are signs that a more general recovery might come in fits and starts. Our group meetings business – the major events, conventions and so on – are still being booked within a very short window. Whereas before, we'd have been working to timescales of one, two or even three years, now it's more like six months. Companies recognise that it's safe to press ahead right now, but are still unsure as to what 2011 and 2012 will look like."
A more promising sign has been the return of the transient business traveller. "Of our top 20 global accounts, 15 are looking at travel rising in the double digits." he says. "Particularly encouraging has been the return of the financial and consulting side, as well as tech and IT. It really looks as though businesses have acknowledged that they will have to invest in sharpening their strategies if they hope to increase performance."
This is a route that Starwood has also taken through a $200 million multi-year contract, signed in 2009, that sees Accenture provide the organisation with an integrated IT solution, including end-to-end application and infrastructure management. Along with the shift in strategy from owning hotels to franchising and managing, it is reflective of an acknowledgment from senior brass as to where the hospitality giant's core competencies lie.
"Outsourcing IT services was based on the recognition that our focus as a company is on managing global hospitality brands," he explains.
"We're not a software development company. There are firms out there who are more effective and lower cost in their ability to deliver solutions. It's important one recognises that it is extremely difficult to be world class in multiple disciplines and one can waste a lot of money and energy trying."
The partnership with Accenture also evokes a wider trend in the global business dynamic that makes the CEO optimistic for the hospitality industry's future longer-term.
"We've outsourced IT to India and are playing our part in developing the middle class out there," he explains. "A number of our senior executives have been travelling to the subcontinent, working with our new partners, and it's symptomatic of how the growth in technology and knowledge bases is forging new travel paths."
Starwood is well positioned to take advantage of this trend. Some 40% of its business comes from emerging markets and around 60% of the company's 85,000 rooms in the pipeline are to be built in Asia. Second quarter 2010 RevPAR growth was 46% in China, expected to be the world's largest tourism market by 2020.
"My first visit to China was in the mid- 80s and the Western hotels out there were exclusively catering to international travellers," van Paasschen recalls. "Today, around 80% of our guests in that market are ethnic Chinese. They're typically business travellers, but the growth in the leisure market is equally impressive. We must operate very much as a local business now, with booking facilities, call centres and a growing cadre of Chinese associates meeting that demand."
A more adventurous outlook Starwood's standing as a truly global operator is reflected in where its CEO sees further potential, citing the growth of business between China and the African continent, as well as his group's extensive presence in both geographies, as cause for optimism. "A global footprint is an enormous asset," he says. "If you believe certain projections, 70% of economic growth in the next decade will come from rapidly growing markets. People are attracted to brands that they know and being established in these economies means we have a real headstart."
But does a focus on new markets mean that offerings initially developed in the West need to develop new characteristics? Aloft's launch in China, for example, saw Starwood revise the select service component of the brand. "It's a balancing act of retaining certain characteristics while adopting local identities. Sometimes you do have to give yourself the freedom to make certain changes."
In his eyes, this reflects a greater shift in the significance of brand identities and the consumers' relationship with them. This is particularly noticeable in the hospitality industry, where the "cookie cutter" approach to design and feel is fast becoming redundant. "There was a time when being a strong brand meant simply delivering reliability and consistency," he explains. "As more and more companies became better at doing that we woke up to the fact that brands also have to demonstrate personality and make an emotional connection. Over the past two to three years, we've gone through a process of putting some discipline behind what it means to have distinctive brands, focusing on what defines each one and makes them compelling for our target guests. At the same time, we've also been looking to centralise or standardise those things that aren't distinctive."
A trivial but significant example was the realisation that nine different types of laundry bag were in use across the organisation – "I don't think there's a person on Earth who chooses their hotel room on those grounds," he jokes – and hearing a CEO who took home $2.94 million last year discuss the intricacies of housekeeping is perhaps indicative of a greater cultural shift and growth in humility among business leaders as a direct response to the crisis.
"We've gone from a state economic apoplexy to the gradual realisation that the world has not ended," van Paasschen explains. "But the process has been dramatic enough that a generation of CEOs will perhaps no longer take certain things for granted. Having that sense of scepticism should make us better business leaders in the long run."
Events also conspired to forge far stronger links across the industry as a whole, with Van Paasschen and his peers speaking as one in defence of a sector under attack.
"We compete on the field of play as fiercely as anyone else," he begins, "but there are also areas where being aligned is equally important. When the US Government moved from criticising the extravagant use of taxpayers' money to a more general vilification of travel as a whole, we stood up quite vocally and reminded the lawmakers that the hotel sector employs more people than the auto industry, we were not asking for a bailout and that travel would be a critical aspect of getting the economy back on its feet. Finding our collective voice saw the rhetoric disappear quite quickly."