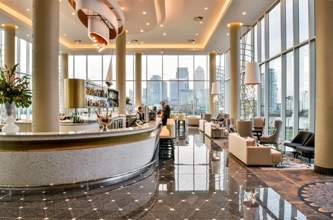 InterContinental Hotels Group (IHG) has announced the InterContinental Sofia hotel, the first property for the brand in Bulgaria.
Opening next year, the 182-room hotel will be operated under a management agreement with InterHotel Grand – Hotel Sofia.
It will include seven meeting rooms and five boardrooms, a lobby bar, a spa and fitness centre, and a rooftop restaurant.
Situated in the centre of Sofia overlooking the Alexandar Nevski Cathedral, InterContinental Sofia will have easy access to the National Theatre, as well as local shops, boutiques and restaurants.
Hilton Worldwide has signed a franchise licence agreement that would bring Candler Hotel Atlanta to Curio – A Collection by Hilton, an upscale and luxury hotel brand.
The Candler building will open as Candler Hotel Atlanta, Curio Collection by Hilton in late next year after renovations.
The property is owned by REM Associates and will be managed by Highgate Hotels.
Choice Hotels International has signed an agreement with real estate group Ariel Development for the construction of a Cambria hotel and suites in Seattle, Washington, US.
Scheduled to open late next year, the Cambria hotel and suites will be situated at 1915 Third Ave in the Belltown neighbourhood.
The 112-room hotel features 1,600ft² of meeting area, a lobby, a rooftop patio overlooking Puget Sound, and a fitness centre.
Choice Hotels International chief executive officer Steve Joyce said: "The Cambria hotels and suites brand has seen a significant surge of new developments and openings in major urban markets over the past year.
SAMHI Hotels acquired Ascent Hotels-owned Hyatt Regency in Pune, India, for Rs3.5bn ($51.5m).
SAMHI Hotels founder and CEO Ashish Jakhanwala claimed the deal was funded through a combination of debt and equity.
The 222-room Hyatt Regency in Pune is a five-star property located in Weikfield IT Park.
Opened in 2012, it is the third property owned by the Gurgaon-based SAMHI in Pune, with the first two being the Formule 1 branded hotels.
Wyndham Hotel Group has opened its third Ramada hotel in Bali, Indonesia.
The 271-room Ramada Bali Sunset Road hotel has been opened to expand the hotelier's business in Southeast Asia, as part of the company's global development programme.
Located in close proximity to Jalan Legian and the Seminyak Beach, the property is owned by local automotive dealer Sun Motor.
It is being run by Wyndham Hotel Group's Indonesian subsidiary, Wyndham Hotel Management.
Hard Rock International announced plans to expand its portfolio with three new hotels in Brazil.
The upcoming hotels include Hard Rock Hotel Brasilia, Hard Rock Hotel Caldas Novas and Hard Rock Hotel Itapema.
Hard Rock International global hotel development executive vice president Marco Roca said: "As the host of the 2014 World Cup and the upcoming 2016 Olympics in Rio de Janeiro, Brazil has officially entered the world stage, seeing an increased appeal in international travellers, while its natural and cultural attractions continue to be a driving force for domestic travel."
US-based Marriott International signed an exclusive development agreement with Eastern Crown Hotels Group to launch the FairfieldSM by Marriott brand in China.
Under the deal, Marriott and Eastern Crown will open 140 hotels in various locations across the country over five years, with 100 hotels expected to be open by 2021.
As part of Marriott's expansion strategy into China's midscale hotel segment, the hotels will increase the group's presence across the country by more than twofold.
Each of the new Fairfield hotels will have between 100 and 150 rooms.
Kimpton Hotels & Restaurants announced plans to open The Schofield Hotel in March, following a $50m renovation of the Schofield Building in Cleveland, Ohio, US.
The Schofield Hotel general manager Adam Gurgiolo said: "Kimpton is excited to bring Cleveland into the next chapter of its renaissance with the city's first and only true luxury boutique hotel.
The Schofield Hotel is the first hotel for Kimpton in Ohio.
The hotel features 122 rooms with six suites and 52 apartments, a banquet covering an area of 3,800ft², a restaurant and bar occupying 4,700ft² across two floors, and a lounge.
ButlerTech Group and hotel software company Guestline entered a strategic partnership, which will see the former integrating its services into Guestline's Rezlynx property management system (PMS).
Using the cloud-based PMS, ButlerTech's customers will be able to send messages to hotels before arrival, pay invoices and make reservations.
ButlerTech CEO Mike Mazza was quoted by e27 as saying: "By integrating our app with Guestline's Rezlynx PMS, hotels will benefit enormously from improved communications, more efficient service and greater guest satisfaction.
Hyatt Hotels opened Hyatt Regency Bloomington-Minneapolis hotel in Bloomington Central Station mixed-use development site near the Mall of America, US.
Owned by McGough and managed by Aimbridge Hospitality, the hotel is a part of the Hyatt Regency brand family and has 303 guestrooms, including 14 suites. It has 289 deluxe guestrooms.
The Hyatt Regency Bloomington-Minneapolis has easy access to a park and outdoor spaces for entertaining, dining and celebrating, as well as the nearby Blue Line Light Rail.