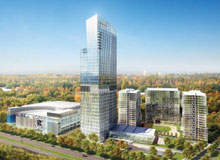 Marriott International" height="323″ src="https://www.hotelmanagement-network.com/wp-content/uploads/image-digitalinsightresearch/Archive/Main/November_Hotel_top_image.jpg" title="November's top stories: Marriott International to acquire Protea Hotels" width="431″ />
Global hotel operator Marriott International has signed an agreement with Protea Hospitality Holdings of Cape Town, South Africa, to acquire Protea Hotels' brands and its management business.
Protea Hotels operates or franchises 116 hotels under three brands, with a total of 10,184 rooms in South Africa and six other Sub-Saharan African countries.
The transaction is expected to double Marriott's base in the country to over 23,000 rooms, as well as support the group in its expansion plans and strengthen its position in the African hotel market.
The Ritz-Carlton Hotel Company is planning to launch a new luxury hotel in Nanjing, Jiangsu Province, China, in the first quarter of 2015.
Nanjing, which is an important commercial centre in eastern China, is situated near to the Yangtze River basin.
Ritz-Carlton has signed an agreement with Nanjing New Universe Real Estate Development for developing the new property.
UK-based hospitality firm InterContinental Hotels Group (IHG) has opened a new hotel in Indonesia under the Holiday Inn Express brand, the Holiday Inn Express Semarang Simpang Lima.
Situated in Central Java's capital city of Semarang, the new hotel has 198 rooms and is part of the company's plan to expand the Holiday Inn Express brand across Indonesia.
IHG intends to open 13 more Holiday Inn Express hotels across Indonesia over the next few years.
The Ritz-Carlton Hotel Company, a wholly-owned subsidiary of Marriott International, has opened its first hotel in Almaty, Kazakhstan, in collaboration with real estate developer Capital Partners.
Located at the top of the 37-storey Esentai Tower, one of the tallest buildings in Central Asia, the new property is the second hotel built by the company in partnership with Capital Partners.
The new luxury hotel has 145 rooms including club and suite accommodations as well as over 10,000ft² of meeting facilities.
Greece-based luxury boutique hotel group Grace Hotels has debuted in Latin America with the opening of the Grace Cafayate, Argentina.
Located in Argentina's Calchaqui Valley, the Grace Cafayate is a hotel, spa and residential villas development in the Salta province of north-west Argentina.
Built on the La Estancia de Cafayate golf and residential estate, the hotel has 52 rooms and suites within its main building and 20 residential villas.
Meliá Hotels International's Meliá Jamaica division has signed an agreement with the government of Jamaica to operate the flagship Braco Village Hotel & Spa resort in Braco.
Located on the north coast of Jamaica, the resort is owned by the country's National Insurance Fund (NIF).
Braco Village Hotel & Spa currently has 226 rooms within colonial-style buildings as well as five restaurants and a range of bars, pools and spas.
Marriott International has announced plans to launch the group's first hotel in Bosnia and Herzegovina.
The new 75-suite Residence Inn Sarajevo, which will be operated by SEIC Hospitality and managed by Interstate Hotels & Resorts, is expected to be open in late 2014.
Residence Inn Sarajevo will include one-bedroom and two-bedroom suites with well-lit work desks, ergonomic chairs and high-speed internet access.
Chicago-based hospitality group Hyatt Hotels, in partnership with Playa Hotels & Resorts, has opened Hyatt Ziva Los Cabos, the first Hyatt-branded all-inclusive resort.
Located in Los Cabos, Mexico, Hyatt Ziva has 619 suites, including 436 junior suites, 97 suites, 34 swim-up suites, 35 premium deluxe suites, 16 premium two-room suites, and one presidential suite.
All suites feature interior designs with natural stone tiling and decorative plush rugs, Mexican-inspired décor, Hyatt signature bedding and spa-style bathrooms, an in-suite refreshment bar and complimentary room service.
Starwood Hotels & Resorts Worldwide has signed agreements to build three new Sheraton hotels in Mauritania, Guinea and South Sudan in Africa by 2017.
The new hotels, Sheraton Nouakchott in Mauritania, Sheraton Conakry in Guinea and Sheraton Juba in South Sudan, join three other properties in the Sheraton pipeline in Africa that are currently under development in Dakar, Senegal; Annaba, Algeria; and Tripoli, Libya.
Sheraton Conakry Hotel, which is slated to open in 2015, will be situated in the Kipe district of the capital in Republic of Guinea.
Global hospitality firm Carlson Rezidor Hotel Group plans to open the first Park Inn by Radisson in Colombia.
The new hotel is expected to open from 31 March 2014, has 64 guest rooms and suites, featuring king-size beds and a living area with sofa.
Most rooms and suites of the new hotel feature kitchenettes and outdoor terraces, offering views of the city.
Park Inn by Radisson Bogota will be managed and operated by Zen Operadora SAS.
---
Related content
---
UK-based hotel chain Travelodge has opened a new hotel in Madrid, Spain, while Capitas Group International and UK-based IFA Hotel Investments have signed a joint venture (JV) agreement, to expand Yotel branded hotels across Saudi Arabia.
Pan Pacific Hotels Group has signed a conditional joint venture agreement with Shwe Taung Group for construction of its first Pan Pacific hotel, while UAE-based Rotana Hotel Management will expand its presence in Saudi Arabia by opening of a new hotel, Rosh Rayhaan by Rotana Hotel, in Riyadh.
---