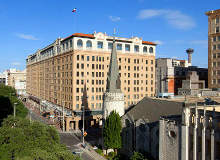 Starwood Hotels & Resorts announced that its unit The Luxury Collection is investing $300m towards the development of its North American portfolio in co-ordination with its owner partners.
The investment will be dedicated towards renovations and marquee hotel conversions across several destinations in the US, including Lake Tahoe, San Antonio, San Francisco and Key West.
According to Starwood Hotels & Resorts global brand leader Hoyt H Harper II, domestic demand for luxury travel has increased in the US, which has made it an ideal time for the company to invest in The Luxury Collection hotels within the country.
At least 38 people were killed and 39 seriously injured after a gunman opened fire at a beach outside Hotel Riu Imperial Marhaba, in Sousse, Tunisia.
Extremist group ISIS claimed responsibility for the attack through an audio recording, but it has not been clarified if the group had any direct role in it, reported CNN WIRE.
On Friday 26 June, a young man appeared on the shore carrying a beach umbrella with a Kalashnikov rifle hidden underneath.
He reportedly tested it with two shots and later targeted it towards those on the beach, which included guests of Hotel Riu Imperial Marhaba.
Hyatt opened the Grand Hyatt Playa del Carmen Resort, its first Grand Hyatt-branded hotel in Mexico.
The hotel is located in Playa del Carmen, Mexico, which according to the company, is one of the best beach towns in the world. This is also the eleventh Hyatt-branded hotel in the country.
Architecture group Sordo Madaleno used Mayan-inspired textures and materials to design Grand Hyatt Playa del Carmen Resort, which features a mixture of modern and contemporary design.
Starwood Hotels & Resorts Worldwide announced plans for its Sheraton brand that includes the launch of a new premier tier, Sheraton Grand and introduction of more than 150 new hotels worldwide by 2020.
This is a part of Sheraton 2020, a ten-point plan that is aimed towards boosting the company's presence in the market.
The points include the launch of Sheraton Grand that will see the escalation of more than 100 premier hotels to Sheraton Grand tier, which is designed to show the company's best properties and boost its portfolio.
Starwood Hotels is also planning to encourage present Sheraton owners to renovate their properties to achieve Sheraton Grand status.
US-based Ashford Hospitality Trust completed the acquisition of a nine-hotel portfolio in the US, totalling 1,251 rooms, for $224m.
Acquired properties include Marriott's 210-room Courtyard Boston Billerica in Boston, Massachusetts, 128-room Courtyard Wichita Old Town in Wichita, Kansas, Hilton's 145-room Hampton Inn & Suites Columbus Easton in Columbus, Ohio, as well as the 103-room Hampton Inn & Suites Pittsburgh, Washington and 113-room Hampton Inn & Suites Pittsburgh Waterfront in Pittsburgh, Pennsylvania.
The company also acquired Hilton's 106-room Hampton Inn Phoenix Airport in Phoenix, Arizona, 148-room Homewood Suites Pittsburgh Southpointe in Pittsburgh, Marriott's 101-room Residence Inn Stillwater located in Stillwater, Oklahoma and Starwood's 197-room Sheraton in Ann Arbor, Michigan.
Shangri-La Hotels opened its latest property in Hefei, located in Anhui province in eastern China, which is also home to Yangtze River and Huangshan mountain range.
The 27-storey building hosts 401 guest rooms, which ranges from 45m² to 135m² and have full-length windows that provides views of mountains and rivers.
Incorporating soft beige tones, the rooms feature a large desk space and well-appointed bathrooms.
The Boston Park Plaza Hotel reportedly completed the second phase of its three-phase renovation project worth $100m.
Opened in 1927, the historic building was bought by Sunstone Hotel Investors, which began a series of renovations, including the creation of 5,500ft² of retail space and renovation of the hotel's exterior facade, reported Boston Business Journal.
Other notable changes includes replacement of the hotel's roof, exterior facade and sidewalk surroundings, installation of a heating, ventilation and air conditioning (HVAC) system, along with renovation of 50,480ft² of professional meeting and pre-function space.
InterContinental Hotels Group (IHG) started trialling and selectively rolling out digital innovations to provide an interactive experience for guests.
The offerings include collaboration with city guide provider Stay.com, mobile check-in and check out, mobile room key technology, mobile Folio, and the introduction of iBeacon technology.
InterContinental is collaborating with Stay.com, which will allow guests booking with IHG to use, research and decide their travel plans, as well as create personalised travel guides for more than 50 key destinations.
With mobile check-in and check out, guests will be able to manage their stay using their mobile devices through confirmation of arrival time and SMS notification of the room being ready.