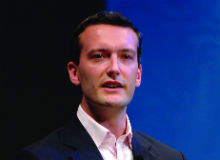 In May 2012, online social networking and microblogging service Twitter boasted 140 million users, clocking up a remarkable 340 million tweets a day. But these seemingly impressive figures pale into insignificance when compared with Facebook's 901 million users (recorded at the end of March 2012). Elsewhere, Instagram's 40-million-strong user base (reported in April 2012) has been established over just two years and grew at a rate of more than a million users a day during one particularly explosive ten-day period.
And don't forget foursquare, Google+, LinkedIn, Digg, Delicious, Reddit, StumbleUpon, YouTube or Pinterest, among hundreds of others.
Social media platforms are growing faster every year, and not only are these online networks increasingly forming a significant part of our social lives, but they are influencing where we spend our hard-earned cash. Consequently, the importance of the hospitality industry understanding and engaging with social media cannot be emphasised enough.
"Social media is an avenue that is growing in importance for many of our guests," confirms InterContinental Hotels Group (IHG) social marketing manager Nick Ayres. "We have to make sure we are including social media in all of our larger marketing strategies."
Fortunately, social media is a discipline well suited to the hospitality sector for several reasons. "Of all industries, hospitality has perhaps the most upside opportunity when it comes to leveraging social media," Ayres notes. "At its root, social media is about relationships and one-to-one engagement, which is what hospitality has been about since its inception. While the technologies are new, the dialogue that those technologies facilitate is not."
Mac Joseph, senior manager of social media marketing at Mandarin Oriental, agrees: "With many social media platforms based on visual and local content, there is really no industry better suited to social media than travel."
Social currency
But implementing a successful and coherent social media strategy across a global hospitality brand is a little more complicated than posting a couple of inspiring images and enabling comments; consistency is absolutely key.
"Mandarin Oriental's global social media strategy formally launched in January 2010, at which point we began participating on both the brand and property levels, based on a collection of best practice guidance and standards," Joseph remarks. "Although the technology has grown and changed significantly in the past two and a half years, our fundamental approach to online engagement with past, present and future guests has remained constant.
"We have used the hub-and-spoke model for our three key international channels – Facebook, Twitter and Sina Weibo," he continues. "This means that our brand presence on these platforms provides a central hub around which our individual property pages and accounts are connected."
For Steven Taylor, Starwood Hotels & Resorts' vice-president of marketing EMEA, there are three key pieces that must remain consistent across any brand's social media strategy: monitoring and response, authenticity and simply being interesting.
"Monitoring and response is the first principle," he notes. "We ensure we have processes in place that allow us to react quickly to positive or negative comments in real time."
Ayres is in full agreement. "Monitoring and responding really is the backbone of everything we do," he says. "Without this piece, we would not have the social currency to participate in our communities."
The same rings true at Mandarin Oriental Hotel Group. "The strategies that most effectively enhance the guest experience always begin with listening," Joseph asserts.
"On platforms such as Facebook or Twitter, our guests are constantly sharing an abundance of personal information with us, so when we find out that, say, an individual is excited to celebrate his 25th wedding anniversary next week in Washington DC, we acknowledge this milestone in a special way for the guest during his stay."
Keep it real and appealing
It's equally essential for hospitality brands to remember that social media must, above all, be authentic.
"Make sure that what you're saying online and through other social media channels actually reflects the real-world experience," Taylor advises. "For instance, we know that customer and guest reviews have been integrated into the decision-making process of the majority of travellers," he continues, "and this is why we took the step – about six to nine months ago – of integrating such reviews across our branded websites. We strongly believe that it adds value to the guest experience; it's what guests now expect to see."
Authenticity, however, is redundant if the information being shared across social media channels isn't interesting to both existing and potential hotel guests.
"Guests and loyalty programme members no longer want their inboxes flooded with emails or countless promotions distributed to them," says Taylor. "A marketing strategy that really takes advantage of social media needs to be focused on creating unique content that engages guests and which they can then share through their networks."
The Starwood Preferred Guest (SPG) Facebook page, for example, which is a core focus of the brand's social media strategy, is very non-traditional.
"You'd expect a lot of communication about a loyalty programme to be based around earning points, but the SPG Facebook page is focused on providing VIP experiences, such as meet-and-greets with celebrities," Taylor explains.
Not only does an attention-grabbing Facebook page have the effect of engaging existing guests, but it can also be very effective in attracting new customers.
"We have somewhere in the region of 1.9 million Facebook fans," notes Taylor. "And if we can create compelling content around our brands and entice those fans to like, share or comment on it, this has an incremental reach to their network of friends, which is massive.
"That's where successful social media companies are differentiated from those that are paying lip service to social media; you need to think very carefully about content creation and how that can truly communicate your value proposition," he stresses.
Influence and integrity
Encouraging other online influencers to create compelling brand-centric content is another method Taylor's team uses to increase Starwood's exposure in the social media space.
"Trust in traditional media is waning, but people regard bloggers as a much more reliable and authentic form of information," Taylor explains. "For this reason, we've established a blogger engagement strategy. In April, we hosted our first blogger-only event at the Sheraton Grande in Edinburgh. We identified key influencers in the travel space and took them through our branded hotel experience, talking about key differentiators such as the Club Lounge and the Link@Sheraton."
Starwood's blogger engagement strategy is a relatively new development, but it's likely to be one of many as the evolution of the social media space continues to speed ahead. Indeed, according to Joseph, updating Facebook or tweeting about the launch of a new platform or technology is now an "almost daily" event.
"This can be a challenge," Ayres acknowledges, "but it's also part of what makes social media fun."
While many in the hospitality industry relish the challenge of creating new social media strategies on a near daily basis, it is always wise to proceed with caution.
"It's easy to get excited about new social media channels," continues Ayres. "But we aim not to lose sight of what we ultimately intend to accomplish with social media. As such, the choices we make about what to pursue must be rooted in and complementary with our overarching long-term strategy."
Taylor agrees: "As long as you stick to your principles, you can adapt successfully regardless of the new platform."
Going mobile
Looking to the future, the most prominent new platform is likely to be mobile; indeed, at IHG, 85% of hotel bookings already have an online component to them, while at Starwood, mobile revenue has increased by more than 300% year-on-year.
The popularity of mobile booking is only set to increase and, by 2020, IHG estimates that 20% of all its hotel reservations will be made via mobile devices. While many brands – IHG, Mandarin Oriental and Starwood included – have already invested in mobile applications, complacency in this space is not going to be an option.
"Mobile represents the next paradigm shift, not only for technical marketing, but also for consumer engagement," Taylor concludes. "We very much regard mobile as the future."
---

This article was first published in our sister publication Hotel Management International.
---