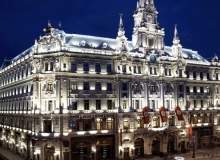 We all know the recent financial downturn put the hospitality sector under great pressure. Many high-profile investment projects were cancelled, access to credit almost evaporated and the industry saw a sharp slowdown in demand as both business and leisure travellers began to cut back.
""I think some of the best hotels around the world are unbranded," said Giorgio Boscolo, vice-president of Boscolo Group."
Europe has always been a breeding ground for smaller operators, with more than 70% of hotels on the Continent not operated by major brands. The Western European hotel sector is already well established with a considerable number of hotels already competing for market share. The region is relatively consolidated and it is not easy to find space or finance to build.
It is the smaller operators that have really suffered as a result of the financial crisis and many are still trying to pull themselves back onto their feet. Since the recession, a major trend has emerged with relatively little fanfare. Big brands have proliferated and small hotels are increasingly open to joining a larger group, in the belief that new partners will help buffer them from an otherwise sluggish recovery. With operators including Marriott, Starwood and Choice Hotels collaborating with independent players, clearly it is now considered to be a credible answer for small hotels.
"I think some of the best hotels around the world are unbranded," said Giorgio Boscolo, vice-president of Boscolo Group. "However, there is currently a real need to find an umbrella that can collect these hotels and distribute them in a global way."
Carlton Ervin, chief development officer for Marriott International in Europe, added: "I think the trend towards globalisation, and perhaps to some extent this is due to the financial crisis, has pulled owners into soft branding solutions. The downturn has made hoteliers realise they want to keep their traditions, but that strength is also important. They need to combine their own instinctual independence with greater reservations, sales and marketing prowess. Essentially, this is what the Autograph Collection is about."
Signature success
Marriott began its Autograph Collection in 2010. Despite the world just limping out of a deep recession, it is the group's fastest growing brand. The first four properties in Europe were added in Spain in May, and with the addition of six Boscolo properties, including a first for Marriott in Venice, formerly home to the French Embassy, the collection has now grown to 26 properties globally.
But the operator was not able to entice Boscolo Hotels onboard when it first approached them. "Here's the story," explained Boscolo.
"We've known Marriott International for more than ten years. They had previously proposed a way for us to come into their global distribution, but at the time we thought this didn't correspond to our view. We believe there is a place for chains where everything is unified, yet there is also a world for individual properties offering a different experience."
Ervin explains that although Marriott could not previously find a solution, the Autograph Collection has proved to be a good fit.
"Beforehand, we suggested traditional branding options, requiring tremendous change including physical modifications to the hotels, destroying their independence and making them conform to the more descriptive brands that we were discussing at the time, such as Renaissance. Then, when the Autograph Collection became a tool in our portfolio we reinitiated our conversations, and within ten months we reached our agreement. That's a pretty visual example of how the new brand can allow hotels to remain independent but take advantage of the company's marketing strength."
Indeed, with the bigger resources, budgets and loyalty programmes offered by international hotel companies, independents joining hands with names such as Marriott are likely to see a boost in revenue. But to what extent will small properties' capabilities increase due to a major collaboration?
"For your typical independent group or hotel it's a dramatic change," said Carlton. "If you look at Boscolo Hotels, by partnering with us they're automatically affiliated with Marriott.com, which did a little over $6 billion in business last year. Also, I think small hotels tend to focus on maintaining their independence, and the architectural and service integrity of the property, but sometimes revenue management gets forgotten. I'd say that we're the best at that and provide this enhancement effectively."
While hotel chains can drive incremental revenues and create cost savings for their partners, for many, the decision to align an independent hotel with a giant operator is still not an easy one. "Of course we hope we won't lose anything, and that we'll only gain," said Boscolo.
"With rich history and diverse hotels, Europe is a new battleground for hospitality brands looking for growth outside the US market."
"The personality and independence of our hotels is important. Every time you go inside a Boscolo property, it is different and unique with an Italian touch – we needed to be convinced that we could still say this after joining the Autograph Collection. It's still early, so we need time to see the results, but everything is looking very positive."
"With many international chains approaching independents, it is becoming pertinent to question what's in it for large groups. Why are they muscling in on the independent hotel market, especially in Europe?"
"The ground is much more fertile here than in the US," explained Ervin. It is clear that with its rich history and diverse hotel stock, Europe is a new battleground for brands looking for growth outside of the US market, where they already have a high penetration rate. Since there are already plenty of hotels in the European market, operators are looking to increase their shares by doing deals, either by acquisition or franchise.
For example, Marriott has plans to reach 80,000 rooms in Europe by 2015, and Ervin believes the Autograph Collection is fundamental to its expansion strategy: "It's a critical pillar to help us reach this goal," he said. "Without it in our brand portfolio, it just wouldn't be possible."
There are further benefits for large hotel groups such as Marriott joining forces with independents and Ervin notes that this is an exceptional opportunity for the chain as it diversifies its offering.
"It lets our customer base experience new types of hotels that we weren't offering before. So, for our existing customers, there are new options in terms of the type of property they can stay in – unique, architecturally stunning ones that are not standardised – but also with regards to opening up new markets where we were not present before the particular Autograph Collection in question. It also lets us reach a new set of guests that weren't loyal Marriott customers before. It has allowed us to get travellers who like that independent, unique and individualised experience, which is very hard to achieve with a typical global brand."
Will this be a development model that an increasing number of large hotel operators will look to adopt? "I think so," added Ervin. "It has become very compelling for hotel operators to enter into this soft branding field, especially if Marriott is successful."
While Europe is still experiencing tough economic times, people are starting to travel again. So, will small operators still be keen to join forces with the industry giants? If they are able to increase their reservations, sales and marketing while remaining independent, then it is difficult to see why not. The crisis may have necessitated collaborations, but the continued trend of globalisation is likely to carry them forward.