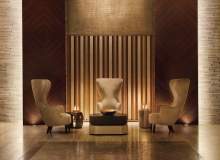 Viewed from the outside, the Istanbul Edition does not look especially pioneering. Situated in the business district of Levent, the building started life as the Turkish headquarters of HSBC, and its exterior is as unassuming as you might expect from a former office block.
Nor is the surrounding area an obvious tourist trap. This is a district of skyscrapers, rather than obelisks; malls, rather than bazaars. Tucked behind the hills of the Bosphoros, it is some way removed from Istanbul's historic peninsula, instead bearing all the hallmarks of a thriving commercial hub.
And yet, Levent's relentless modernity makes it ideally suited to a hotel chain like Edition. A collaboration between Marriott and Ian Schrager, the portfolio is a striking example of the recent trend in lifestyle branding. Originality is key, with decontextualised luxury the epitome of passé.
"Ian gave the direction that each Edition hotel should be one of a kind," says Michael Gabellini of Gabellini Sheppard, the New York-based design firm behind the interiors. "This allowed him to assign a different designer to each hotel, so that each has its own sensibility."
A Schrager collaboration is no ordinary design commission. After all, Schrager is well-known for giving designers their first major hotel gig. When he opened Morgans Hotel in 1984, he simultaneously invented the concept of the boutique and brought Andrée Putman to the attention of the industry.
A few years later, when he refitted New York's Royalton Hotel, his first-time hotel designer was Phillipe Starck. The Edition portfolio has been conceived along similar lines. A synthesis between operational expertise and Studio 54-style cool, Marriott provides the managerial oversight and Schrager the creative direction. Equally important, however, is the third point in the triad – a talented and forward-thinking design team.
Ottoman luxury
In many respects, the Istanbul Edition is the last word in deluxe. Its 78 guest rooms are individually styled, many with verdant terraces and all with indoor verandas. There is a swimming pool, a spa area, a gold bar, a nightclub, a private screening room, an event space and a Cipriani restaurant. More than this, however, it is designed to supply a customer experience interchangeable with no other.
"Our aim was to engage a selective clientele; to yield a certain level of service right from the beginning."
Gabellini says, "It was earmarked as providing a very distinguished and curated approach to what a hotel experience can be. Working very closely with Ian Schrager, our aim was to engage a selective clientele; to yield a certain level of service right from the beginning."
For years, hotel branding was dominated by the visuals. You'd go to hotel brand X, and you'd know it was brand X, because it looked like all the other brand X hotels you'd stayed at. Same furniture, same amenities, exact same tube of toothpaste by the sink.
What unifies the Edition hotels, however, is not a common aesthetic but a common ethos. Each hotel will integrate local character with the needs of an international market; providing a home away from home for business travellers, holidaymakers and local people alike.
This latter demographic, says Gabellini, has too often been overlooked. "There are a number of new hotels in Istanbul that approach the Ottoman legacy, and kind of hit you over the head with the theatre of it," he says. "What's curious is that you might find you know foreigners who are making reservations, but very few locals go there because it becomes a kind of cartoon of the history they're trying to emulate."
Edition, by contrast, is designed to provide a sense of place without resorting to hackneyed motifs. Along with his business partner Kimberly Sheppard, Gabellini studied Turkish architecture intently, gaining a feel for the proportioning of Byzantine structures, recruiting local companies and deploying traditional materials and crafts.
"Our design brief was to make something that had a flavour of Istanbul," says Gabellini. "There is a legacy associated with what you see, but it has gone through an editing process so that you don't need to have overt symbols that immediately recall the tracery of the area."
The result: a melange of Western and Eastern influences, with artisanal materials mixed with modern finishes and the glare of Ottoman history filtered through a cool, contemporary prism. The ESPA spa recalls a Turkish hammam. The sleeping areas employ sultry lighting, while the washrooms are conceived as wet rooms with separate steam rooms and showers. Subtlety, taste and authenticity are the watchwords.
Gabellini Sheppard is well-practiced in the art of the understated. Known primarily for its retail and residential projects, the firm has tackled such commissions as the Jil Sander flagship store, a Giorgio Armani centre in Milan, gallery spaces in New York and a range of homes for individual clients. Its signature style is minimalist, using space and light as sculptural building blocks.
"Hotels for us are fascinating. They're kind of worlds within worlds – you're thinking about a city in miniature"
This is one of the company's first forays into the hotel arena. "We've known Ian Schrager for a number of years, and we've had discussions about working together," says Gabellini, "but this was the first opportunity that really came up. Hotels for us are fascinating. They're kind of worlds within worlds – you're thinking about a city in miniature. We wanted to take a very forward-leaning view of Turkish life."
From bank to bliss
The initial constraint placed upon the project came from the building itself. Following a terrorist bombing in 2003, the tower ceased to be a bank and was ripe for renovation. Together with a local architect, Gabellini Sheppard reoriented the building based on the existing layout. "An office doesn't make a home," points out Gabellini, "so we had to do a lot of masterplanning in order to create a welcoming lobby and reception."
The hotel in its final form is designed to be all-encompassing, meeting all requirements under one roof. Roughly speaking, it segues from public areas on the lower levels (lobby, restaurant, nightclub, spa, bar, lounge) through to the privacy of the guest rooms above. Here we have a layered progression: social to intimate, bustling to peaceful, busy urban boulevard to lush terraced suite.
The suites themselves, of which there are 78, are individually styled and designed above all else to enhance the enjoyment of everyday living: "They elevate guests' functional requirements," says Gabellini. "Each room is organised into three layers – bathing and dressing, sleeping, and leisurely work or lounging. The washroom, for example, highlights the pleasures of bathing, supplying a very tactile and physical experience for the guests."
"You can have an emotional response to what it is that you see and taste and touch. We wanted to create an environment of luxurious warmth."
In this regard, Gabellini Sheppard is tapping into one of the subtler and more important aspects of branding. Key to any effective brand – more so than mere recognisability – is forging an emotional connection with consumers. You need to create a narrative that draws them in; promulgate a set of values with which they identify. This is what stops a hotel room from being a mere commodity, and imbues it with a sense of something powerfully desirable.
"Our design has sensory aspect," says Gabellini. "You can have an emotional response to what it is that you see and taste and touch. We wanted to create an environment of luxurious warmth."
Still further, the Istanbul Edition is aspirational. Much like Gabellini Sheppard's fashion retail projects, part of the lure depends on ineffable associations with all that's hip. You think Ian Schrager, you think in-crowd.
The Edition brand hinges not on visual consistency, but on the sense endowed to visitors that they are part of an elite. The days of cookie-cutter luxury hotels are behind us. No longer is it enough to keep guests in a bubble – rather, it is imperative that a hotel's design evokes a sense of character and enmeshes itself in the fabric of a place.
"We designed this hotel to be understated and gracious, to balance international sophistication within a specific cultural context," says Gabellini. "And we look at this as a kind of legacy project. It is one that is meant to be around for a very long time."