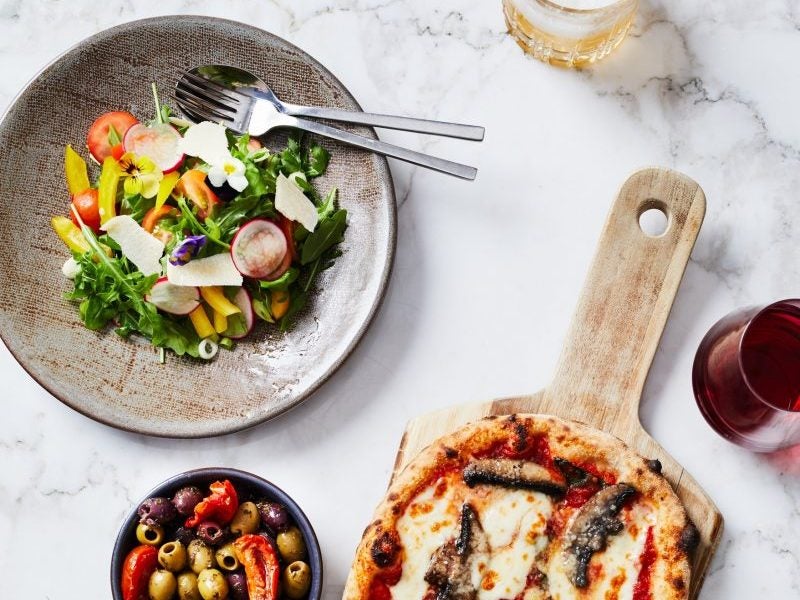 With conscious consumerism on the rise, the popularity of plant-based diets is set to continue into the coming decade. However, as restaurant menus are typically dominated by meat-based dishes, consumers can often struggle to find somewhere to eat during their travels.
"With this way of eating, as with any lifestyle eating plan, travel can feel like a challenge – eating out can feel like a battle to find something to dine on," Victoria Kruse, sustainability manager for Maldives resort Amilla Fushi, explains. "Hotels and resorts around the world must take up the challenge to reinvent their menus to include wellness-based dishes."
Based on a survey of more than 130 chefs, sommeliers, managers and bartenders from Kimpton restaurants and bars around the world, some 31% of workers in the industry agreed that the few meat-free dishes typically found on menus are no longer enough. So, will 2020 be the year that meat no longer dominates hotel restaurant menus?
How hotel restaurants are responding to the rise of plant-based diets
Hotels such as The Cavendish in London, UK, are taking up this challenge.
In December, the hotel revealed that its fine dining restaurant, Petrichor, would be introducing a brand new vegan menu, which would be available throughout January 2020. This new menu featured plant-based dishes such as beetroot cannelloni, corn dumplings, and coconut panna cotta.
The menu was launched as part of Veganuary, a month-long celebration of the vegan lifestyle held throughout January, which was started by a non-profit of the same name in 2014. However, given the growing popularity of plant-based dishes, Nitin Pawar, head chef at The Cavendish, expects that 'some of the favourites will make a permanent appearance on the á la carte menu' in future.
For The Laureate, located within the Hyatt Regency Manchester, there won't be a similar trial period before its menus receive a plant-based overhaul. The restaurant, which serves a range of international cuisines, will introduce a new menu in the spring that will feature at least ten vegan dishes, with the majority of its main dishes set to become plant-based.
"Throughout 2019, we saw a huge increase in demand for plant-based food. We noticed that our vegan burger slowly began stealing sales from our original beef burgers. And the same with our artisan flatbread pizzas – we introduced vegan options to our artisan range and again, we saw diners were choosing the vegan options over the regular dishes," Nathaniel Farrell, The Laureate's executive chef, explains.
This confirms that the demand for plant-based alternatives is there, and the changes that have already been made to the restaurant's menus have been positively received by hotel guests.
"Feedback has been extremely positive and is ultimately reflected in the choices our guests are making," Farrell says.
The challenge of creating a plant-based menu
While crafting new menus takes time and effort, catering to the demands of guests make sense, and chefs such Farrell welcome the change.
Changing demands have allowed chefs to trial new dishes and experiment with ingredients in ways that perhaps wouldn't have been accepted before. Incorporating ashwagandha (a medicinal herb) or hemp (a strain of cannabis plant) into dishes might have raised some eyebrows a decade ago, for example. However, both of these ingredients are tipped to be favourites on restaurant menus in 2020 according to Kimpton's 2020 Culinary & Cocktail Trend Forecast.
"The growing interest in plant-based diets has given us an exciting platform to experiment and innovate – it has been a stimulating development period," Farrell says. However, innovation is rarely easy.
"Creating an accomplished vegan menu is not a case of simply substituting ingredients," Farrell explains. "With plant-based foods, the tastes and textures need more elevation. This is mostly because meat products naturally contain fats or oils, which bring with them their own flavours to dishes."
Impossible Foods – an early experimenter in the emerging plant-based foods market – is a good example of the complexity of some of these dishes. It uses a total of 17 ingredients to create a burger that looks and tastes similar to beef. One of those ingredients is soy leghemoglobin. This is commonly found in animal flesh, and is used to recreate the flavour, colour and bleed of beef. Impossible takes this from the roots of soy plants and inserts it into genetically-engineered yeast, which is then left to ferment.
It isn't always an easy process, but by finding the right combination of ingredients, it's possible to create plant-based dishes that look, feel, and taste similar to meat. Farrell points to The Laureate's tofu and jackfruit rillette as the perfect example, insisting that his creation "looks like a chicken rillette, yet is completely plant based".
Plant-based menus: A mainstay in hotel restaurants?
The longevity of such diet trends is often questioned. While vegetarian diets can be traced back more than 2,000 years, there is no doubt that plant-based diets have boomed in popularity over the last decade. GlobalData found that the number of consumers identifying as vegan grew from 1% to 6% in the US between 2014 and 2017, for example.
However, with consumers becoming increasingly conscious when it comes to issues such as sustainability, animal welfare, and health and wellbeing – 'all of which are here to stay' – coupled with the increasing ease of accessing vegan-friendly products, Pawar expects the number of people opting to lead a vegan lifestyle to continue growing.
"To keep up pace with the rise of veganism and with the popularity of plant-based dishes with guests – vegans and non-vegans alike – it only makes sense for hotels to incorporate them into their menus," Pawar insists.
Farrell is in agreement, insisting that 'plant-based products are reaching levels and, in some cases, surpassing the quality and taste of non-plant based dishes'. Likewise, with the health benefits of plant-based diets just now coming to light, 'it is very possible that an even greater share of restaurant menus will become plant-based in the coming years'.
Even if interest in predominantly plant-based menus does fade, Farrell expects that the best elements of such menus are undoubtedly here to stay. Avocado, one of 2016-2017s biggest food trends, provides a good example. While the hype around the ingredient has faded somewhat, smashed avocado is now a mainstay on many breakfast menus.
Regardless of the plant-based menu's future, showing the dynamism to respond to trends, regardless of their longevity, could provide hotels with an advantage over their competitors.
"Being dynamic is essential in the hospitality industry, and the capability to adapt to new food trends gives hotels a competitive edge," Pawar believes.
"For decades, restaurants have assimilated the trends and the needs of their guests," Farrell adds. "If diners are actively requesting more plant-based foods, and you can do it well, why would you not give it to them?"