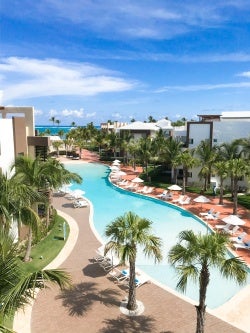 Third-party hotel operator Aimbridge Hospitality has been selected to manage Radisson Blue Punta Cana Resort & Residences in Dominican Republic.
Details of the management agreement have not been revealed.
The all-inclusive resort is located at Playa Cabeza de Toro in Punta Cana. It is just a ten-minute drive from downtown Punta Cana and a 20-minute drive from Punta Cana International Airport.
Aimbridge Hospitality operations-full service and resorts executive vice-president Rob Smith said: "We are thrilled to welcome the Radisson Blu Resort & Residence to our growing Caribbean footprint in the key market of the Dominican Republic.
"Aimbridge's specialised focus in the resort vertical and deep experience operating destination properties with multiple, high-touch guest activations, private ownership, and revenue streams will bring immense value to the property, as we understand the unique requirements to profitably manage highly complex, distinctive assets."
Radisson Blue Punta Cana Resort & Residences provides 163 suites featuring one- to three-bedrooms and each room equipped with spa-like bathrooms.
The hotel's amenities include six all-inclusive restaurant and bar venues, lagoon-style pool, kid's club and a spa and wellness centre.
It also has indoor, outdoor and waterfront venues, with approximately 3,400ft2 of meeting and banquet space, which can accommodate up to 150 people for various events including weddings, team conferences and more.
The all-inclusive resort's pier area makes it a suitable site for "over-the-water events and weddings".
Aimbridge owns a network of 1,500 properties in 49 states and 20 countries, including ones in the pipeline.
In June this year, the company acquired Mexico's third-party operator of multi-brand hotels, Grupo Hotelero Prisma.