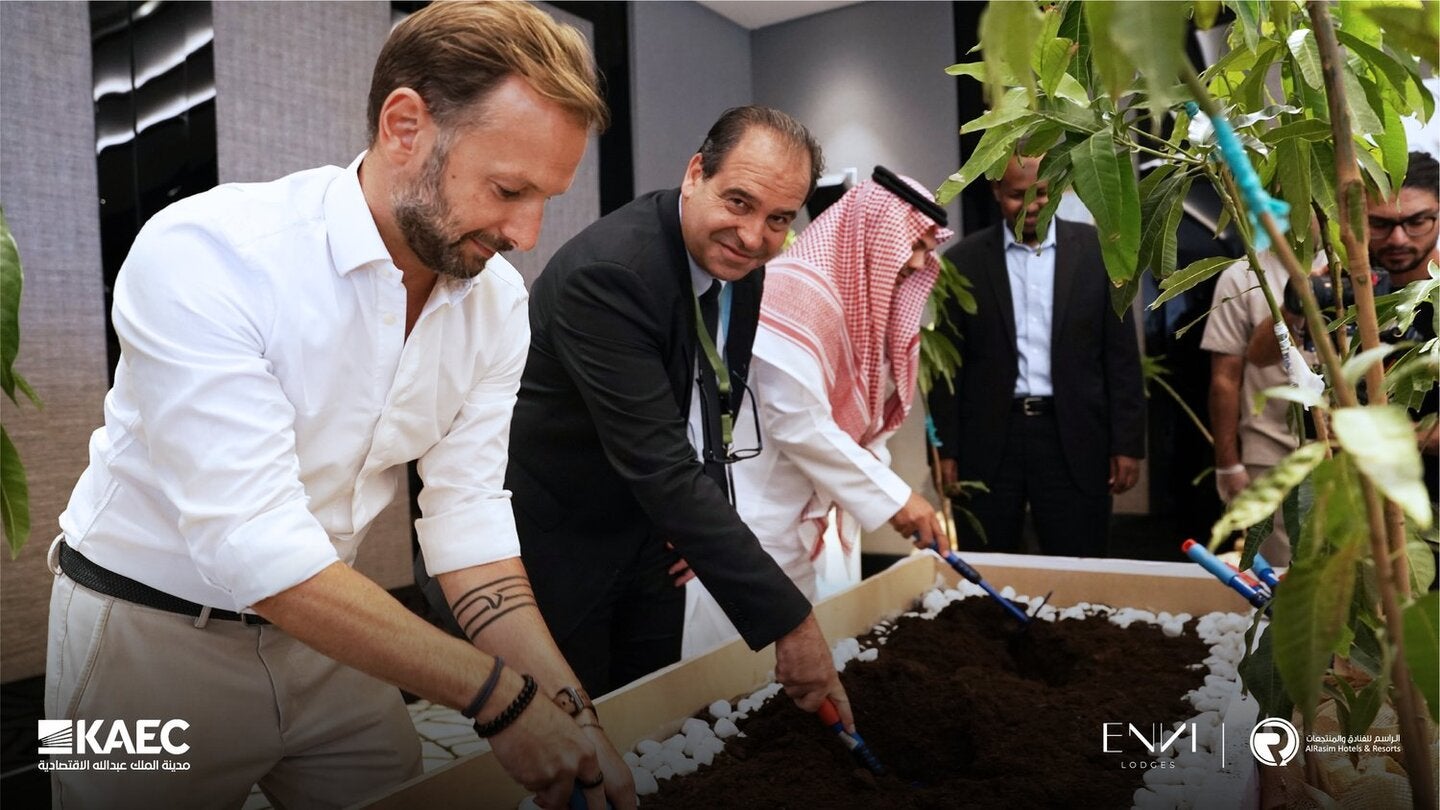 ENVI Lodges, a luxury eco-lodge brand and management company in the GCC, has announced that its new ecolodge, called ENVI Laguna Bay, will be situated at a beachside location in King Abdullah Economic City (KAEC), Saudi Arabia.
Surrounded by mangroves on the Red Sea coast, the upcoming eco-lodge will be developed by Al Rasim Hotels & Resorts as a sustainable project.
ENVI Laguna Bay will feature 40 beach pods with private pools, designed by architect company Gensler.
The property will feature amenities such as a kids' club, an activities centre and a wellness hub with a yoga deck.
Senior representatives of Al Rasim Hotels & Resorts, ENVI Lodges and KAEC were present at an event to mark the announcement of the new ecolodge's location. They planted local mango trees at the site.
Al Rasim Hotels & Resorts CEO Aiad Mushaikh said: "KAEC will host the first eco-friendly coastal resort in the distinguished and captivating Laguna area.
"This collaboration introduces the ENVI Lodges brand to the thriving tourism market in Saudi Arabia, with Al Rasim continually investing in unique hospitality projects that allow the discovery of the natural beauty of the Red Sea coastline."
According to ENVI Lodges, the ecolodge is committed to the regeneration of mangroves, which grow in this area, as part of its complete approach to luxury tourism.
It intends to protect the calm and crystalline waters, enabling guests to enjoy the tranquillity of nature.
ENVI Lodges claims that this project, which is expected to 'serve as a benchmark for coastal eco-friendly resorts on the Red Sea shores', aligns with Vision 2030 of Saudi Arabia.
ENVI Lodges co-founder Chris Nader said: "The lodge is strategically located, just one hour by road from Jeddah and connected to the city's airport via the high-speed train.
"We envision the lodge as a preferred eco-conscious beach destination, not only for Jeddah residents but for domestic and international travellers looking for a unique barefoot luxury escape near Saudi Arabia's second-largest city".
The announcement of the ENVI Laguna Bay location comes after the design preview of ENVI Al Nakheel, a luxury sustainable lodge in Saudi Arabia's Al Ahsa Oasis.
Both projects are scheduled to open in 2024.