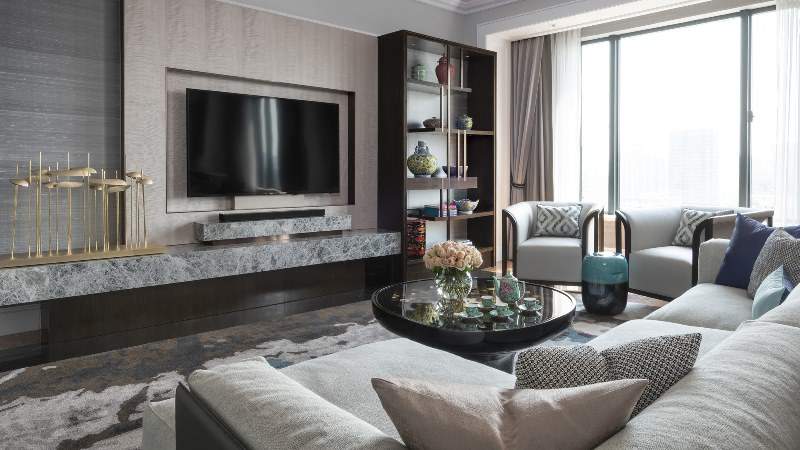 Four Seasons Hotel Singapore has completed its 12-month room renewal programme with the unveiling of four luxury themed suites, called The Suite Collection.
This programme, led by interior design firm Hirsch Bedner Associates, began in early July and had seen 255 guest rooms including the four luxury-themed suites being renovated.
Consisting of four residences, each suite depicts Singapore's legacy through colour palettes, key motifs and textures.
The four luxury themed suites include Royal Suite, Governor Suite, Ambassador Suite and the Presidential Suite.
Royal Suite, located on 18th floor, has an area of 1,615ft2. It draws inspiration from Singapore Botanic Gardens, which is a UNESCO World Heritage location. This suite has newly-added open pantry and unique sofa seating. As living and dining spaces are blended, the suite is claimed to be suitable for casual entertaining. The suite is coloured in black, verdant green and neutrals, and feature linen texture and cane, with palm, fruit and animal motifs serving as artworks and accessories.
Governor Suite, with 1,798ft2 area, features pear wood millwork offset with contemporary furnishings in smoky light grey, dark wood detailing and amber tones that provide a stately and smart ambience. This suite is located in exclusivity on the top guest room floor of Four Seasons Hotel Singapore.
With 1,798ft2 area, Ambassador Suite is located on 19th floor and accented with Straits Chinese elements through chic modern furniture in a turquoise, grey and dusty rose colour scheme.
Presidential Suite, with an area of 2,131ft2, is located on the 19th floor, offering a view of the city skyline. This suite is inspired by the grand colonial houses in the city. It features sleek contemporary furniture, a black, white and persimmon colour scheme that complements existing pear wood millwork with a black marble floor.
The hotel offers Four Seasons Spa; dining options including the One Michelin-Starred Jiang-Nan Chun, an open-dining concept One-Ninety Restaurant that serves Western and Asian cuisine, One-Ninety Bar; and a 1,500m2-of meeting space and a ballroom.