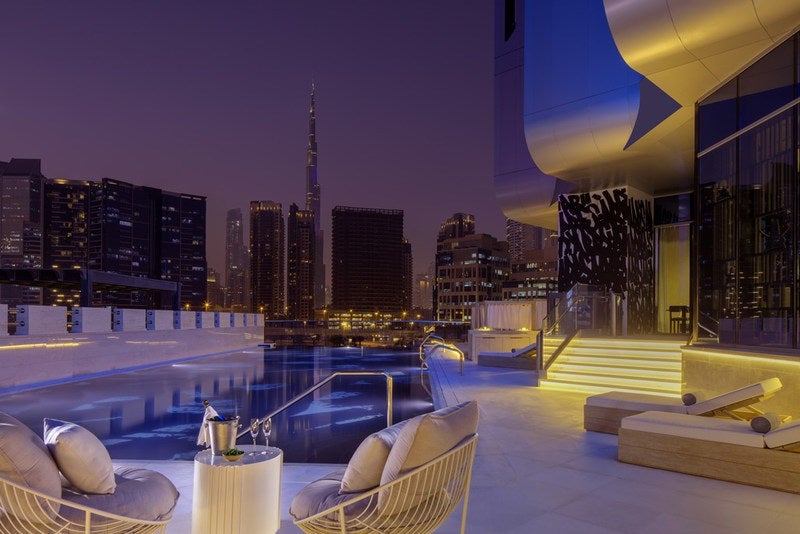 Hospitality company Ennismore's hotel brand Hyde , in partnership with Emerald Palace Group has opened its first international property in Business Bay, Dubai.
Hyde Hotel Dubai is situated in a location that overlooks the Dubai Canal and Promenade. It is the fifth hotel under the brand.
Emerald Palace Group Owner Dr Mkhitaryan said: "We are delighted to partner with The Hyde Hotel brand to launch the first international property outside of the US and in the UAE.
"This will be an exciting move for Emerald Palace Group and one that we are very much looking forward to having in our portfolio of hotels and residences. Hyde Hotel Dubai will be bringing guests a hideaway in the city offering a new kind of bespoke hospitality.
"We're ready to welcome guests through the doors and we're confident they will appreciate every last detail."
The hotel has 276 guestrooms and suites and features interiors designed by Italian designer Ciarmoli Queda, as well as a spa, Cinq Mondes Dubai.
The rooms and suites are divided into categories such as Deluxe Hyde Out, Hyde and Seek, Hyde Away, Hyde Us, Junior Hyde Me suite, Executive Hyde In and the Presidential Hydden Gem suite.
The hotel boasts a variety of culinary concepts such as Cleo, Hudson Tavern, The Perq's and Katsuya.
Cleo, Hudson Tavern and Katsuya outlets and the pool side area have been designed by South African designer Tristan Plessis.
Ennismore North America Head & Brand COO Philippe Zrihen said: "We are thrilled to introduce the Hyde brand to the Middle East and to bring this iconic brand outside of the United States for the first time.
"The hotel will be home to four of our most craveable culinary experiences including Cleo and its dynamic Levantine menu, Katsuya's contemporary take on traditional Japanese cuisine, Hudson Tavern and The Perq. We truly believe that Hyde Dubai will be a highly sought-after destination in the city, for global travellers and locals alike."
Last month, Accor completed its merger with Ennismor and created a new lifestyle entity named as Ennismor.