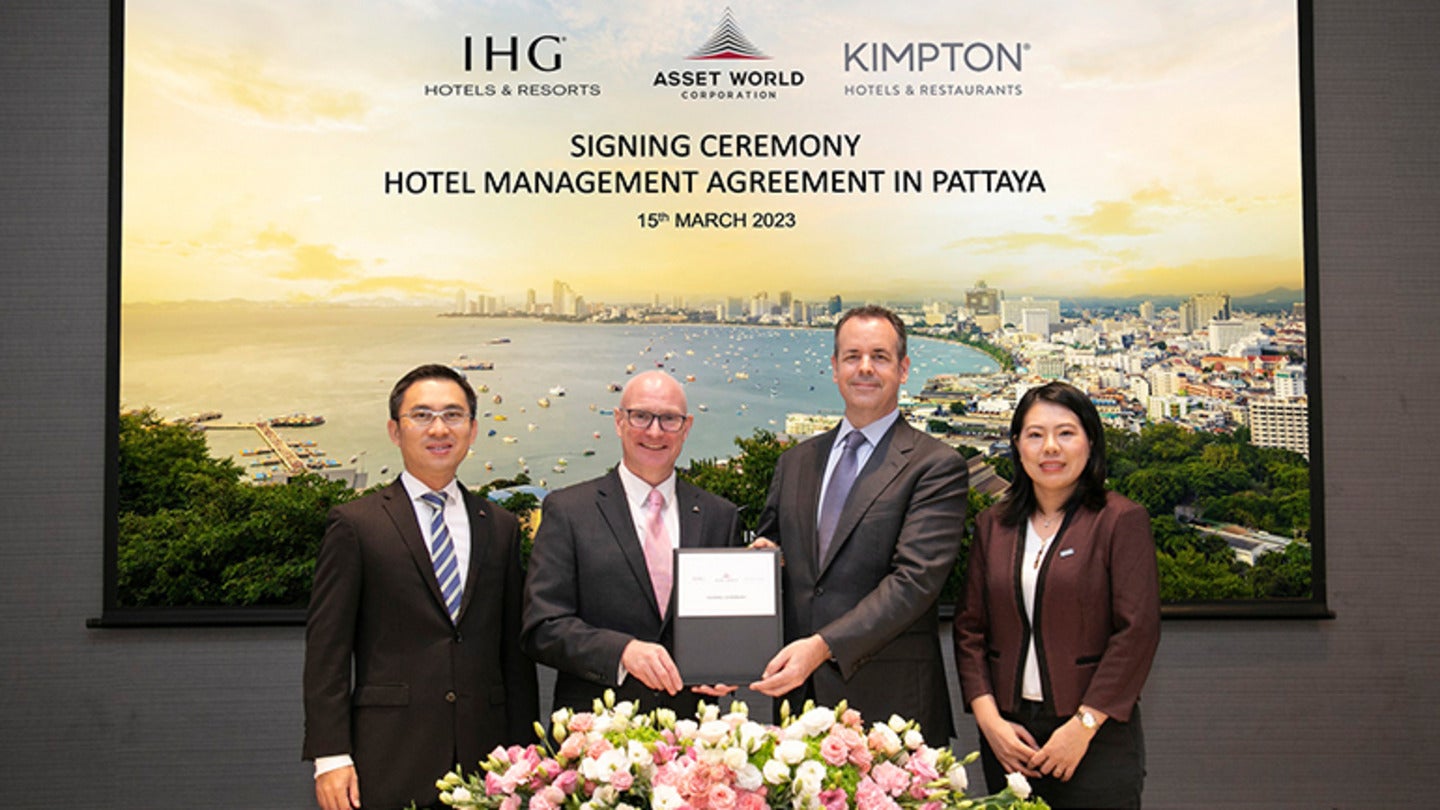 IHG Hotels & Resorts has extended its partnership with real estate group Asset World Corp (AWC) for Kimpton Pattaya hotel, which is scheduled to open in 2028 in Pattaya, Thailand.
This is the second partnership between the firms for a Kimpton Hotels & Restaurants property in the country.
Furthermore, the new-build hotel expands the collaboration between the two firms to 1,250 rooms across six properties and three brands.
The partnership with IHG and AWC already covers five properties.
These feature the 302-room InterContinental Chiang Mai Mae Ping, slated to open this year; two hotels in Bangkok's Chinatown – the 332-room InterContinental Bangkok Chinatown and the 63-room Vignette Collection Bangkok Chinatown; the 124-room Kimpton Hua Hin; and the 234-room Vignette Collection Pattaya.
IHG South East Asia and Korea managing director Rajit Sukumaran said: "Our partnership with AWC goes from strength to strength and, thanks to this latest collaboration for Kimpton Pattaya, together we have now signed 1,250 rooms across six fantastic properties in the past three years, in Bangkok, Chiang Mai, Hua Hin and Pattaya.
"This will be the fifth Kimpton Hotels & Restaurants property signed in Thailand which shows the confidence owners have in the brand. Together with Kimpton Maa-Lai Bangkok, Kimpton Kitalay Samui and the upcoming Kimpton Khao Yai and Kimpton Hua Hin, the brand already has a strong following amongst affluent and discerning travellers."
Asset World Corp CEO and president Wallapa Traisorat said: "We are very pleased to continue our long-term strategic partnership with IHG to bring top quality hotel brands to one of Thailand's leading beachfront destinations.
"The launch of the first Kimpton hotel in Pattaya, comes after signing a multi-property agreement with IHG in 2020, with a fantastic brand offering a bold playful design and award-winning dining experiences for a memorable stay.
"By bringing world-renowned brands to a broader customer base, the Kimpton brand will also strengthen Pattaya as a global beachfront destination only a couple of hours drive away from Bangkok."
To be situated in central Pattaya, Kimpton Pattaya will feature 193 rooms and suites, with its design drawing inspiration from natural elements.
The hotel will include four restaurants and bars, 630ft2 of meeting space, a health and fitness centre, a pool, and a spa with convenient access to a community mall.
The property will be within walking distance of Central Festival Pattaya and Central Pattaya Beach, only a 10-minute drive from Walking Street, as well as a 30-minute drive to U-Tapao Rayong Pattaya International Airport and a 60-minute drive to Suvarnabhumi International Airport.
Continuing its expansion at pace, Kimpton has 76 open hotels as well a pipeline of 41 hotels in destinations, such as Bali, Rotan in the Caribbean and Mexico City.
The signing of Kimpton Pattaya marks the latest milestone in IHG's strategy to expand its Luxury & Lifestyle portfolio in Thailand by 50%, as well as double its estate across all of its brands by 2026.